I'm looking through a periscope of beauty and drowning myself in all the errors that people make on the beach: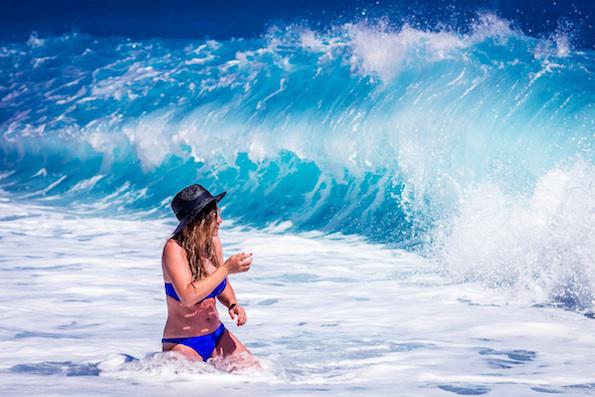 We don't wear hats and sunglasses.
We apply sun-protective products quickly and inadequately and miss out patches of the body; rushing after refreshment in the water, we are likely to omit our hair partings, corners of the face, ears, neck, back, legs, feet,… As dermatologists claim, these are the parts of the body most at risk of causing skin cancer.
We use expired sun-protection lotions, which are usually leftovers from last years holiday. All the active substances and filters have a use-by date; sun-protection creams are sufficient only 6 to 12 months after being opened, if they are safely stored in a shaded and cool place… this also includes being on the beach and during the car drive.
We are economical, therefore we apply too little; only with a thick level of protection (2mg/cm2) is the factor, which is marked on the product packing, effective. Otherwise the protection factor is significantly lower.
Spray-on-products are truly user friendly. Although, if we're applying it when it's windy, it is highly likely that half of our protective substances will be blown away.
We are applying sun-creams only once a day; sweat, swimming, drying with a towel, heat and strong sunrays are reducing sun-protection efficiency. Therefore, we have to apply a new layer every two hours and every time we come out of the water or dry ourselves with a towel.
Once crispy tanned, we don't apply sun-products anymore. As soon as our skin is tanned (and that already means that is damaged), we are less likely to get sun burnt. However, premature skin aging caused by sunrays will continually worsen.
We expose ourselves to the sun (also) between noon and 2 pm.
Even more unbearable are Italians…. I have just noticed that they use sunbathing mats that are covered on one side with silver foil, which consequently absorbs more sunrays and more UV radiation. Whereas in their perspective, this is a quicker method of getting a crispy tanned result…  as they wouldn't come from the capital of fashion, where the burnt-skin look has been out for a long time.
And you? Do you commit sun-protection sins on the beach?
⇒ If you would like to find out how to make profi waterproof makeup, visit this post.
Shine bright,
Nika
♥ Click to to be the first to find out about new posts via Bloglovin ♥
Photography: Alex Blajan for Unsplash
Summer Beauty
sun protection
E-novice
Sorodne vsebine
This post is also available in: Slovenian