Are there any women who do not color their hair? They're definitely in a minority. Others and me who have painted theirs for long now, know how dry, straw and without shine hair can get after coloring (especially when the color is washed after the first few washings). So I'm surprised that the beauty industry is so slowly discovering the real care that helps to improve the appearance of dry and damaged dyed hair. And it makes me jump to the ceiling when they offer us something effective and organically certified. Now let me introduce me to Melvita's ecological Indigo's oil.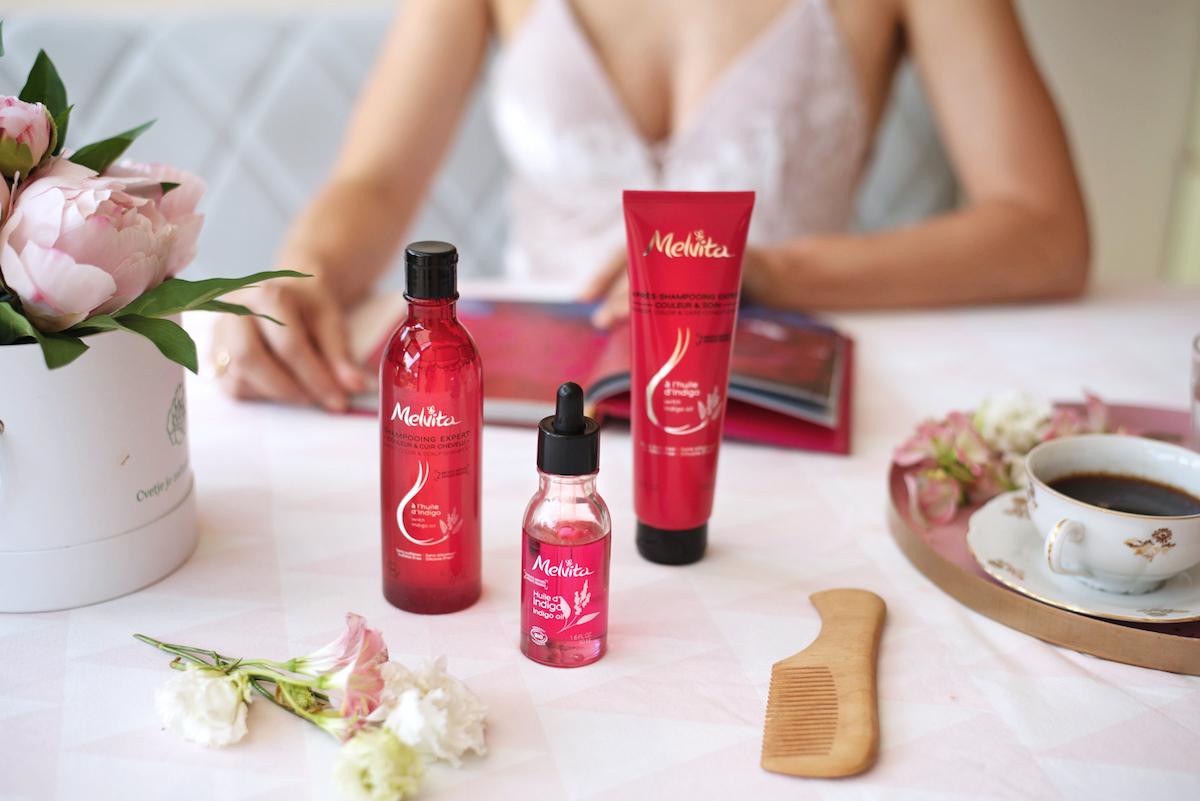 Before shampooing
Abroad, the care before  shampooing, especially for dyed hair and scalp, has been a hit for several years –  among both celebrities and other women with hair. ? The basic idea of pre-shampooing is to use hair-care products, such as hair care and strengthening, to help protect your hair from additional drying that could result from washing and styling your hair that follows. These products are usually highly concentrated with ingredients for strengthening hair structure, scalp protection or for moisturizing and protecting hair. Mask, lotions and oils are found in the care products before shampooing. Products that are as natural as possible, even organically certified, are rare in the world and in Slovenia the first available  of this kind  is Melvita's ecologically indigo's oil.
Indigo oil, effective care for colored hair
With the word indigo, my imaginary world turns blue. But the beauty world invented something completely different in the lovely raspberry red color.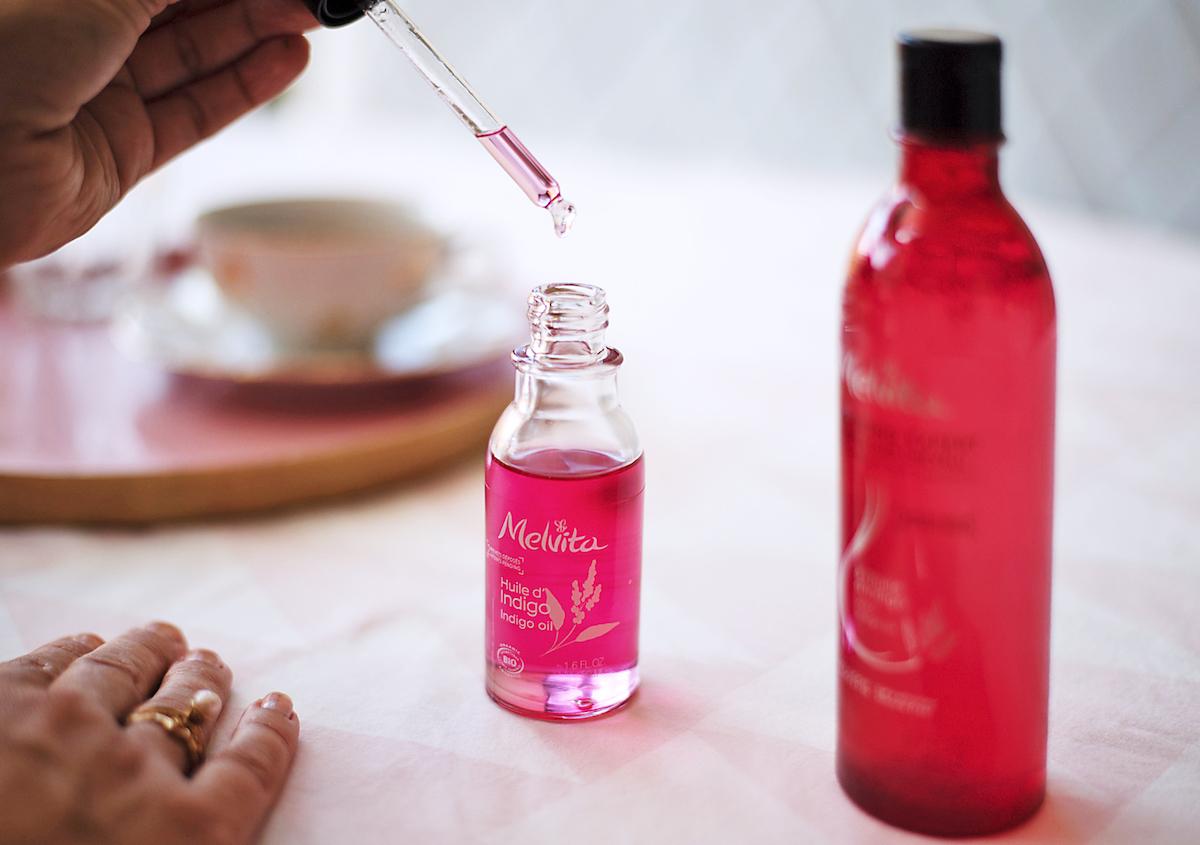 The change of indigo powder into oil is something completely new, in worldwide meaning, since the beauty industry has never before witnessed it! Blue indigo powder is obtained from the green leaves of the Polygonum tinctorium plant, grown by members of the "Couleurs végétales de Provence" association in the heart of the Luberon region – the color region where the coloring tradition lives. Indigo powder is then transformed into an oil with a completely natural process that does not require the use of any synthetic ingredients. The extraction of this organic oil takes place at a very high temperature and there are some miraculous things: the blue color disappears, and then the pink indirubin shade is revealed – the natural pigment that is present in the plant.
⇒ ♥ The oil for which a patent was declared in France was obtained by an ecological process, by-product of which is neither CO2 emissions nor waste, thereby restoring Melvita is once again restoring environmental concern.
Melvita Indigo oil: tips for use
I suggest that you place the bottle in a visible  place in your bathroom, this way you will remember it before you even begin to wash your hair. Namely, I had the biggest problem in testing the product by introducing a new step (pre-shampooing) into the routine of washing my hair. When you conquer it, the application is quite simple:
put a few drops of oil on the fingers and gently massage it into the scalp with circular movements (the oil is rich in omega-6 and omega-9 fatty acids, so it softens and calms the scalp),
then apply a sufficient amount of oil on your palms to dry hair to completely cover them, from root to ends,
Leave to work for 10 minutes as a mask (don't worry, the red color is of natural origin and does not leave any stains on the skin and clothing),
then apply shampoo and rinse your hair  well.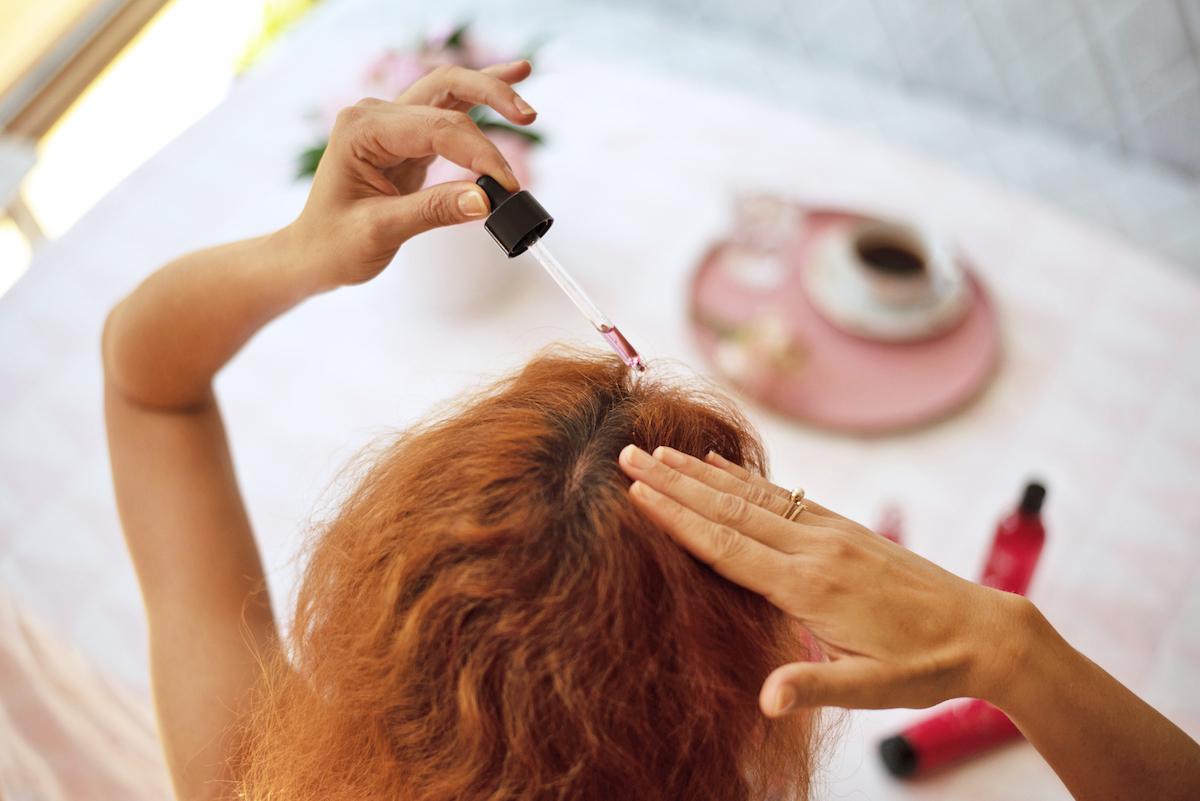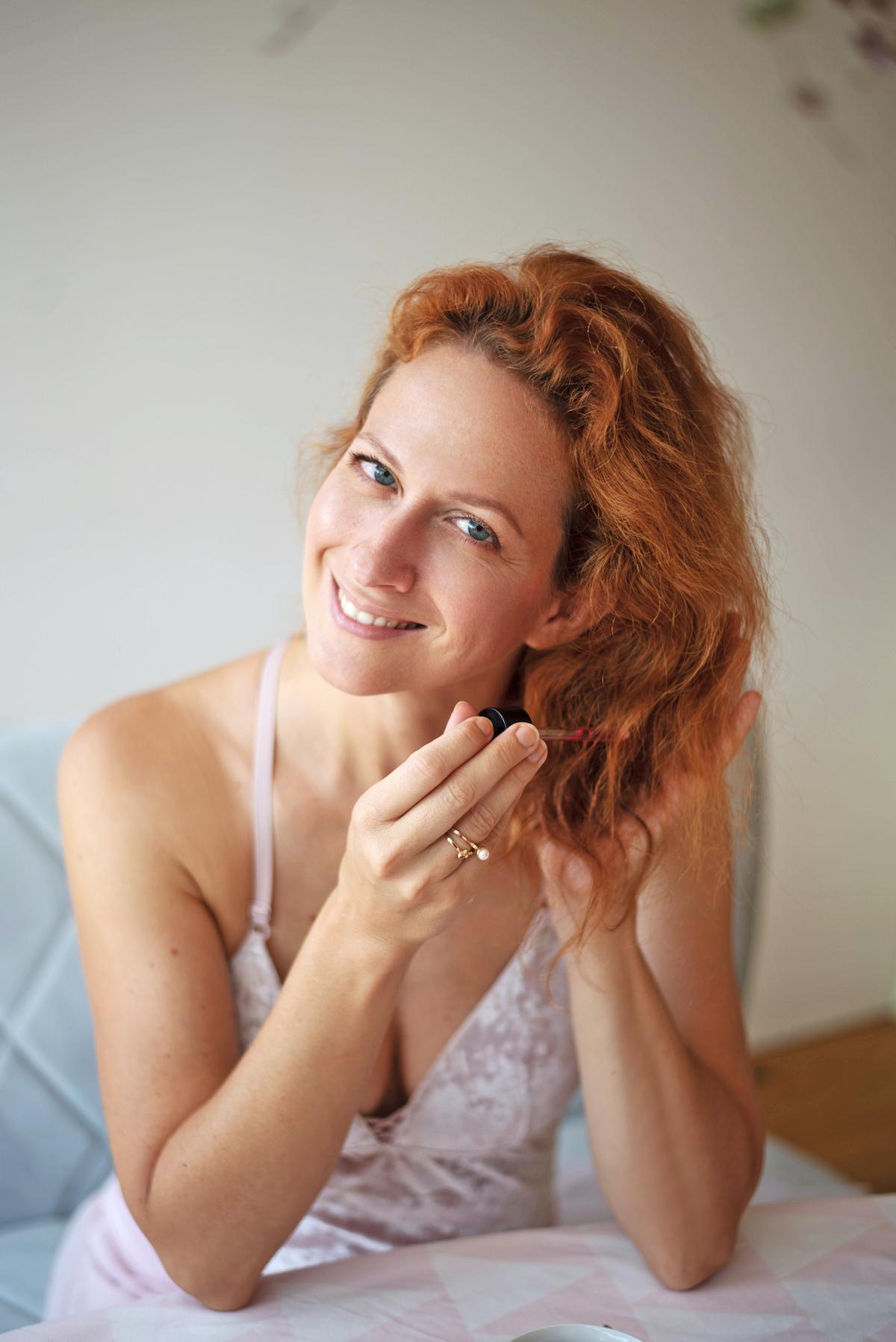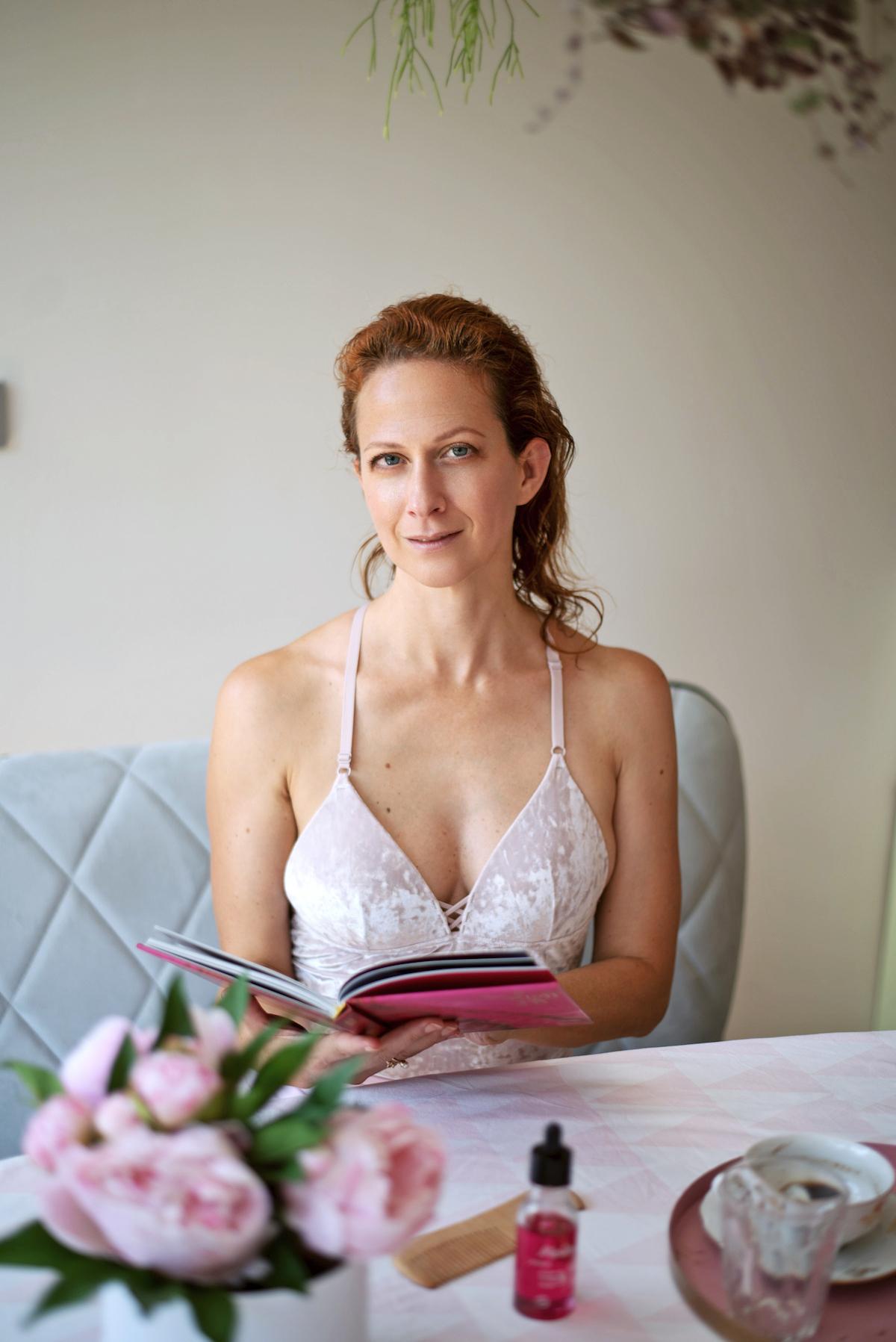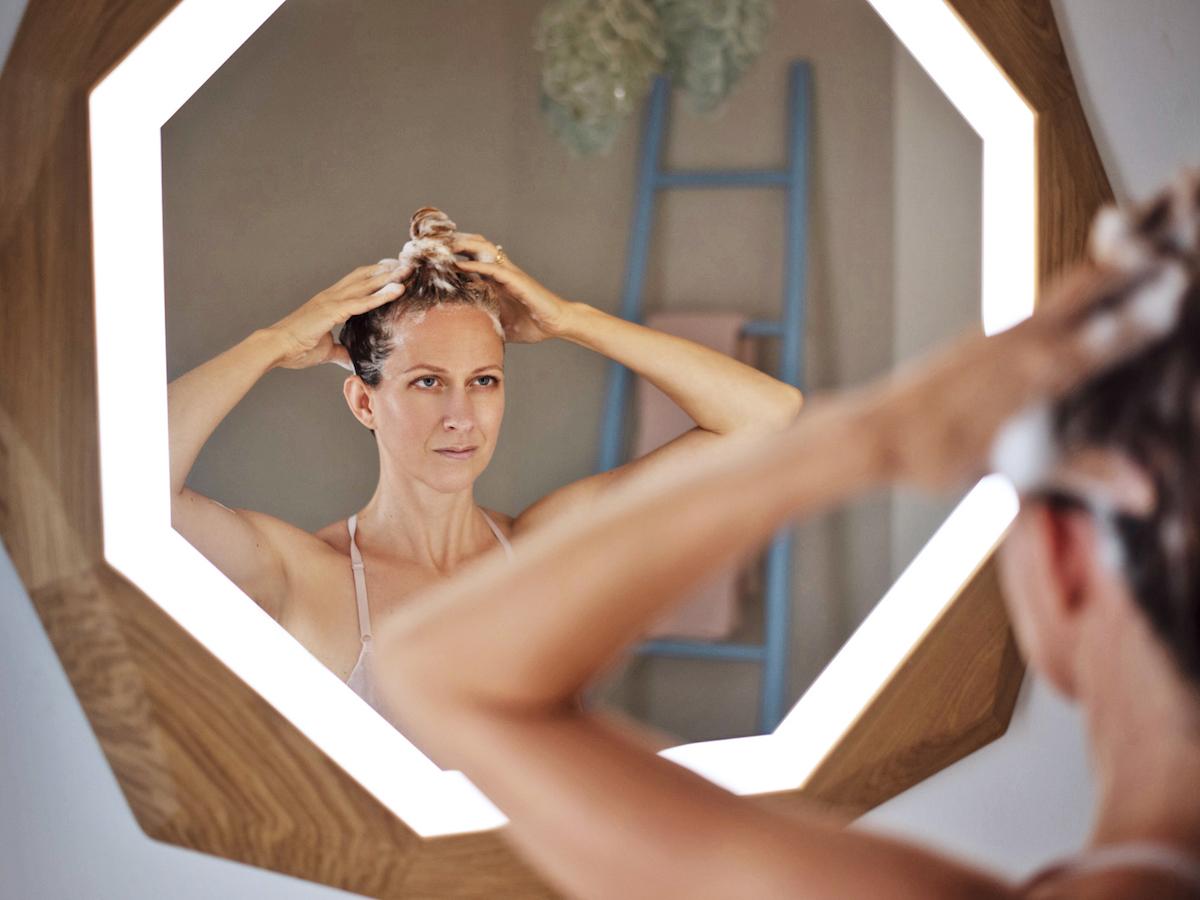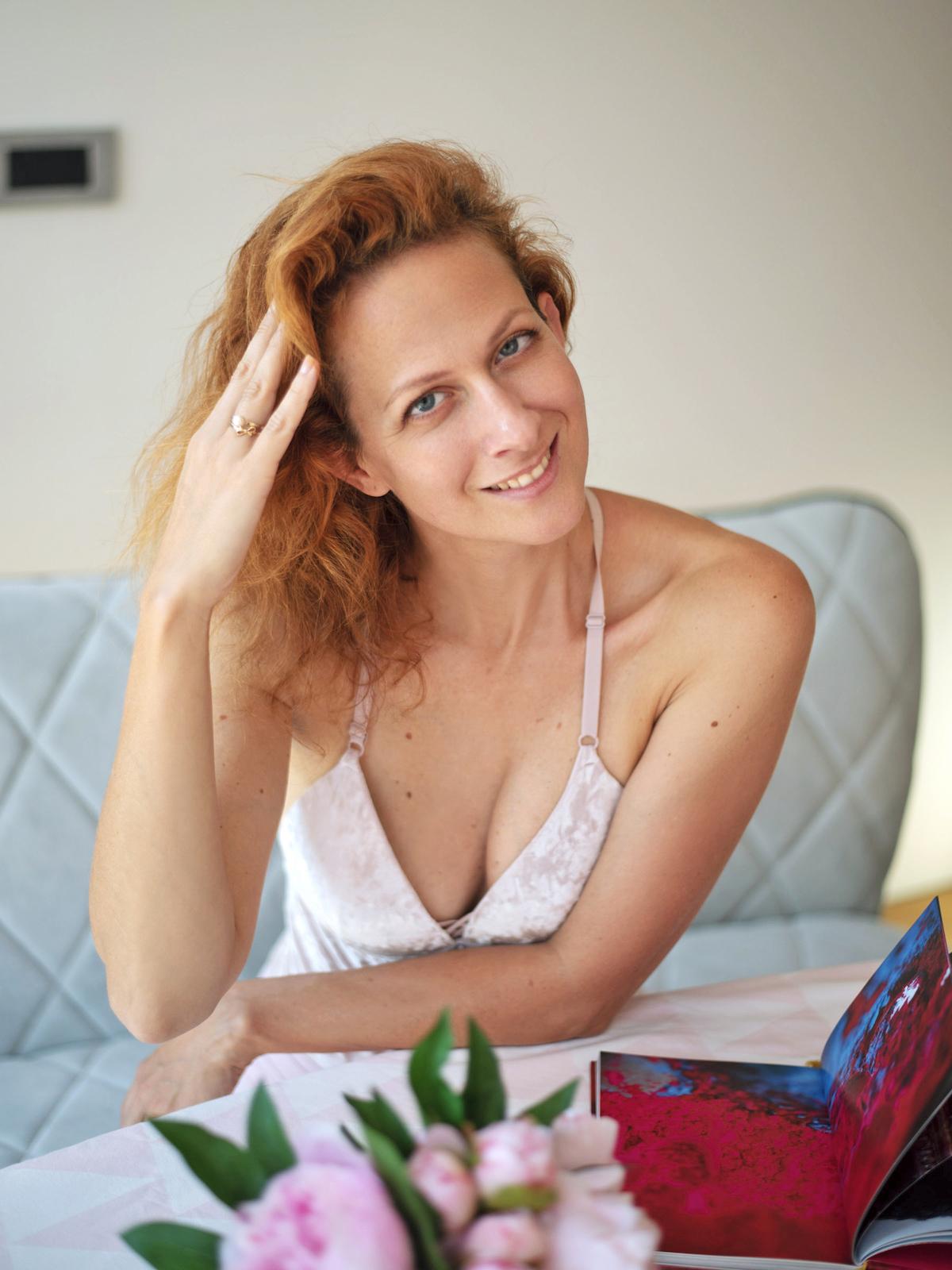 Positive properties of Indigo oil
The beauty invention, indigo oil, has been explored well  by Melvita and they say this are the following effects:
strengthens the hair damaged by coloring, and soothes the most sensitive scalp,
preserves freshness of color up to a maximum of 12 washings *
it emphasizes the shine of dyed but also unbleached unpainted hair,
nourishes the hair fibers all the way to the tips (say to the split ends),
relieves the sensation of tightness and discomfort of the scalp.
Rating of Melvita's collection for washing and care of dyed hair with indigo oil
The first collection for hair care with indigo oil contains:
HAIR CARE  BEFORE SHAMPONING for colored hair and scalp, Certified Organic Indigo Oil (23,40 € / 50 ml). I really like that finally, I can apply something that is completely natural, without the added perfume, coloring and other unnecessary 'additives'. In fact, there are only 4 ingredients in this product; oil from rapeseed oil, indigo's oil, sunflower oil and tocopherol antioxidant (vitamin E). The oil therefore has a 'natural' odor, which is not disturbing and does not remain in the hair, but I believe that it will be somewhat unusual for the those who adore synthetic fragrances. For my straw hair I usequite a lot, the contents of the bottle will probably be sufficient for 12 uses. However, after using it, hair is more soft, willful, shiny and has more volume. I think that it visibly improves hair to all who often bleach  or brighten their hair. For those who only slightly tone their hair, the use will only be noticeable after repeated application. Those who have very greasy hair by natur will probably not like it as much.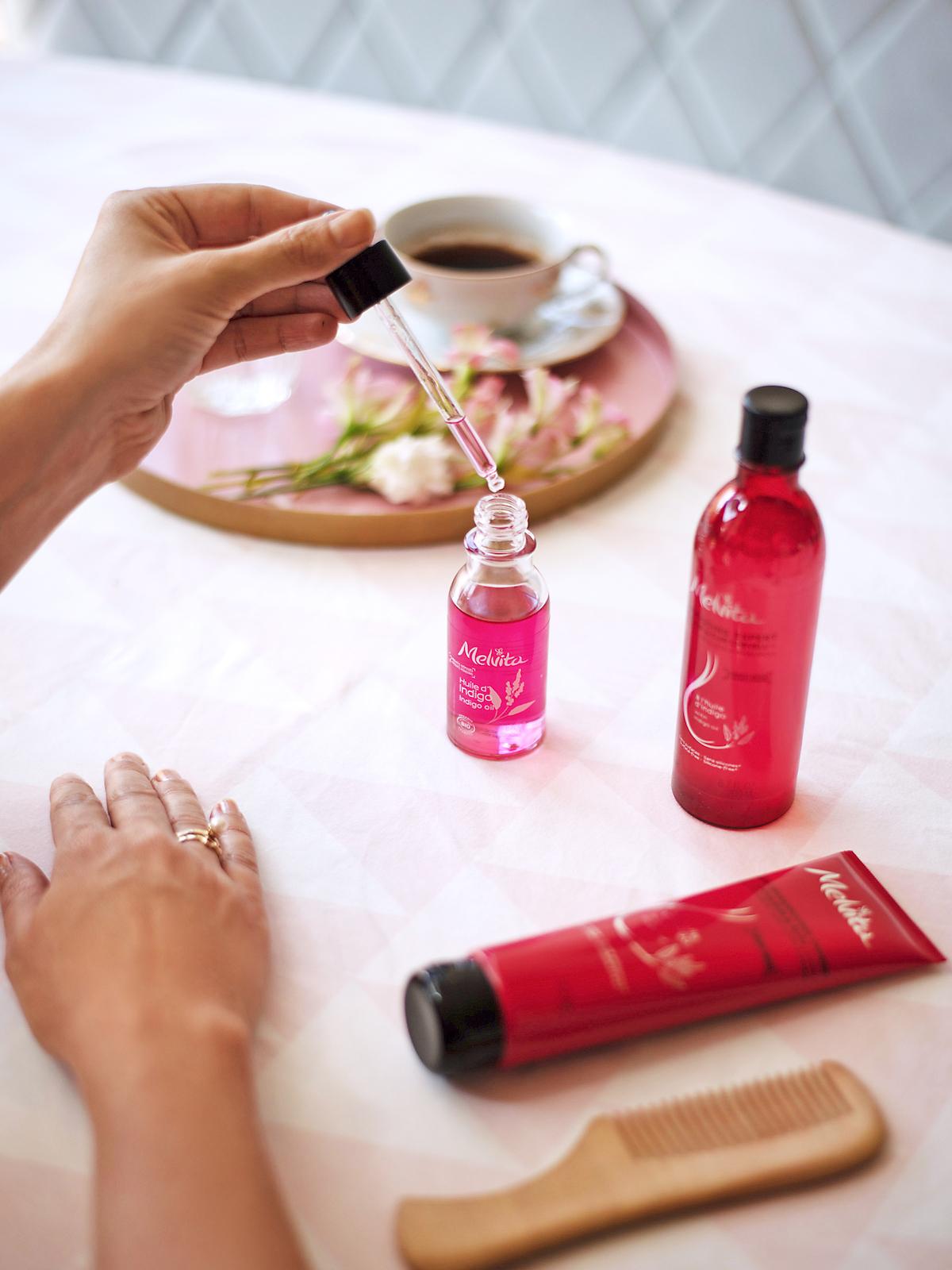 SHAMPOO for colored hair and indigo oil scalp (17,80 € / 200 ml). Extensive ecological shampoo, enriched with indig oils, preserves the freshness of the color up to a maximum of 12 wash * and calms the scalp. Gentle formula DOES NOT contain sulfates, silicones, parabens and mineral oil. Shampoo is one of the best ecologically certified shampoos that I have tested. It is very good to penetrate, effectively remove the oil, all the residues of the molding products and other impurities, but it is nevertheless very gentle to the scalp. My sense is sensitive, itchy, so I always look for shampoos, which at the same time calm and nourish the scalp. Because a good penny, I spend a lot of shampoo.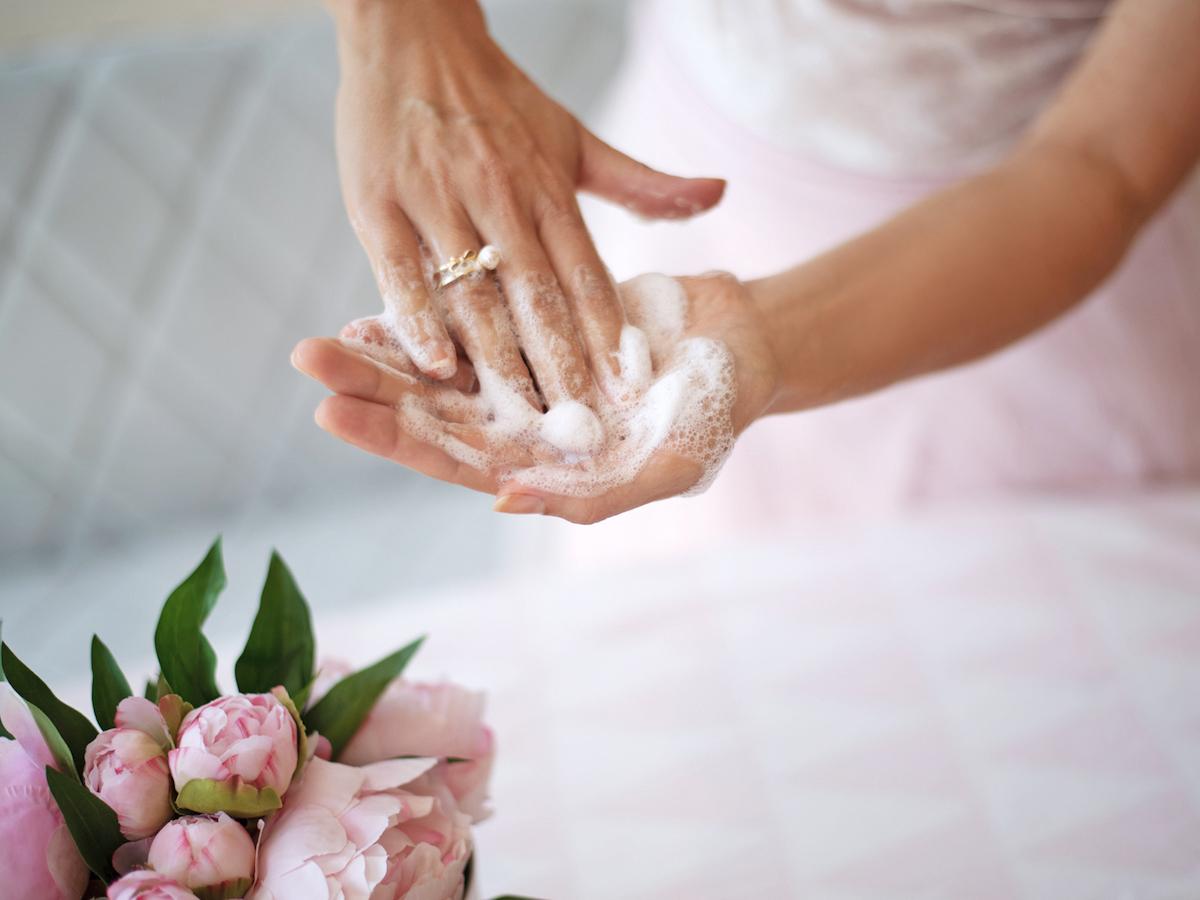 Hair conditioner for colored hair and scalp with indigo oil(18,80 € / 150 ml). Conditioner, enriched with indigo oils, nourishes and cleans hair. The soft formula without silicones and sulphates makes your hair soft, shiny and resilient. It prevents fading of paint up to a maximum of 12 washings *. After the texture, the balm is light, so it will appeal to all those who have thin hair or want more volume. It may be too intense only for really thick hair.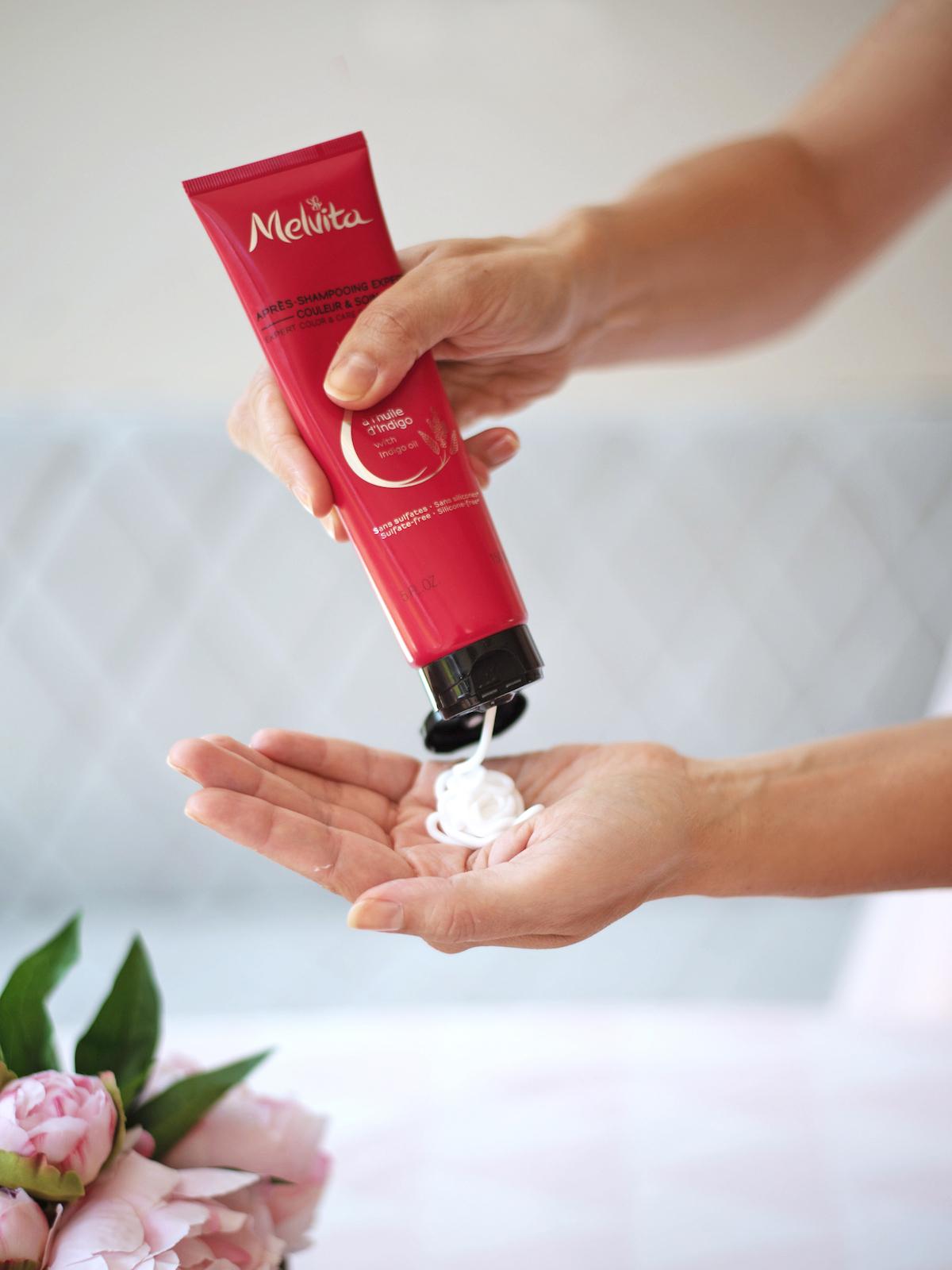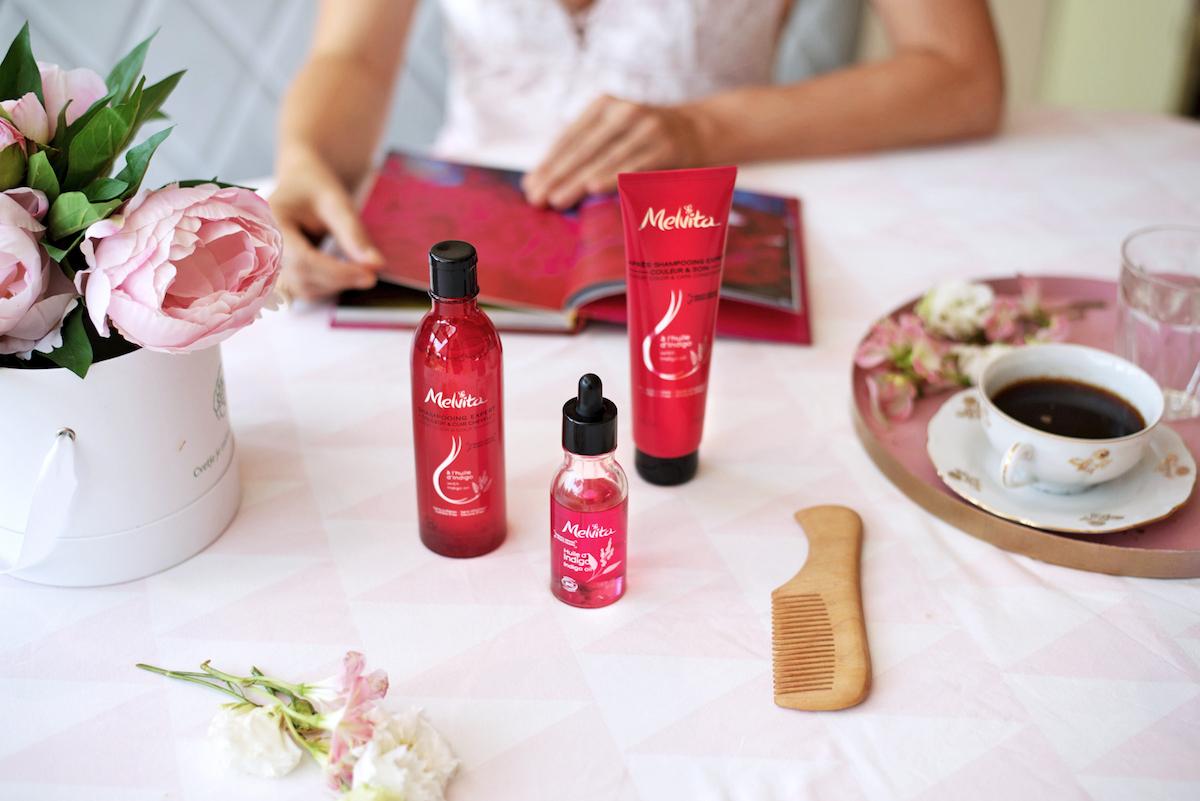 ⇒ ♥ Products are available at the online store www.melvita.si and at the sales outlets Nama, Maxi, Müller, Pharmacy Ljubljana, Vita care and Leposana. This moment you get them with a -30% discount if you buy the whole collection here … click-click.
shine bright,
Nika
♥ Click and follow me on Instagram ♥
Photos: Fash'nFudge. Photos are not edited.
* Efficiency test ex vivo; 12 aplications of all 3 products from the indigo oil collection.
** This post was created in collaboration with Melvita. I received the products for testing, more than a month before  they were placed on the shelves, which I am especially grateful for.
Beauty Blogger
hair care
hair product
MELVITA
Slovenian Beauty Bloggers
E-novice
Sorodne vsebine
This post is also available in: Slovenian