Erborian has added a new product to their already wonderful Centella line — the cleansing butter Erborian Centella Cleansing Balm. If you're already a fan of double cleansing or are just thinking of making it part of your skincare routine to combat dry skin, a damaged barrier, clogged pores or an occasional acne breakout, meet the product that you'll love and can help you solve your skin issues.
What is facial cleansing butter and who do I recommend it to?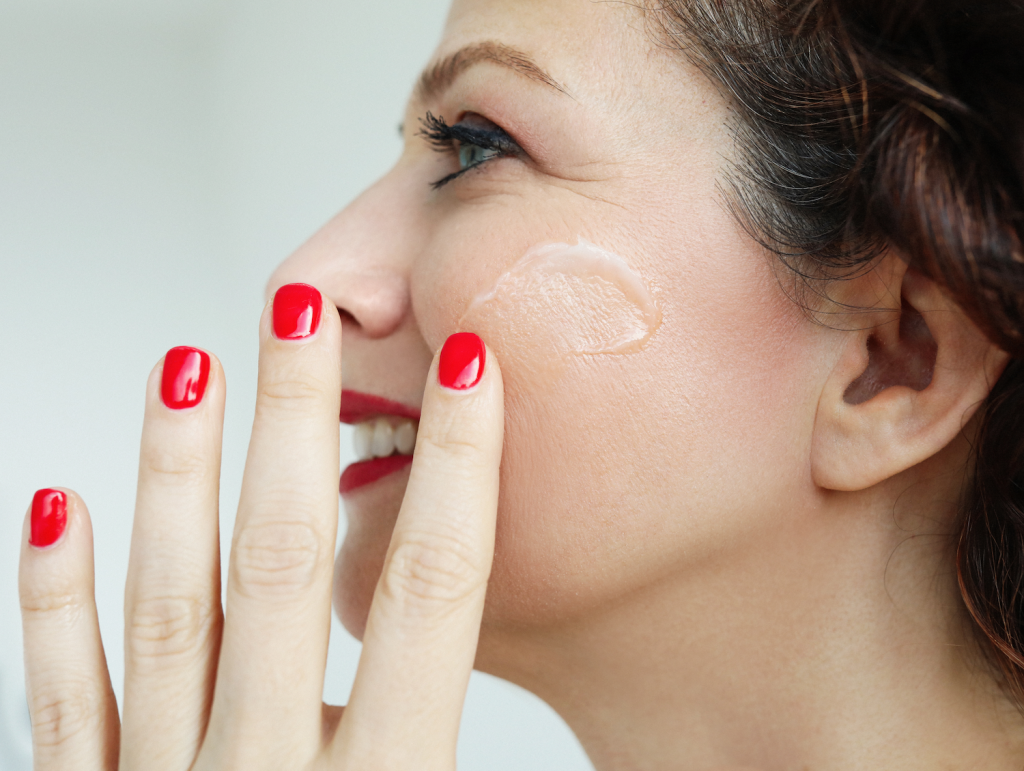 In short, it's an oil-based cleansing product with a buttery texture. We use them in the first step of double cleansing, as they very effectively, but gently, dissolve all impurities, waterproof makeup, SPF residue and excess sebum. Because they contain surface-active agents, they turn into a lotion in contact with water, so we can easily and effectively rinse them off our face. When in use, they don't dry out our skin, but coat it in moisture and provide care. I recommend to use facial cleansing butter as the first step of double cleansing if you have normal, dry or very dry skin.
Erborian Centella Cleansing Balm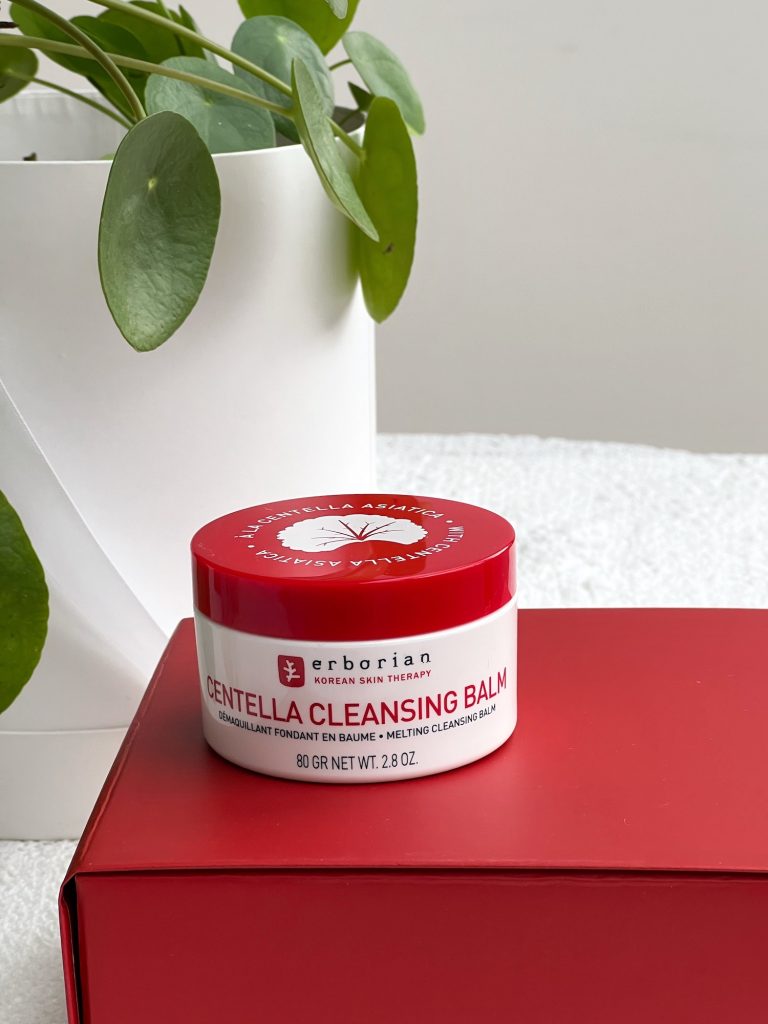 I received the Erborian Centella Cleansing Balm into test before the official launch of the product and have now been trying it out for three weeks. Before you read my review, take a look at some of its properties.
Kay Active Ingredients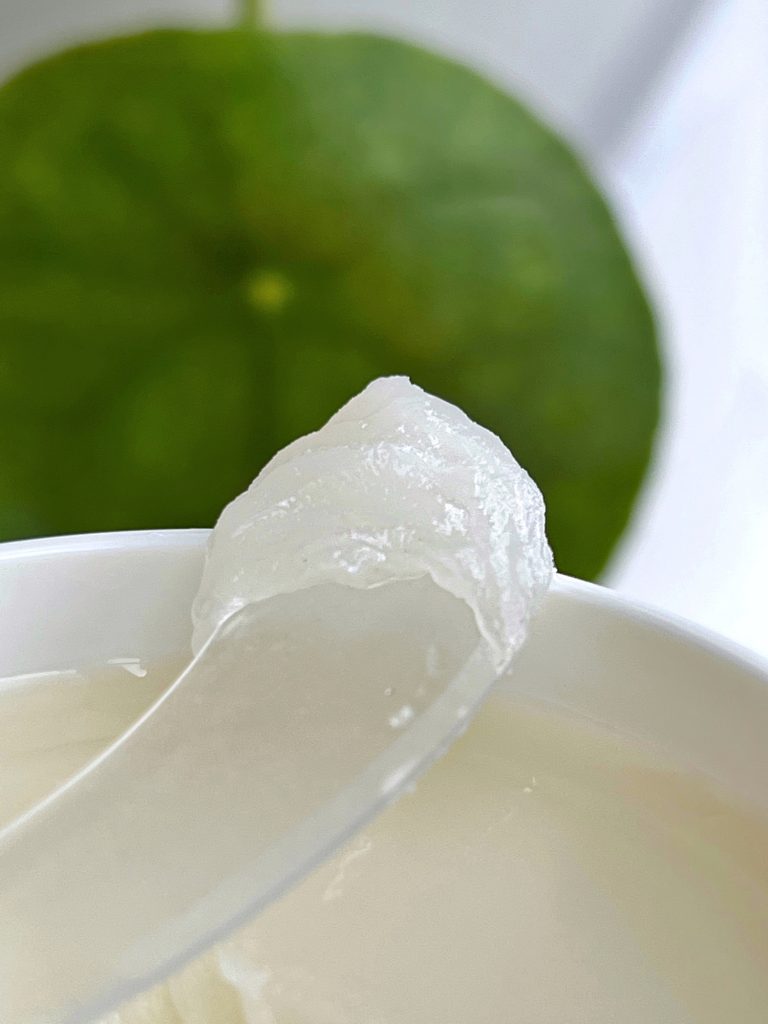 Erborian uses traditional Korean herbs in all of their products. The star of this line is Centella asiatica, also known as Asiatic pennywort, which soothes and speeds up skin regeneration.
Erborian uses as many natural active ingredients as possible in their new products, while leaving out the questionable ones — the new Centella facial cleansing line is made without sulphates and is especially gentle in cleansing all skin types. It contains:
Asiatic pennywort, which soothes, moisturizes and speeds up skin regeneration. Read more about Centella asiatica and its beneficial effects here.
Sunflower oil rich in omega-6 and omega-9 fatty acids, which nourishes the skin.
Coconut oil rich in fatty acids that make up the skin's natural barrier, protecting the skin from drying out.
Beeswax softens the skin.
Almond oil nourishes and softens the skin.
Shea butter prevents the skin from drying out, nourishes it and restores its comfort.

What is the difference between the oil and the butter from Erborian's Centella line?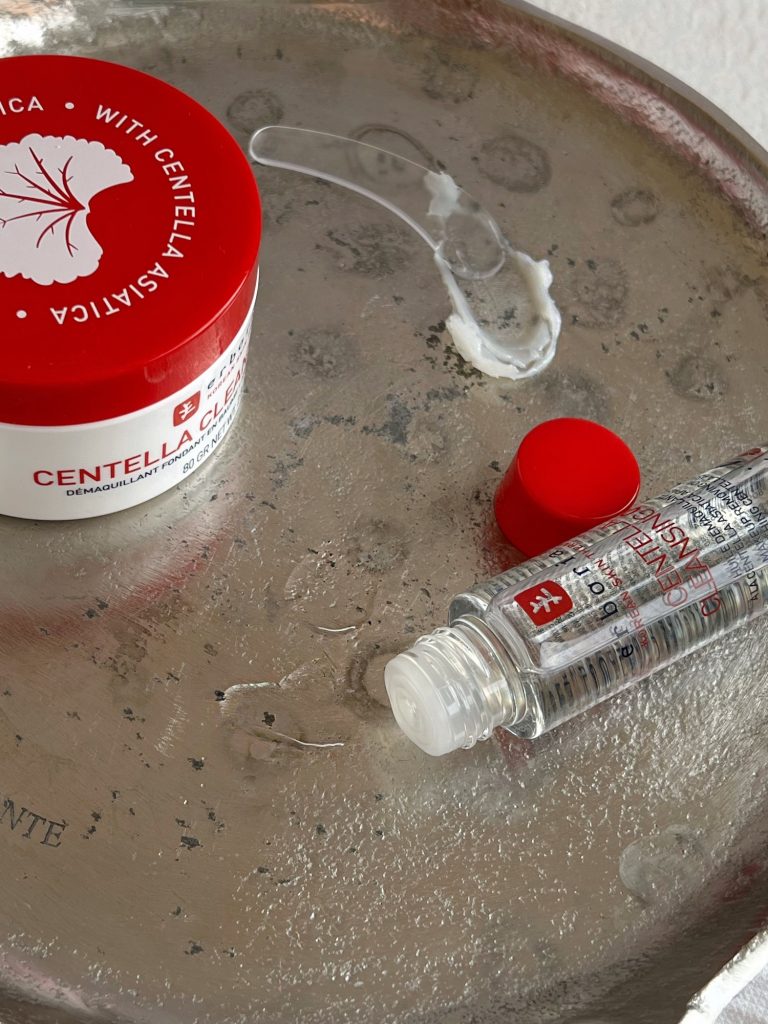 1. The first and most important difference, which others also derive from, is TEXTURE. The cleansing oil is a liquid, while the cleansing balm is a butter-like solid. Hence why the products also come in different packaging.
2. PACKAGING
The cleansing oil usually comes in a bottle with a pump, while the cleansing balm is available in a pot with a spatula applicator. If you dip fingers in the balm and don't use the spatula applicator it normally comes with, the use of oil can be more hygienic. However, the use of butter is more convenient for travel, as it's easier to put it in a travel container and doesn't get seized at the airport. In terms of packaging, the balms are also more sustainable, as they can come in 100% recycled packaging, which allows further recycling. On the contrary, oil packaging pumps normally can't be recycled.
3. SENSORY EXPERIENCE
To activate the butter, you need to massage it into your skin for a second or two longer, which is very beneficial for the skin and your well-being.
4. PRICE
At first glance, balms seem more expensive than oils, but the price evens out, as one cleansing requires very little balm in comparison to how much oil you'd normally apply.
5. EFFICIENCY
An important difference is that butters are usually a little more effective in removing waterproof, glittery and generally stubborn make-up.
Erborian Centella Cleansing Balm Review
Erborian's Centella Cleansing Balm is beyond lovely. I use it in the evenings, as the first step of double cleansing, when I want to remove mascara, makeup, SPF, puppy kisses, my children's touches and all other impurities accumulated on the skin throughout the day. In contact with dry skin — always apply it on dry skin! — its texture changes from butter to oil, which is nicely viscid and allows for a great massage. When I add water, it turns into a milky emulsion that washes off nicely and fairly quickly from the skin.

Erborian Centella Cleansing Balm is yet another of the miraculous Korean products that make your skin baby soft and beautiful. The balm is full of wonderful sensory properties, effective, hydrating and nourishing, keeping the skin clean, baby soft and super smooth!
It is dermatologically and ophthalmologically tested.
*INCI: HELIANTHUS ANNUUS SEED OIL (sunflower oil) – COCOS NUCIFERA OIL (coconut oil) – PEG-40 SORBITAN PEROLEATE (surface-active agent, emulsifier) – CAPRYLIC/CAPRIC TRIGLYCERIDE (emollient of coconut oil and glycerin) – CERA ALBA/BEESWAX (beeswax) – HYDROGENATED VEGETABLE OIL (plant oil) – PRUNUS AMYGDALUS DULCIS OIL (almond oil) – POLYSORBATE 20 (emulsifier, helps to mix water with oil) – CENTELLA ASIATICA EXTRACT (Asiatic pennywort extract) – BUTYROSPERMUM PARKII BUTTER (shea butter) – TOCOPHEROL (vitamin E, antioxidant) – PARFUM/FRAGRANCE (fragrance)
I continue the second step of cleansing with a water-based cleanser. Erborian's Centella Cleansing Gel from the same line is wonderful.

Who do I recommend Erborian Centella Cleansing Balm to?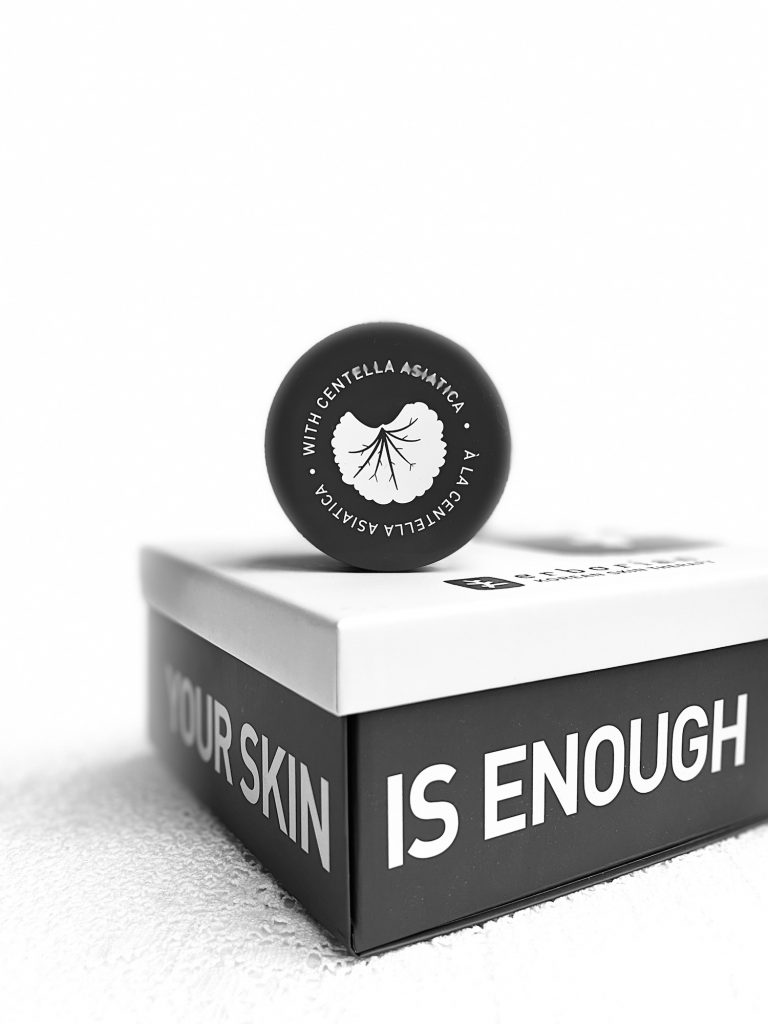 Cleansing butter is the perfect cleanser for removing make-up, waterproof mascaras, SPF, clogged pores… so try it if your skin isn't oily (in this case you may not like it).
Unlike with some other skin cleansing balms:
You can apply it on the eyelids even if you're wearing contact lenses, as it's ophthalmologically tested;
it removes waterproof mascara and glittery makeup quickly and thoroughly;
it leaves a pleasant feeling on the skin after cleansing – this is not the kind of butter which leaves you with a greasy, sticky residue on your face;
it soothes the skin and your conscience too, as cleansing isn't aggressive and you; know that centella will help you maintain a good skin barrier and improve the skin even in the long run;
the product is scented – since the fragrance is pleasant, gentle and inviting to use, I don't mind that it isn't natural.
Shine bright,
Nika
Photo: Vstanem
Centella Asiatica
double cleansing
Erborian
Korean Beauty
skin care
E-novice
Sorodne vsebine
This post is also available in: Slovenian