I have to admit that I am selecting beauty products also based on packaging. For this reason, I was quite disappointed at first when I heard that Melvita floral water is now only available in plastic packaging and not in glass bottles anymore. But as soon as I saw them, I started liking them even more. Packaging is lighter and hence, easier to carry around; and most importantly, it is more environmentally friendly, since it's entirely made from materials that can be 100% recycled.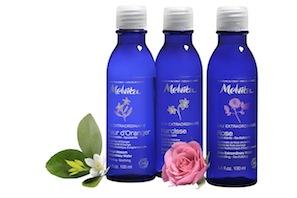 Their content is also new: a nourishing formula is enriched with hyaluronic acid from a natural source that moisturizes the skin immediately and prepares the skin for application of other care products and make-up. I use floral water in the mornings and evenings after cleansing my skin and before applying other creams or serum products, in order to intensely moisturize the skin. Occasionally, I use the floral water for refreshment.
I have already tried the Orange Blossom Floral Water edition that is soothing to the skin and the Rose Floral Water that helps to hydrate and regenerate the skin. With my next cosmetic purchase I will treat myself with Melvita Certified Organic Intensive Water Narcissus, which is combining organic lemon water with extracts of narcissus for even and glowing skin. During my first and second pregnancy I started getting pigment blemishes on my forehead. I have noticed that this is becoming a bigger problem nowadays among women of my age. Is one of the next research challenges going to be an invention for efficient care treatments for evening the skin tone? Do you have any good experience with this regard?
E-novice
Sorodne vsebine
This post is also available in: Slovenian