I adore crispy brown tan as much as I love chocolate bar. Darker treat, more tempting taste … and healthier too. But just a chocolate!!! The complexion is not the same if the cocoa colour is not natural. Due to the tiny wrinkles visible at the end of the summer, hyper-pigmentation and dark spots, I learnt that the healthy skin tone is only as dark as the skin tone given by the Mother Nature. Each tan, even slightly caramel, leads to faster ageing of the skin.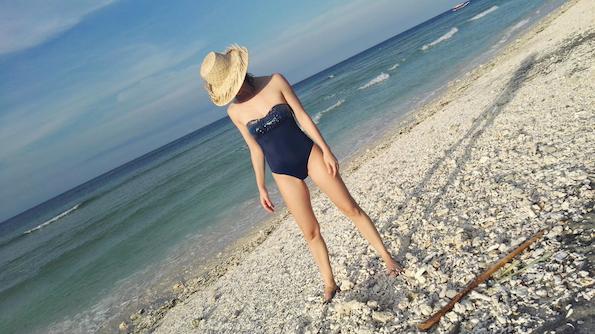 It was hard to accept that pale skin is beautiful. It is even more difficult to ignore the surrounding crowd. "She's as white as milk," are remarks that I hear in Ljubljana. I can only imagine how my yoghurt complexion would be 'eaten' in our "village". Beauty blogger Anna from Šoštanj says, " Of course, I had enough of hearing about my white skin, that does not look healthy, and I myself wanted to test the effect of sun beds. Even a school teacher's warning of the negative effects didn't stop me. I chose the quickest and the most effective one and… " If you would like to hear more about how the story ended and Anna's thoughts about the topic, check her blog Mad About Red.
The best protection from the sun is hiding in the shade or wearing a hat and light clothing. You can only see my ankles peeking out of a pine tree, which are additionally whitened with the most harmless sunscreen lotion. Tasty? Don't think so! Aristocratic, fashionable and above all, healthy!
Each year scientists discover important facts about skin ageing and sunscreens. But often these findings are so complicated and specific, that I struggle to understand. Therefore, I swear to common sense, which says:
the best protection against the sun is hiding in the shade, wearing a hat or long-sleeves;
eat a lot of food rich in antioxidants, so that the skin is prepared to protect itself against free radicals, caused by the UV rays, such as tomatoes, berries, citrus, etc.;
use products with a high SPF factor, 30 or 50 UVB + UVA and natural, well-proven ingredients such as Zinc Oxide.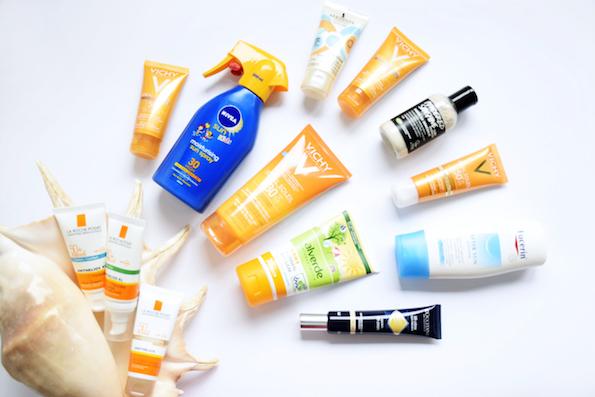 Choosing Health
Often never-satisfied women choose to sunbathe despite their awareness regarding the health risks. To gain attraction on the beach or Instagram, they cover their skin with the fast burning skincare products without SPF protection, such as Marmelada. If you are reading this post, then you have probably already chosen 'health' over 'likeable look'. Therefore, carry your superior view over these products for faster tanning without SPF protection and also return the following goods back on shelves:
that have a protection factor less than 15 and higher than 50. Protection 100 does not mean that you can be exposed to the sun hundred times longer than without any protection. This also doesn't mean that you are one hundred percent protected. SPF term refers only to protection against UVB rays that burn the skin. It has a little to do with the product's ability to protect the skin against UVA rays, which penetrate deep into the body, accelerate the ageing of the skin and can cause skin cancer (UVA protection is stated on the packaging separately or labeled as 'broad spectrum' if it achieves at least 1/3 of the UVB protection). The most worrying thing with such products is that they give us a false sense of security, resulting in over-exposure in the sun.
that contain retinyl palmitate (a form of vitamin A) that is photo-sensible. According to the German and Norwegean governmental studies, sun exposure can accelerate the development of skin tumors and lesions. Another controversial component is the Oxybenzone, since it penetrates the skin and in the body and acts as an estrogen. This can also lead to allergic skin reactions. Some studies have higher concentration of Oxybenzone associated with adverse health effects, including endometriosis in older women and low weight in newborn baby girls.
sprays with pressurised gas. Although the application is really handy, it seems that it applies too little of the product on the skin. Additionally, it has negative side effects on respiratory system according to different independent studies.

Spray bottles, as described by Tamara from Cherry Colors, are excluded from this chathegory

, "Such spray product makes it much easier to apply on a child that is constantly in movement. It smells good, absorbs quickly and protects the skin perfectly."  If you would like to find out more about Tamara's product, visit her blog.
Is it worth paying so much money?
Minerals are more expensive than synthetic chemicals, especially zinc oxide, as it has the highest skin protection. It doesn't penetrate into the body and if the minerals are not in nano-particles, it produces a visible white layer. Zinc oxide does not harm marine life and coral reefs and is available in products that are bio-degradable. It would be nice if the most harmless products would also be the cheapest, especially as you need to apply 2 g of the product per square centimeter of the skin!!! To cover your whole body, it would meant that you need almost a third of the tube. Therefore, it's better to invest into swimsuit with long sleeves or clothing with UV protection. Abroad, that's something quite normal… as well as white skin complexion, as my colleague Sandra says proudly, "Most women here (in London) are even more pale then I am (thanks to British genes;). As I can see, they are very proud of theire white complexion and are well-informed about sun tanning risks." An interesting read on the white skin complexion and the sun effects. Check out Sandra's article on The Puzzle of Sandras Life.
White is healthy. And beautiful.
I was inspired by Mateja thinking about the pale skin: "I'll never get the point of "jam". While everyone was frantically trying to get their hands of the highly coveted Marmelada, a fast tanning jam with no SPF, which caused a little war of opinions on social media, I sat in the shade, solving numerous amount of crossword and not doing what most do on the beach – sun bathe. So you want to know what products I use to protect my skin?"  You should read more about it too from Mateja's Beauty Blog. And what I use for the protection? I prefer Badger, eco brand that uses zinc oxide and has bio-degradable products. Although their creams are not quickly spreadable, Amalja and Bela love them too. Other brands that I trust are Bio Solis, Avenee, Vichy, La Roche Posay, Afrodita Cosmetics, Eucerin, Nivea.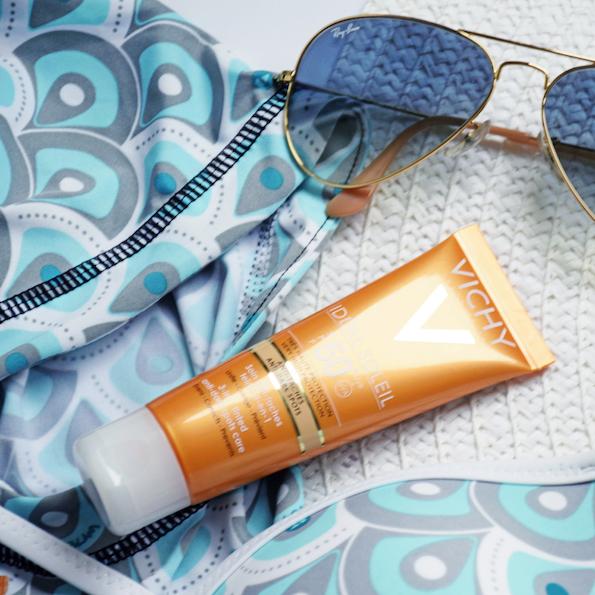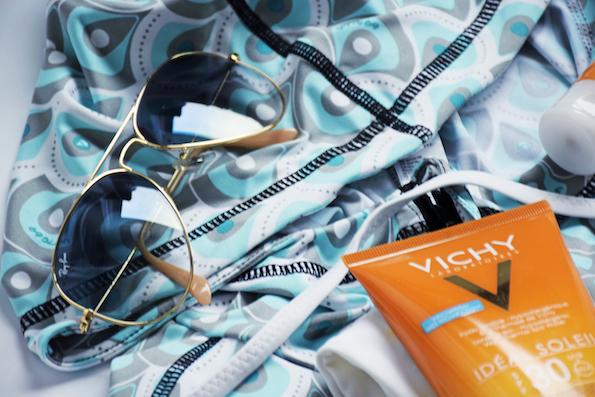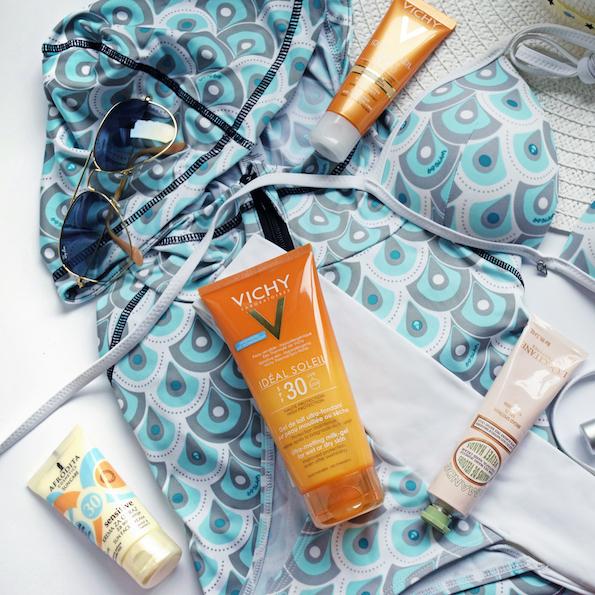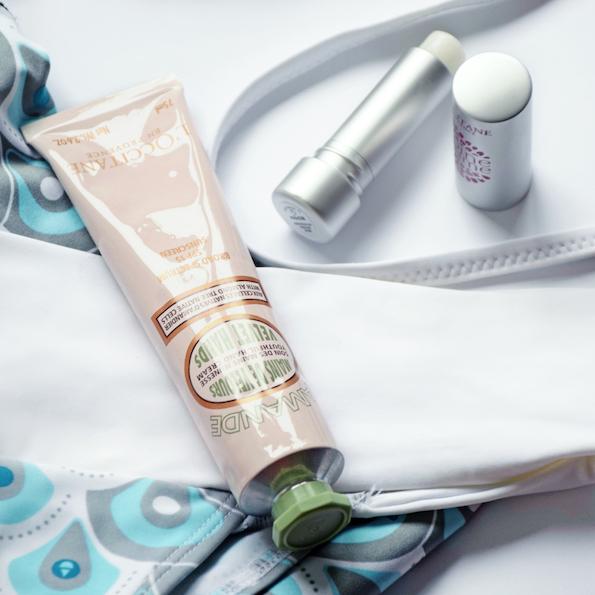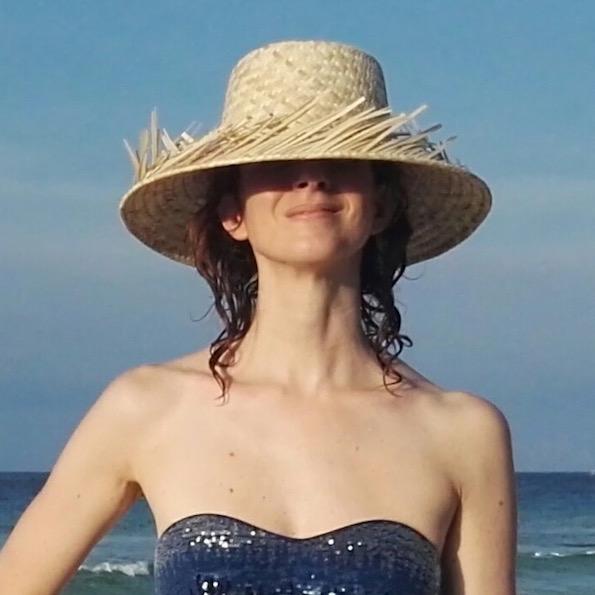 Karina from Karinartistic admits "Every time I went swimming by the pool or in the sea, everyone stared at me like I was an alien, because my skin was so bright against everyone else's." Are these your feelings to? Would really love to hear your thoughts on this topic.
Shine bright,
Nika
♥ Click to to be the first to find out about new posts via Bloglovin ♥
Photography: Karinartistic for Beautyfullblog
L'OCCITANE
Slovenian Beauty Bloggers
Summer Beauty
VICHY
E-novice
Sorodne vsebine
This post is also available in: Slovenian