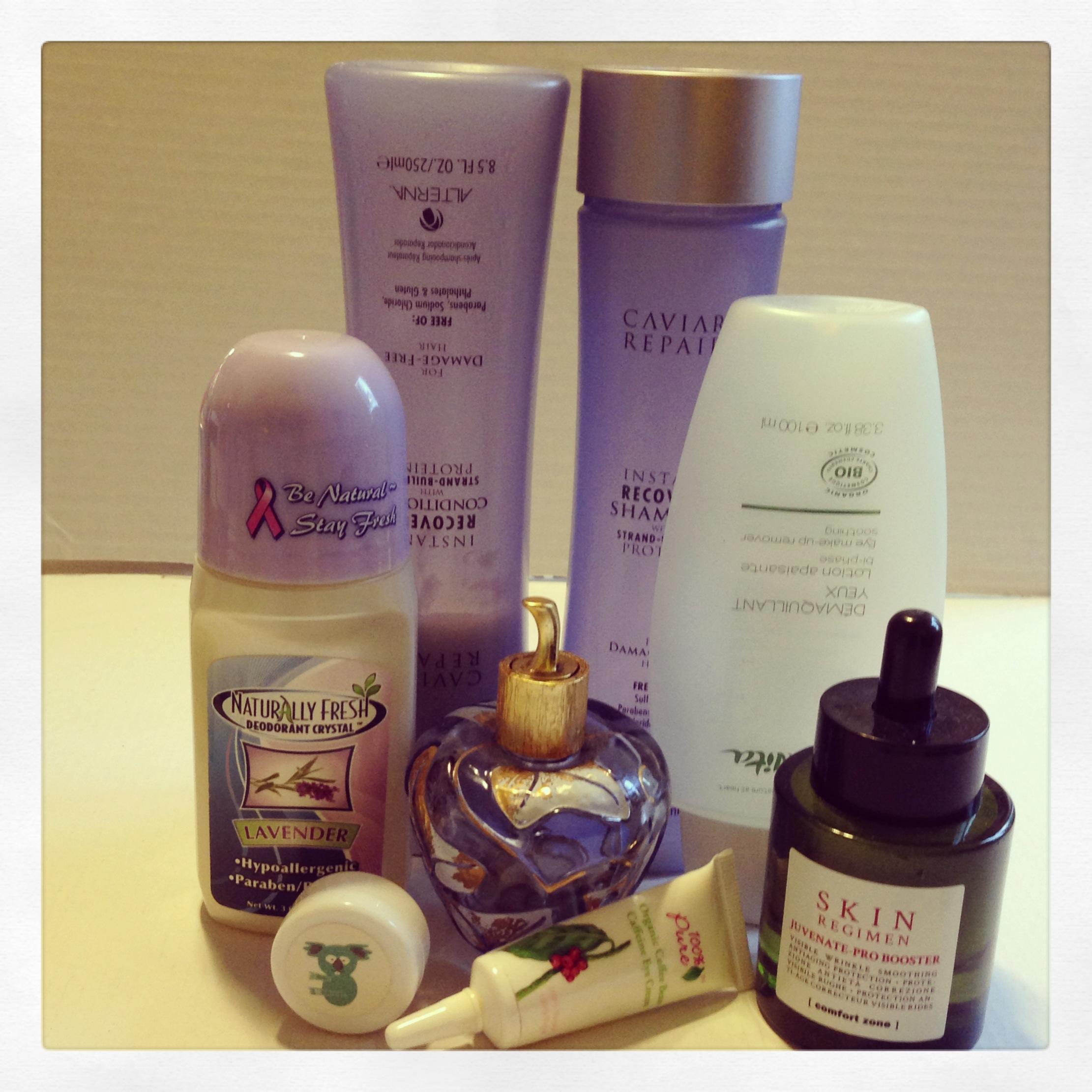 I'm late! It's not that I haven't produced any cosmetic waste in October… I have, I just haven't been able to submit the report on time. Even though I truly love writing about Beauty Bucket, hoping to prevent some foolish purchase, the amount of empty packaging irritates me every time, so I hope to raise some awareness about this. I promise that I will soon do something with regard to this.
This month my Beauty Bucket is very blue and wise… because of the product's colour and the thoughtful investment into carefully selected products. The products are listed from left to right:
Naturally Fresh Deodorant Crystal with lavender scent. This is your solution if you're looking for a natural, effective deodorant without aluminum salts. It contains natural mineral salts, which really does not irritate the skin and is free from harmful chemicals, aluminum salts and parabens. I also like its lavender scent.
Natural Toothpaste for Children Jack n 'Jill (mini test cup with koala). I found it at the London fair of organic beauty products. Manufacturers assured me that it doesn't contain any harmful ingredients, fluoride, artificial colours or preservatives and it's very gentle on babies' teeth. Amalja adds that it has a delicious taste to it. Luckily, it is now also available in Ljubljana, at the shop Luškarna.
Shampoo and Hair Conditioner Alterna Caviar Repair. A friend of mine started to use these two products first and I immediately noticed that her hair look healthier and more vibrant. When I tested it on my own parched and damaged hair, I was excited, as after its usage my hair looked significantly more soft and shiny. I also like Alterna shampoos because they normally don't contain harmful chemicals and have a lot of organic ingredients. It is true that the price of a shampoo bottle is high, but you can use a concentrated content throughout the whole year. If I would have to choose the best product pair for hair cleaning that I have ever tried, I would choose this one.
100% Pure Organic Coffee Bean Eye Cream with coffee beans. This is now my third tube. I've warmed to it (as well as  numerous celebrities have, e.g. Kate Hudson, Tom Cruise, Madonna, Reese Witherspoon), because it has a really nice texture, a warm 'cozy' smell, does not irritate sensitive eyes and prevents dark circles or puffy bags under your eyes, despite my sleeping deprivation. It is rich in caffeine and green tea.
Perfume Lolita Lempicka Eau De Perfume Spray. Special notes such as: licorice flower, violet, anise, green ivy … create this magical, sugary and not too floral scent. I really like it. I believe it goes nicely with warm, soft fabrics, so I use it in the coolest part of the year. Oh … and of course, the bottle will not end up in a garbage bin.
The organic eye-makeup remover Melvita The Essentials. I recently found out that this excellent eye-makeup remover is not on sale anymore, because it has been replaced by a newer addition. Too bad, as it was really good: it has removed all traces of make-up (I use waterproof mascara), while not irritating the eyes or oiled-up lenses (unlike the last version). I even had a feeling that it soothed and nourished my eyelids.
Serum Comfort Zone Skin Regime Juvenate-Pro Booster. I received it to test at the arrival of this Italian brand on our market. It aims to remove wrinkles and soothe the skin complexion, so I almost gave it to my mother. Luckily, I was too curious about what this interesting package contained. I will remember this product mostly for its great invigorating scent (peppermint shots) and moisturizing texture. It seems that after its usage my skin looks less red.
Beauty Bucket (October) @sl
E-novice
Sorodne vsebine
This post is also available in: Slovenian