A week with no children and only my partner, for the first time in two years? A dream come true, even in Medvode. But Peter and I wanted peace and quiet, as well as to recharge our batteries. So we looked for a destination that is a combination of seaside and an urban feeling, offers good food and a lot of activities, where you can ride a bicycle and enjoy the sunshine. California is too far away … so Valencia it was.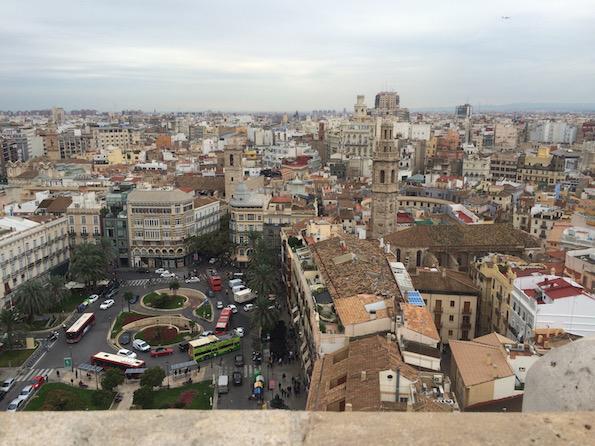 The quickest route to Valencia
You can fly to Valencia directly from Trieste on Sundays and Thursdays with RyanAir (a two-way ticket costs about 45€). But since we booked our vacation during the autumn break, when the summer flight schedule switches with the winter one, there was no direct flight. That increased our travel time by 5 hours and also meant a quick stop in Zürich.
Getting around the city
Valencia is a city that developed on the banks of the river Turii and spread to the sea. This is why the old city center has a very urban atmosphere in comparison with the seaside part, which has large hotels only a few kilometers away.
For a first impression of the city, we hop on a TURIST BUS. To get a feeling of the size, we visit the main sights so we can use our "inner compass". We also look at some small nooks and crannies, which we would otherwise overlook. This is a great way to learn something about the history of the city and its main points. Valencia Bus Turistic has three routes to offer. The red one, A, goes through the historic part of the city (mainly through the city center). The blue one, B, defines Valencia as it is today and includes the main historic and current attractions. The routes take about 2 hours and a half without any stops, and I personally enjoyed the blue route more. The third route, the green one, goes by the river bank and introduces the eco system.
The city is ideal for CYCLING. It's flat, the traffic is organized and the dried up river bed of the river Turii has been turned into a park. A picnic basket, a highchair, a bike trailer for children …  You name it, they have it! Several bike rental shops offer stylish bicycles (like Passion Bike), all kinds of equipment and also guided tours around the city.
TAXI's can be found anywhere on the street and prices are only a bit higher than in Ljubljana, the lowest fare possible is 4€. The ride from the airport to the city costs from 20 to 25€.
WALKING or getting lost in the narrow streets of the old city center reveals some amazing graffiti, mini cafés, hidden city jewels, tiles …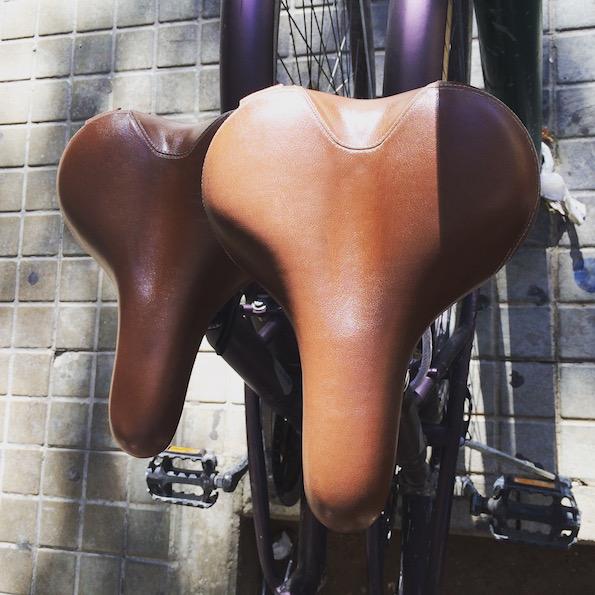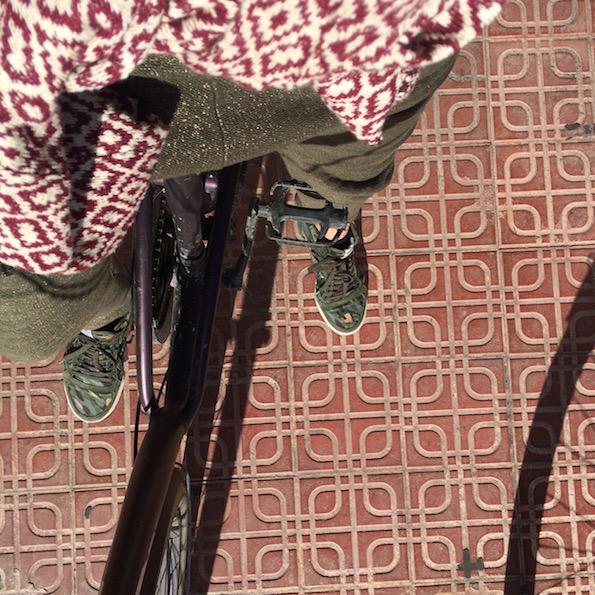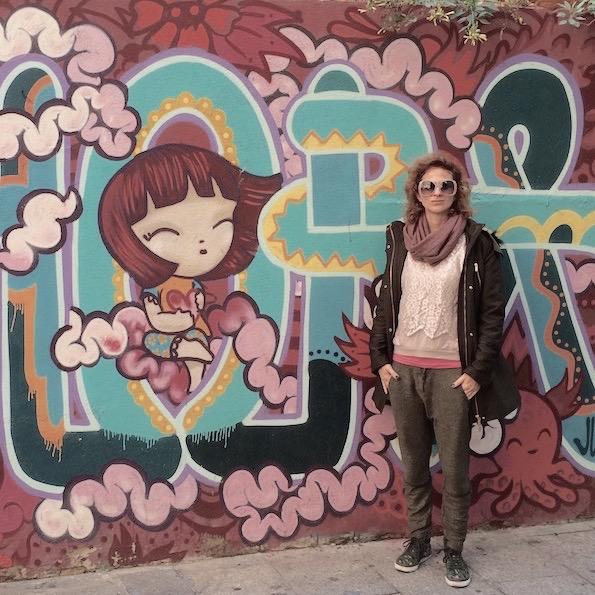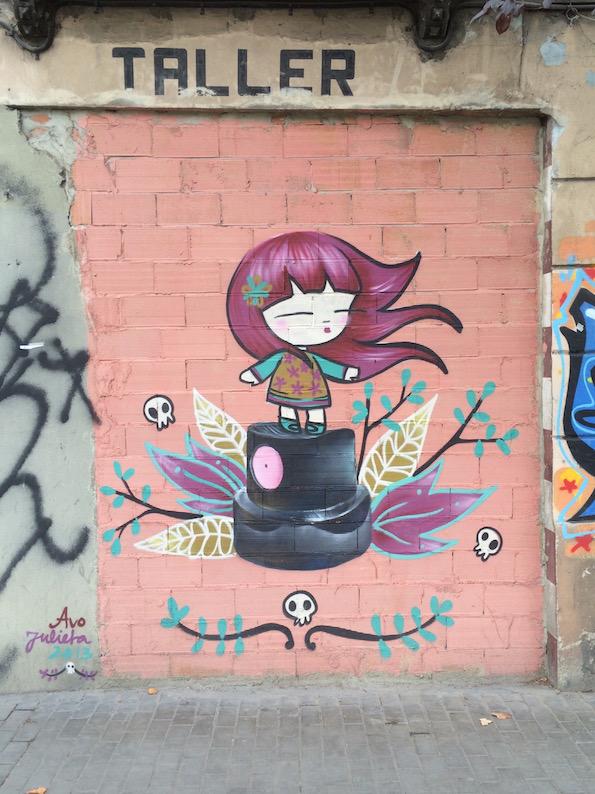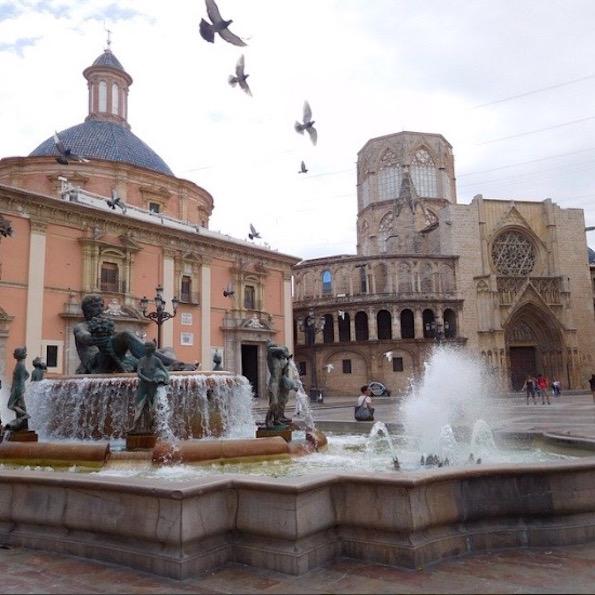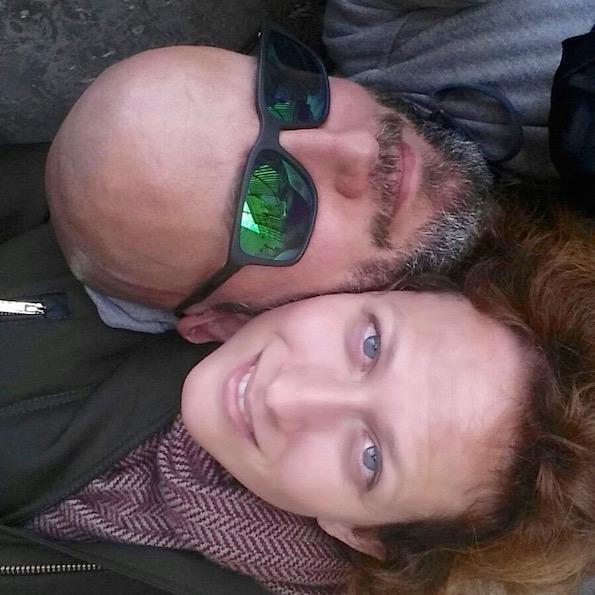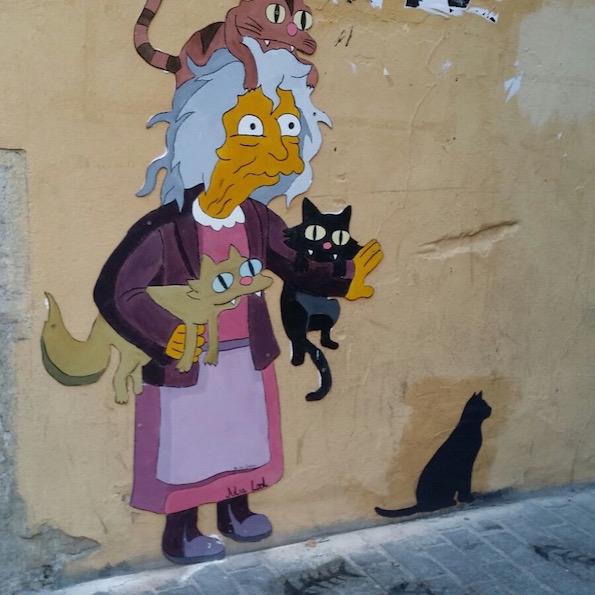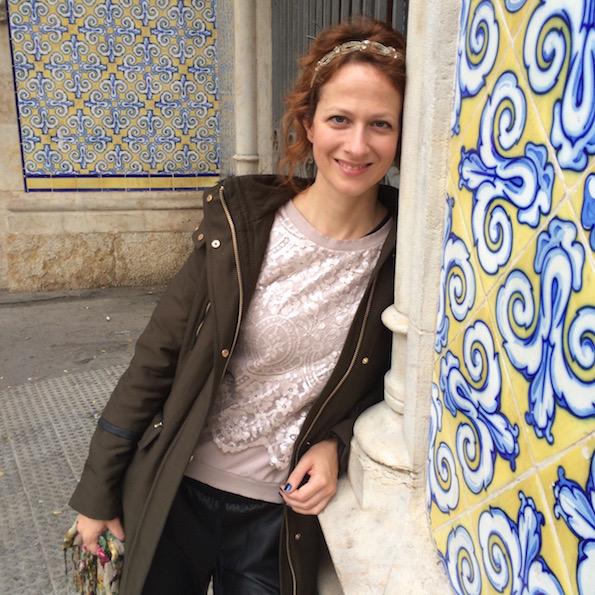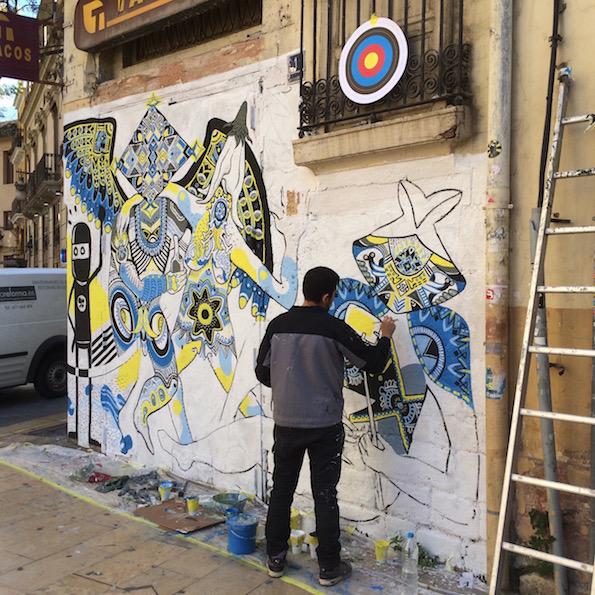 Experience Valencia
If you have two small children at home, you will know that sometimes it's ok to experience nothing. But there were so many interesting things happening – I would hire a nanny even in Ljubljana to see them!
#intramurs. The old city center became the scene of an art festival, which we noticed straight away due to graffiti in the making and street concerts taking place.
#contravan aka an open food market. We have a similar thing in Slovenia called 'Odprta Kuhna', which is also all about filling our bellies and emptying our wallets. We tried a Peruvian style paella (ground corn with vegetables), hamburgers and two typical Valencia desserts, brownies and carrot cake.
#Central Market (Mercado Central). Aromatherapy at the old farmer's market is really unbelievable … the fresh scent of oranges and other Mediterranean fruit, vegetables, nuts, prosciutto really lifts you up, while the smell of sea food grounds you. The architecture (from the 20's of the previous century) is also very striking and beautiful, not to mention several "old-school" tiles, which cover the façade of buildings and several stalls.
#SPA Las Arenas. Not because they have a very diverse offer, since theirs can't really compare with Orhidelia in Olimije. They only have a Finnish and Turkish sauna, aroma shower, jacuzzi, and a small pool. I included them mainly because of their excellent therapeutic back massage and the lovely walk on the sandy beach afterwards.
#view from the tower of the cathedral of Saint Mary by the way, they store the cup from which Jesus drank at the last supper here. The almost 200 step climbing to the top of the tower pays off with a beautiful view. A beautiful mix of different historic periods, religions and culture.
#City of Arts and Sciences of Valencia with the Oceanograph. The interesting culture gave me a feeling of other worldliness. This time we visited the Oceanograph, one of the largest European aquariums. Being in touch with the underwater world always relaxes me and brings back beautiful memories from diving in Indonesia. This time it also made me feel sad, since some animals had, in my opinion, habitats that were too small (belugas, penguins and sea lions). We also looked at the free dolphin show, which was fairly decent … The trainers seemed to be very loving, the dolphins didn't have to perform complicated stunts. Just some very fast swimming, a few jumps out of the water and flips to fascinate me with their acrobatic abilities.
#botanical garden Jardi Botanic. A moment to rest between the palm trees instantly brought back memories of green & tropical Thailand. I had quite a few déjà-vus of Indonesia while staying in Valencia.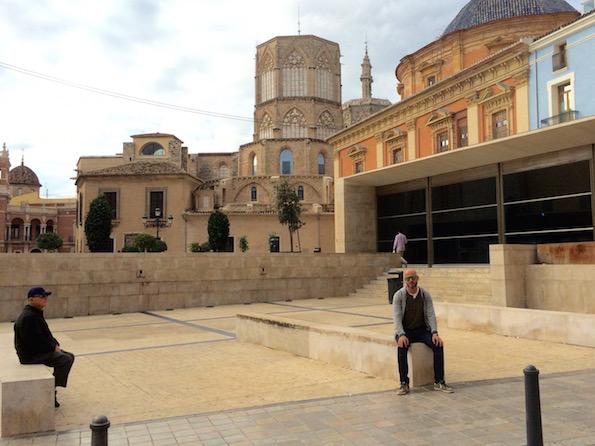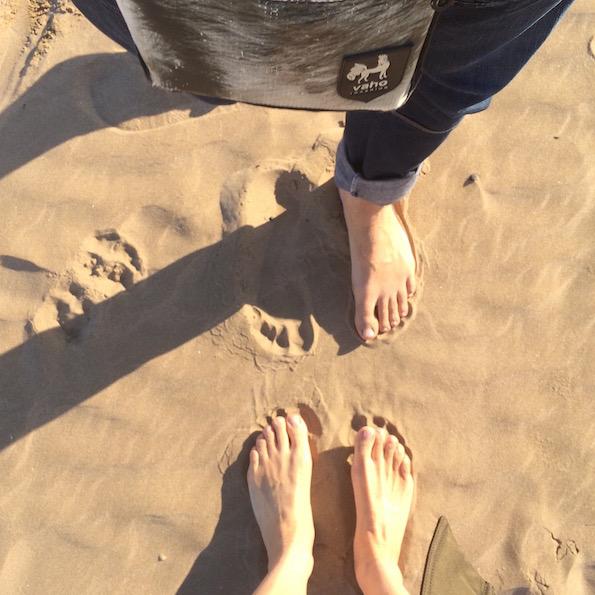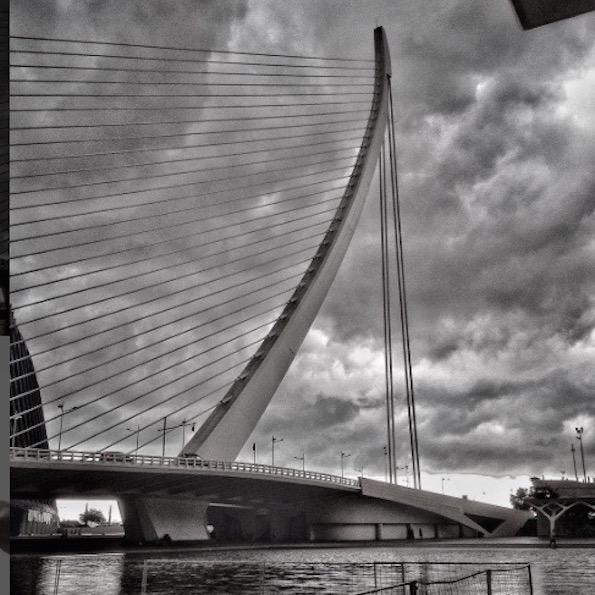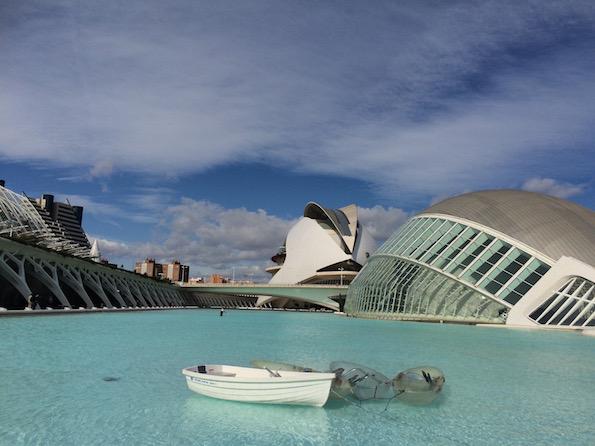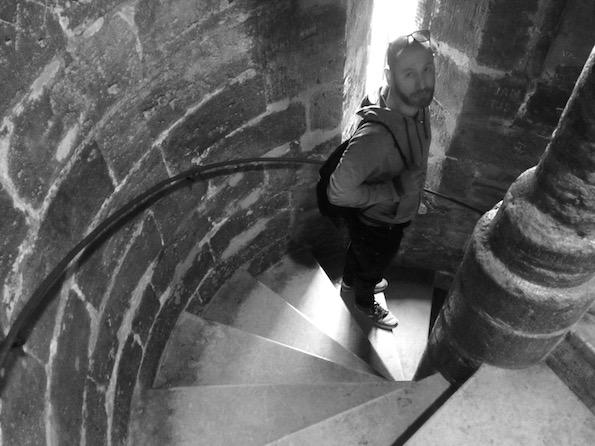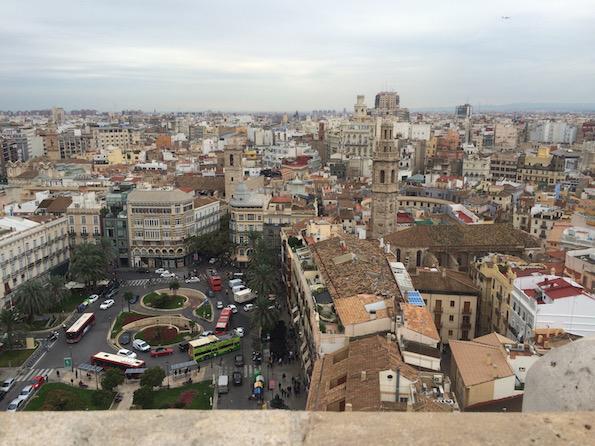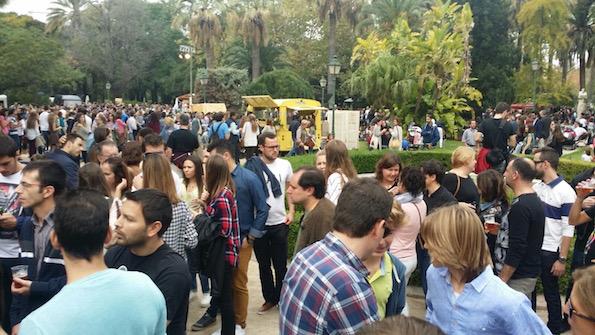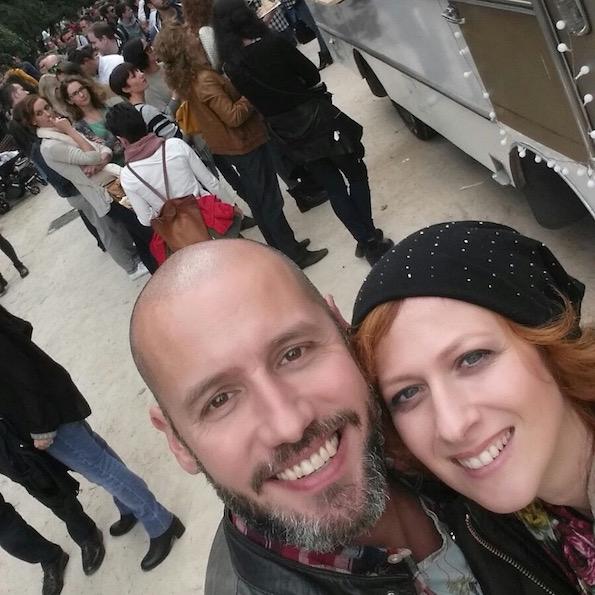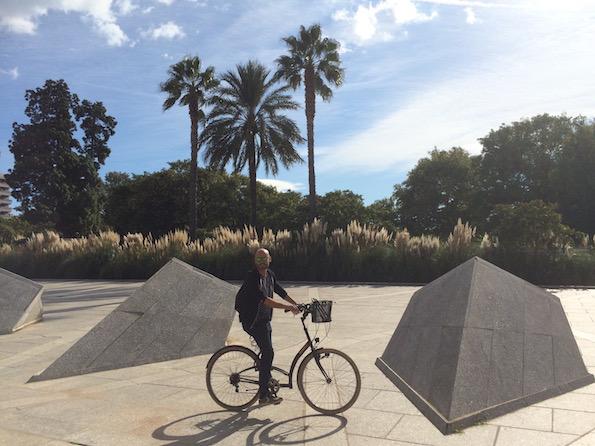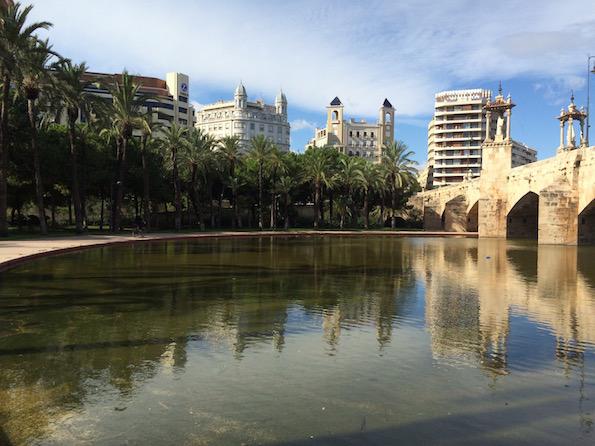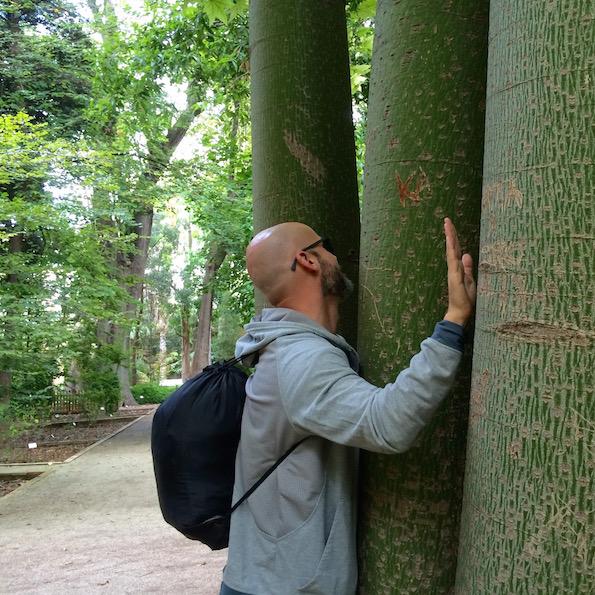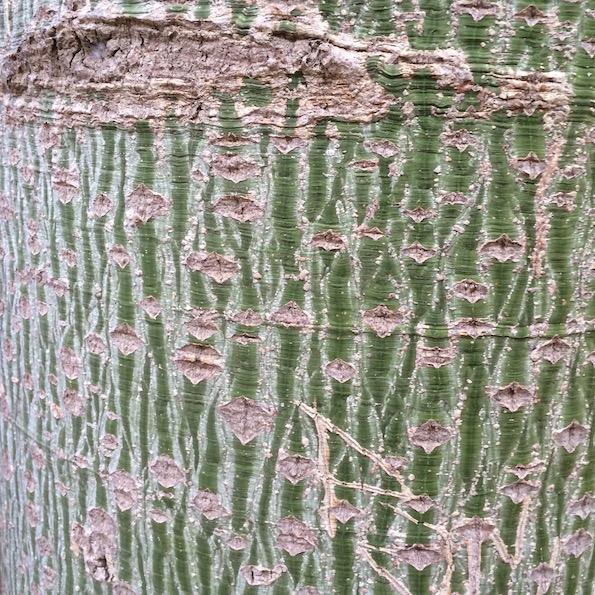 Food and Drinks
Even though Valencia is known for its good food, the menus in the restaurants lacked diversity. Paellas, tappas, black pudding, sea food, brownies and carrot cake are almost unavoidable. It does however pay off to try the puff pastry, churro, which you dip into molten chocolate. Anything that includes fresh tomatoes, olives and olive oil is also worth a taste.
And what did we toast with? Valencian oranges are known for their aromatic scent (flowers and fruit), sweetness and their seedless core. We expected something more aside from freshly pressed orange juice … an orange museum, bike tours through the orchards, cooking recipes, stalls with oranges … a greater tribute to the fruit, which brought about the golden times for Valencia, after silk and tourism. Our disappointment was washed away when we found out that orange juice is drunk like water in Valencia and is also the main ingredient of the popular cocktail Agua De Valencia. Spanish wine Cava or sparkling wine, vodka, gin and orange juice … cheers to new energy!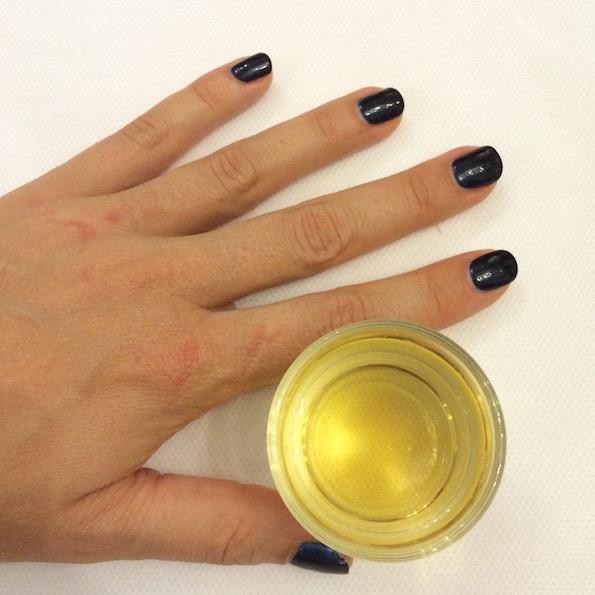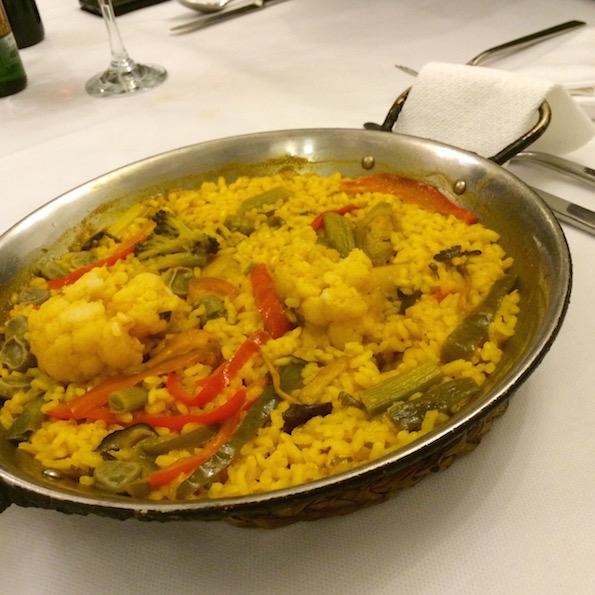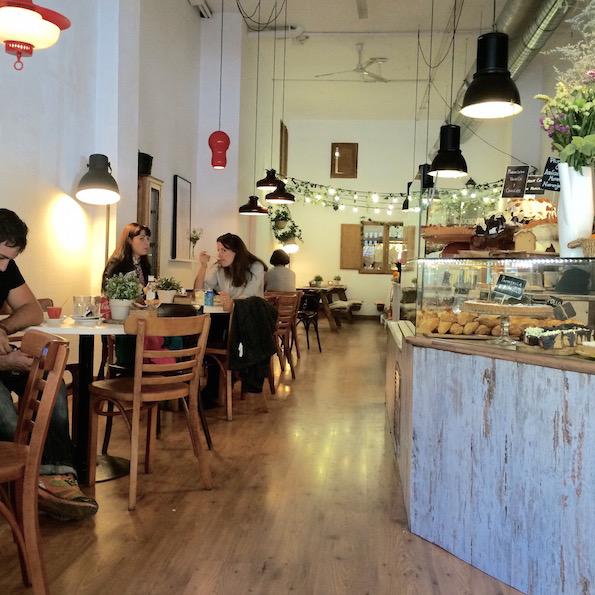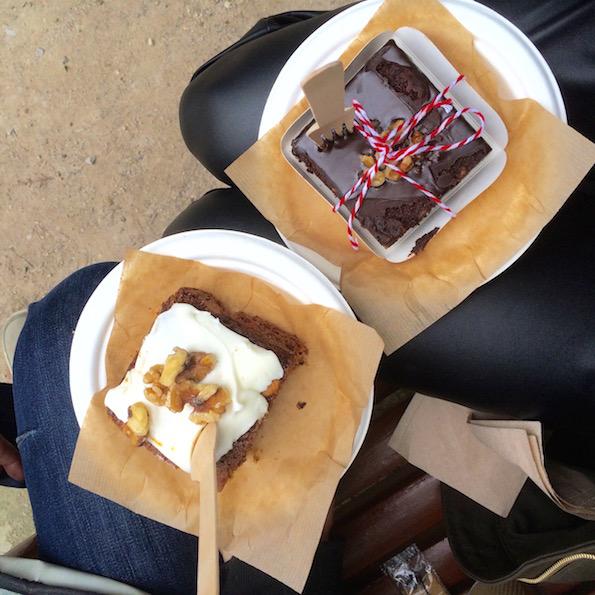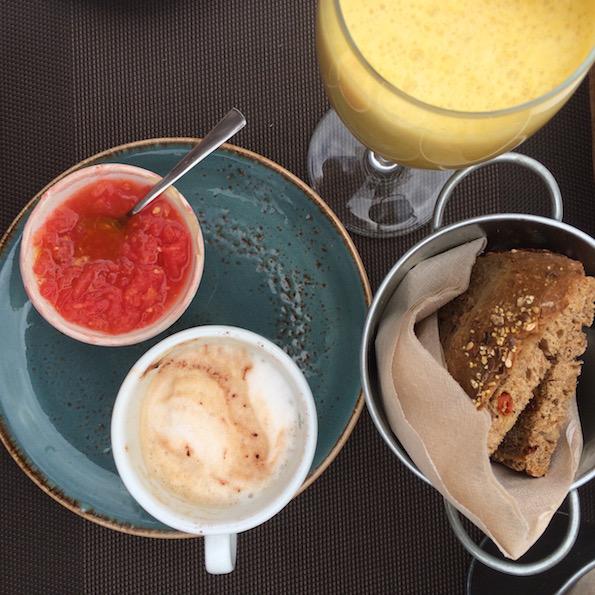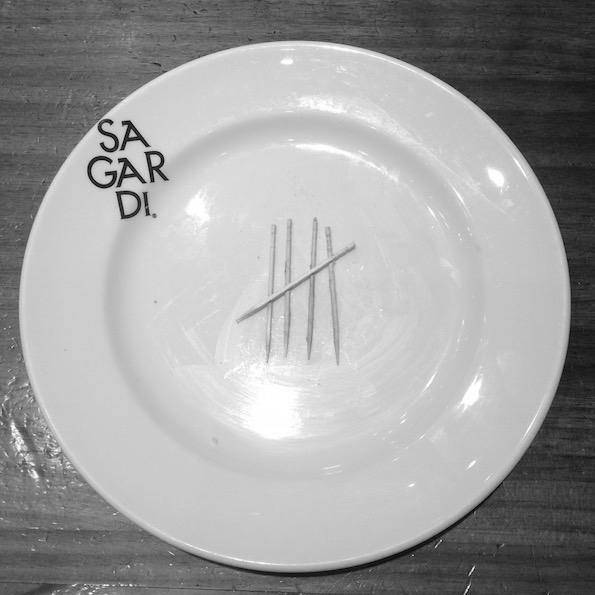 Shopping …
I think that Spain is closer in Ljubljana than I'd like it to be … Zara, Bershka, Stradivarius, Desigual, Mango … Spanish fashion has flooded all the main tourist destinations and shopping centers. That's why I didn't look at this kind of "made in Spain" clothing, but actually tried to find some stores with a genuine Spanish spirit. It pays off to visit:
STATONARY STORES and BOOKSTORES,as they have a wonderful selection of office supplies and gifts. One good example is Cecilia Plaza Handmade, a store of a Valencian illustrator located on the street Roteros 19, in which we bought a beautifully illustrated passport cover.
UNDERWEAR. Shaping lingerie can be found on the market as well as in expensive boutiques. Women in Spain apparently put great emphasis on "shape" as I also found some lined panties.
SOME HIPSTER ITEMS. I could spend quite some Euros in the boutique Hipster Valencia (and I did), but you can find some identical pieces for 1/3 of the prices at the market. Leather with fringes, ponchos and plead shirts can be found on every corner.
SHOE STORES. The best place to shop is the Don Juan de Austria street, while Cristina Castaner, a local designer of interesting and pimped up espadrilles, resides on the street Calle Colon 43.
AT THE ROTONDA.  Mercado de Plaza Redonda, a circular market which offers handmade items, is the best place to buy some classic souvenirs from Valencia aside from the old market. You can get magnets of oranges, lace embroidery, flamenco fans …
FOR REAL FLAMENCO ACCESSORIES. You can rest your eyes in a small store called Nela on the square Cl. San Vicente 2, as they have a wonderful selection of hand painted fans, embroidered knitwear, hair combs.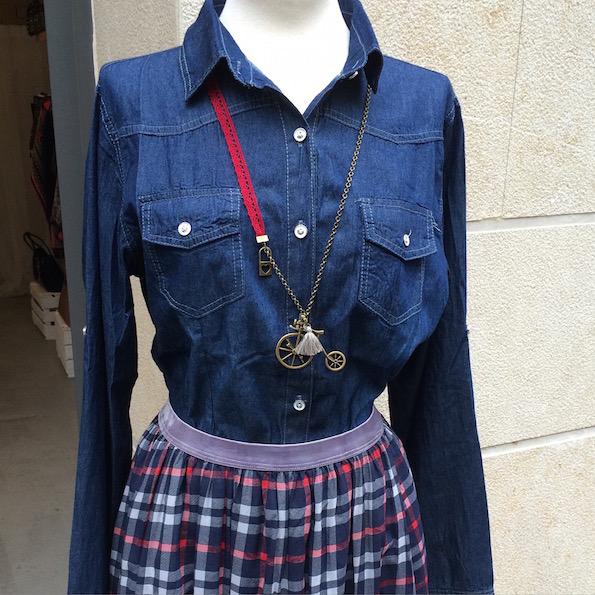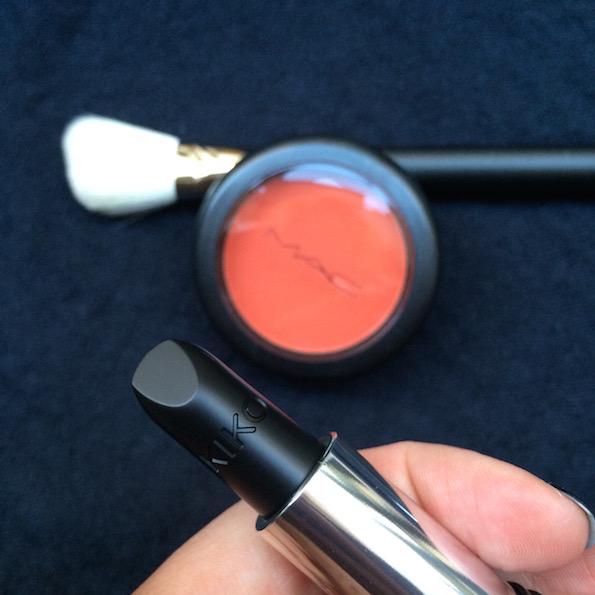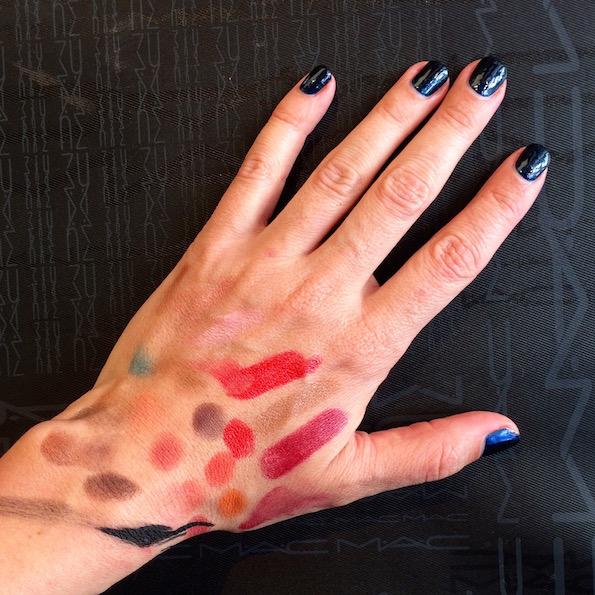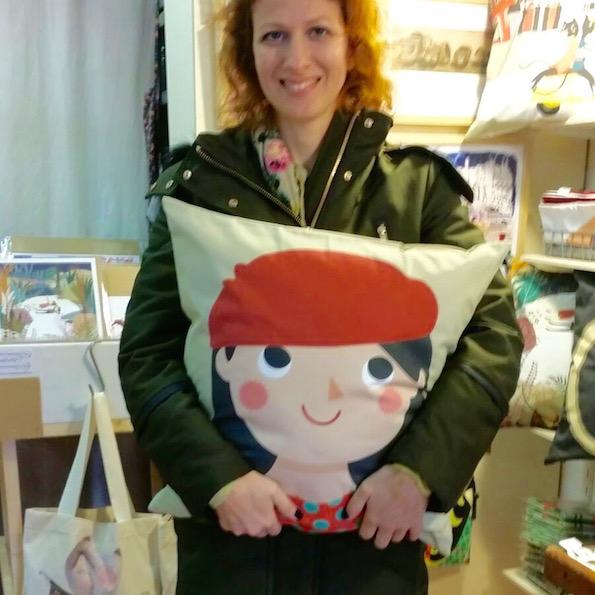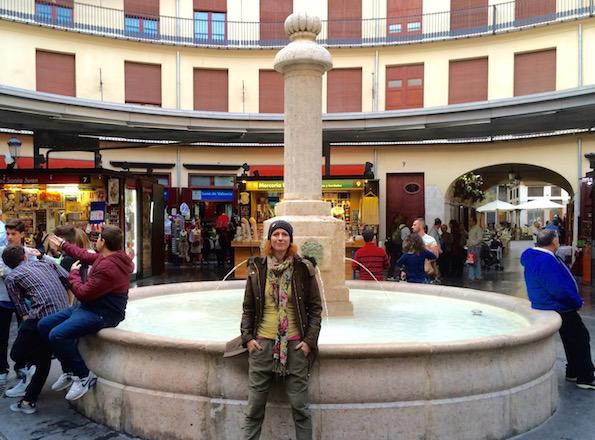 What I missed
The Spanish are hospitable and social. They socialize alongside food and drinks until nighttime, even with small children. Spanish women are beautiful and wear pantyhose ;). They sell them on every corner and it seems like they traded the fans, lace and flamenco dresses for pantyhose and short skirts. Valencia is a city of numerous joys, but I still missed the contact with nature. The city has quite a few parks and wells, but they can't compare with getting lost on Rožnik and dipping your feet in the Sava river. That is why we took our bikes and went to look at the current location of the Turii river (in 1973 they moved the river out of the city, as it constantly flooded), but we couldn't get to it since it is trapped between a ring road and other large roads.
I also missed Bela and Amalja. Noooo, but not as much to go back home. I regretted only a few times that they couldn't enjoy the trip with us. Because the flight is short, the weather always sunny, the city easy to manage and interesting for children, we will come back to Valencia with our girls next time.
Shine bright,
Nika
♥ Click to subscribe via Bloglovin! You will receive email updates about my new post ♥
*Photography: Vstanem
E-novice
Sorodne vsebine
This post is also available in: Slovenian