This year, Santa came earlier than I expected… probably because of this photo I took in front of Peter at the Meet-Up.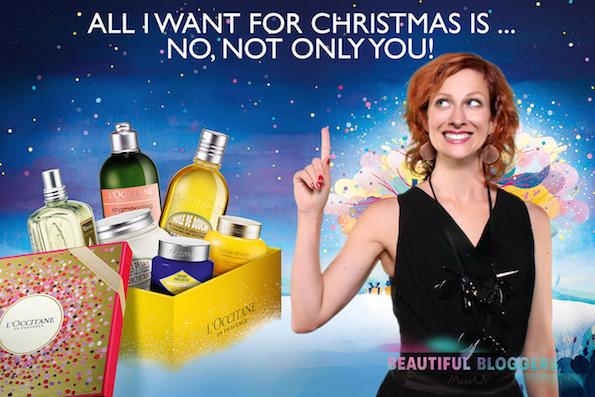 L'Occitane's Unforgettable Christmas Collection
One of the best possible gifts for a woman in my opinion is getting pampered with an unforgettable collection of beauty products that arouse all 5 senses: they look gorgeous, smell amazing, gently caress the skin, stir your taste buds and their names carry their beauty. Olivier Bousson really outdid himself this time and prepared L'Occitane's Christmas collection … a gourmand story.  For this amazing collection, he teamed up with his friend and famous French patissiere, Pierre Hermé. They combined their culinary skills and fragrance know-how and put together three sensational fragrance compositions presented in aromatic colors and elegant packaging.
Jasmin-Immortelle-Neroli
is a completely feminine floral fragrance, with notes of white jasmine gardens and neroli, which tremble at dawn, and notes of golden immortells, which adorns the Corsican maquis. »Opposites attract, « noted Pierre Hermé when he created the fragrance. I personally prefer soul mates but I wholeheartedly agree that these notes blend together in a very daring way, while revealing a subtle but also fiery side.
Pamplemousse-Rhubarbe
Who would dare to combine the aroma of rhubarb, cloves and nutmeg with the tempting scent of grapefruit? Probably someone who comes from the world of cooking and not perfume making. This delicate and subtle combination is the work of Pierre Hermé, who carries Corsica, a beautiful island which he visits every summer with his friend Oliviere Baussan, in his heart. I think both women as well as men like this fragrance.
Miel-Tangerine
The third harmony of fragrances created by Pierre Hermé combines the typical notes of sweet honey, fresh tangerine and the aromatic immortelle. It brings up very joyful and happy feelings in me and reminds me of what a home smells like during holidays or a meadow basking in sunlight.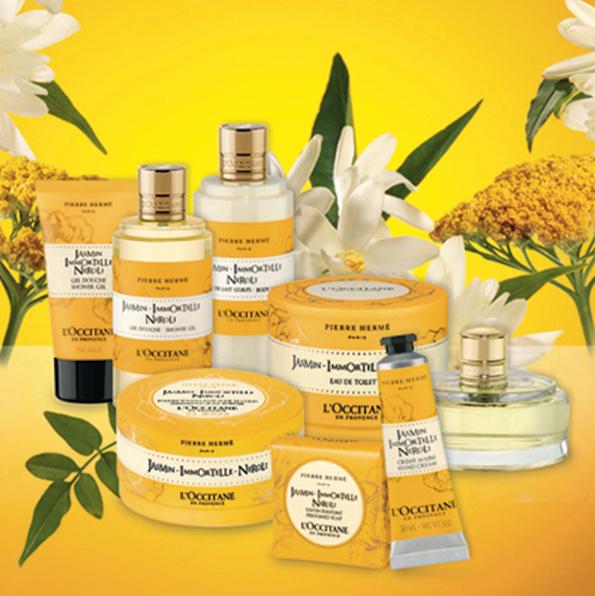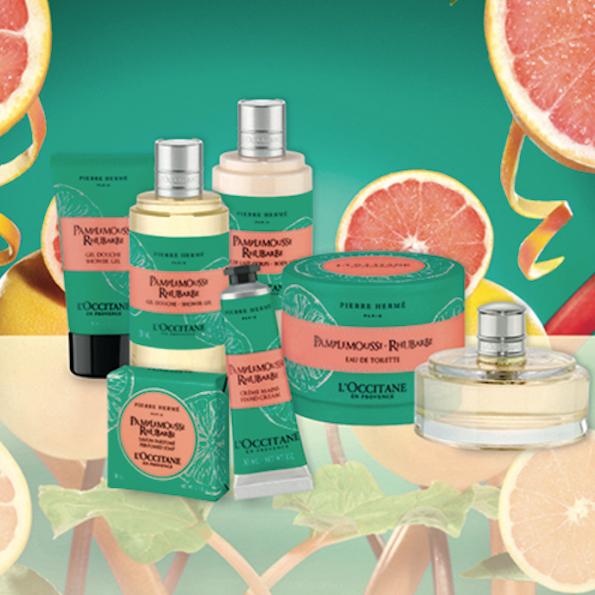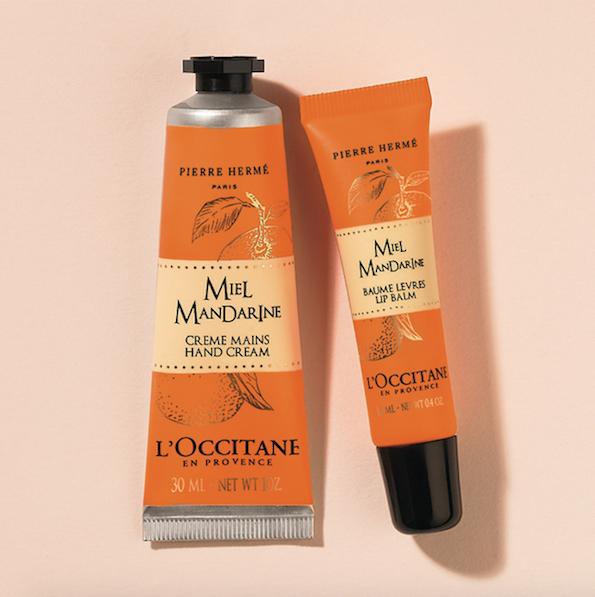 My tasting menu
The wonderfully smelling Christmas collection package of L'Occitane made me happy somewhere in the middle of October. Being extremely tired I couldn't hold back and wait until I took photos of the collection and so I tried them out right away. That's why I'm posting just the official promotional photos today, together with all the feelings I experienced as I tried out these products for the very first time. If you also have a sweet tooth, then I'm sure you understand. With a collection like this, a post in only a few days is almost impossible.
L'Occitane Eau de Toilette Jasmin-Immortelle-Neroli is, compared to other perfume bottles which usually fascinate me, very simple. But my Scorpio nature is quenched by the contrast of harmony which combines all shades/hues – from the subtle light to the brilliant richness. To me, it's a totally feminine scent, surprisingly sensual, yet feather light. The perfect scent for a Fatale, which is why I wore it on the stage of Femme Fatale 2015.
In this collection Peter can also choose between shower gel, body milk, lip balm, hand cream and perfume soap, but he would really score a home run with glitter body powder Jasmin-Immortelle-Neroli.
I can just imagine the taste of warm Rhubarb pie with grapefruit, so I easily reached for the body milk Pamplemousse-rhubarb. Interesting … green and fresh, yet spicy and hot. I can only say "more, please!"Fortunately, layering is also trendy in beauty and fragrance application and that's why I have the same scent for the Eau de Toilette Pamplemousse-rhubarb, shower gel, lip balm, hand cream and perfume soap.
The Miel-Mandarine Hand Cream is the latest version of the cult L'OCCITANE hand cream with Shea butter, which helps nourish and protect your hands. The aroma of this collection reminds me of the taste of tangerines coated with crystallized honey. Nom nom … luckily it is also available as lip balm.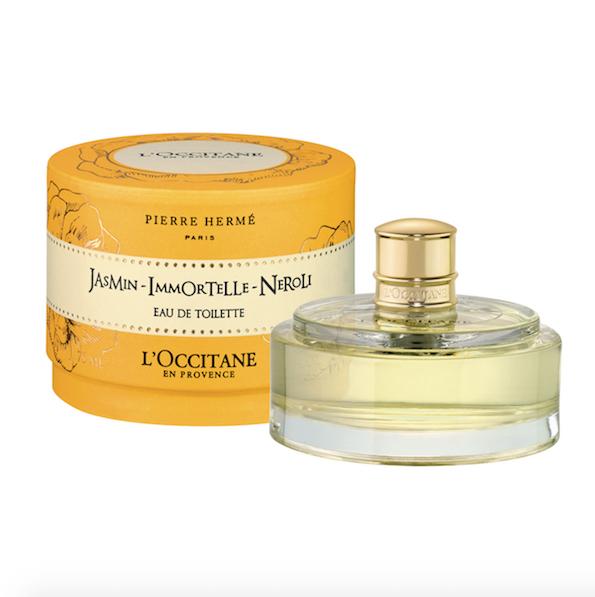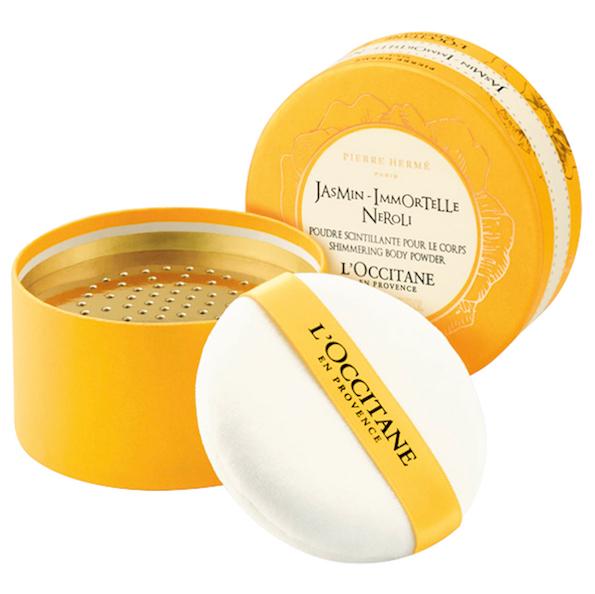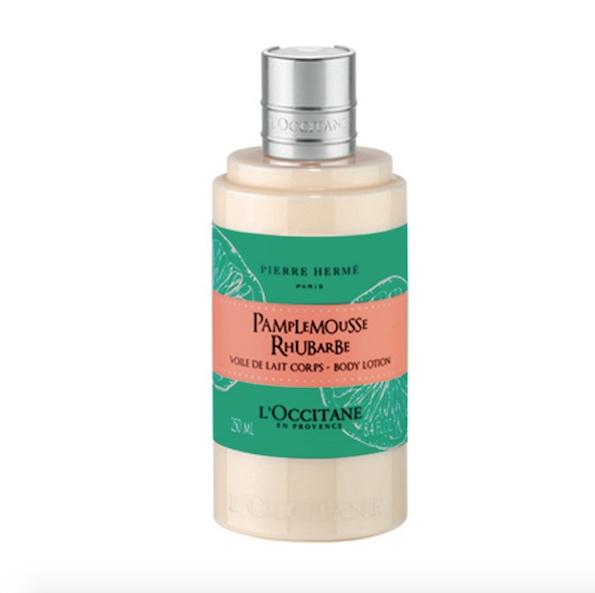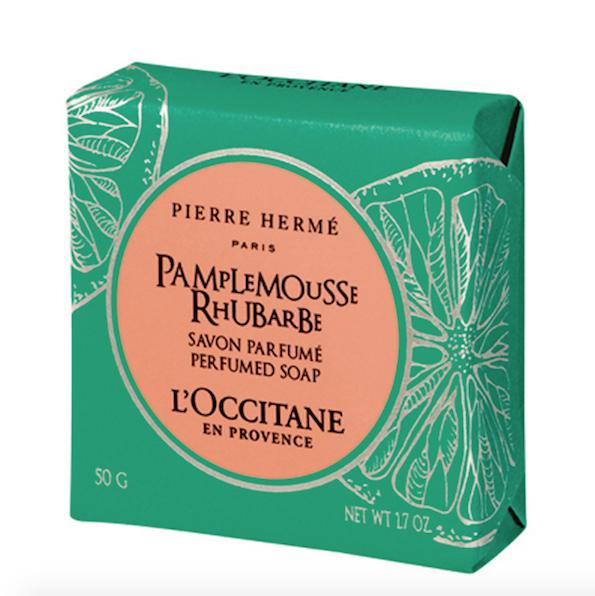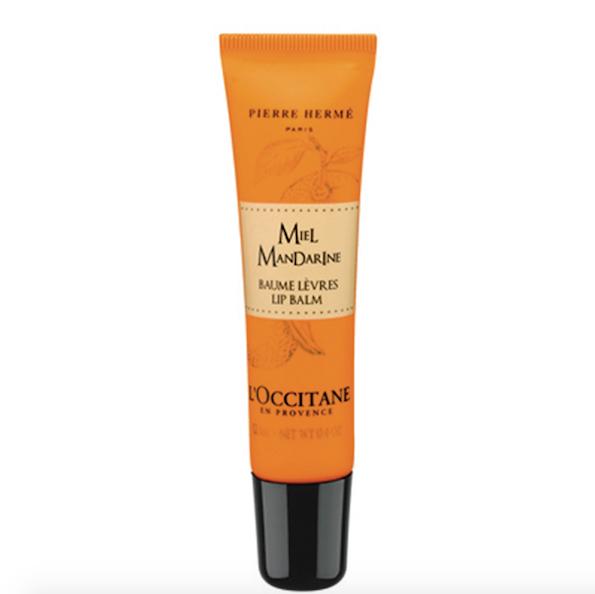 I will admit…
I personally know Mr. Bousson as he invited me to his wonderful estate in Provence, and it was then that I noticed how immensely he enjoys special culinary stories and the company of friends. But it was the first time that I heard of the top confectionery master and so I Googled: "Pierre Hermé", "Picasso confectionery«. He started his career at the early age of 14 as an apprentice for Gaston Lenôtre. He completed his education with flying colors. Ten years later he was already known throughout the entire world. His work is guided by pure joy and that is how he completely changed even the most deeply rooted traditions and reinvented the world of flavors and scents. In 1997 he founded Pierre Hermé Paris together with Charles Znaty and established himself as a true master of confectionery.You can browse his sweet creations and books on the Pierre Hermé.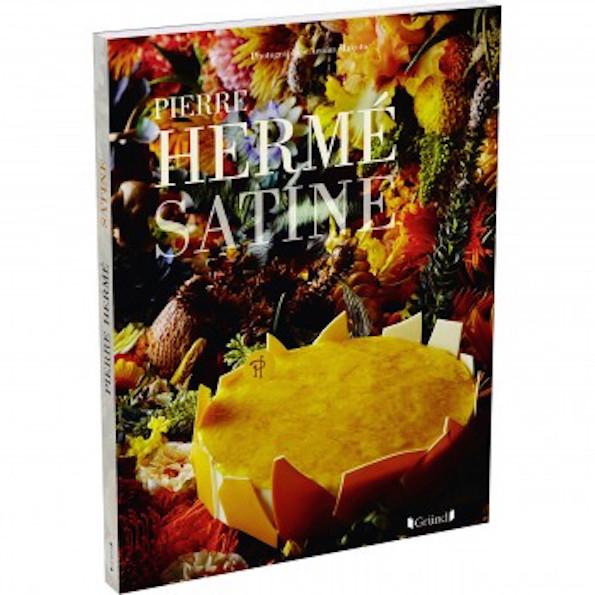 Since the collections are already available in L'Occitane stores (and also at www.loccitane.si) I wish you many sweet moments while testing them out. I suggest you share this post with your friends since sweet things are best enjoyed in company.
Shine bright,
Nika
♥ Click to subscribe via Bloglovin! You will receive email updates about my new post ♥
*Photography: PR L'OCCITANE
L'OCCITANE
E-novice
Preberi tudi
This post is also available in: Slovenian