A new start
Morning shower and first thought: What the hell … why is my skin on the body and feet so soft and smooth these morning?
Body Milk … daily care or f…… every morning same routine. I remember how happy I was when I first discovered really effective, such that nourishes and moisturizes the skin for at least two days. With awful smell, no natural ingredients and 'I-don't-want-it-on-my-shower-shelf' packaging. But anyway it replaced all other products for nourishing skin. That I didn't need to be lubricated every morning with a moisturizing lotion, oil or butter before I pushed the legs in pantyhose or woolen clothes (uf, how unpleasent if you do it with a dehydrated skin) was … Hallelujah.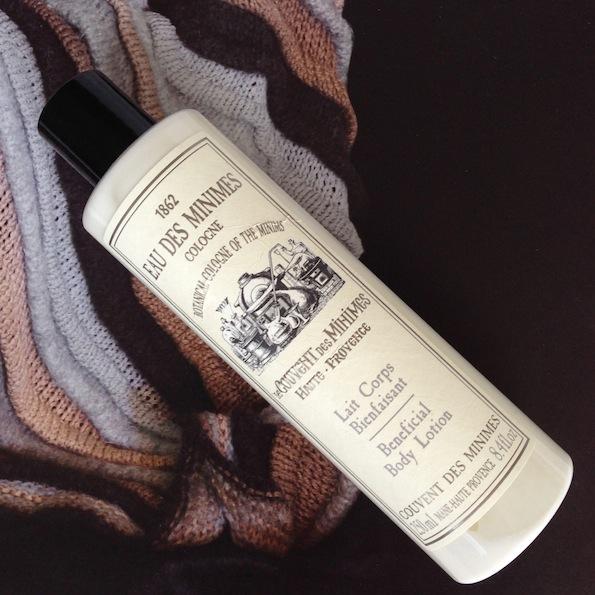 Beauty discovery
Le Couvent Des Minimes Eau Des Minimes Body Lotion is that kind of care; my legs are smooth even the next day (and the next) after I use it. With many natural ingredients blended according to ancient recipes Sisters of the Poor Clares of the Monastery Le Couvent Des Minimes in Provence and great, invigorating smell. It's my latest beauty discovery.
Content
Milk has a light, fresh texture, sink quick in to the skin and you feel instant relief soon after you use it. At the same time is well absorbed, so that tou can immediately crawl under a blanket or clothing ;).
Smell
I really like it. It's fresh but peaceful, invigorates as well as hugs with warm feeling. Inspired by the tradition of "Miracle Waters", beneficial recipes that were once distilled in convents, the Botanical Cologne of the Minimes Beneficial Body Lotion soften the skin and leave it delicately perfumed with sparkling notes.
Main ingredients
Blood Orange: Refreshing
Rosemary: Revitalising
Shea Butter: Moisturising
Certificates and tests
Dermatologically tested
Price
€ 18.80 / 250 ml
Which body milk pleases your skin? Did you find the one that nourishes the skin for more than one day?
♥ FOLLOW ME on Bloglovin 'and be the first informed about new blog ♥
* Photo: Vstanem
E-novice
Sorodne vsebine
This post is also available in: Slovenian