Lots of my friends are getting married this spring and summer, so I'm already in the wedding mood. During the search of new trends for wedding makeup I found out that it's actually more important to choose one of the classic designs than to follow fashion trends and to take into account the following tricks: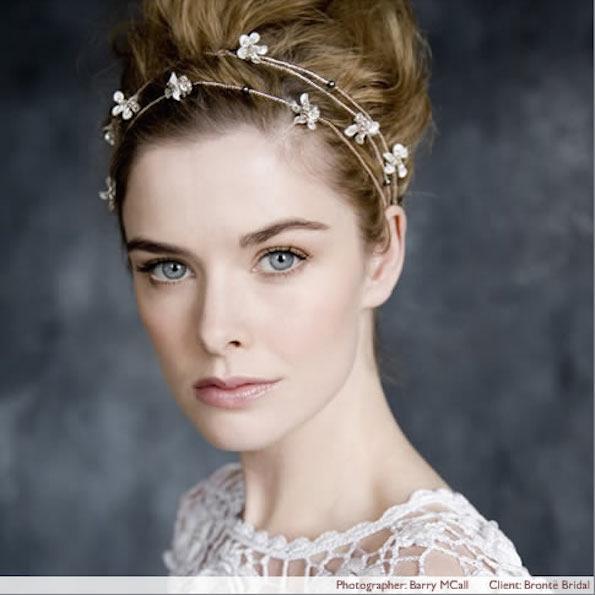 1. FRESHNESS: bright dress and hair tied back nicely highlight the face and soften facial lines, but they also take away freshness and a tone of the skin. If the bride is having a white bouquet (or in very soft, pastel colours) it's even more important that the make-up on her face adds more colour. Therefore, I emphasize the lips or cheeks using more vibrant tones. It doesn't have to be red, it can be a vibrant peach, pink or ice cream orange.
2. BETTER PHOTOS: I usually put a lipstick or gloss and blotting paper (e.g. Artdeco Oil Control Paper) into a bag of urgent cosmetic corrections for a bride so that she can matte her face just before the main photography session. A paper has a smooth and matte side. First place the smooth side of the foundation paper on the skin (forehead, cheeks, chin or other parts which often like to shine) to absorb any extra skin oil. Turn the paper on the matte side of the foundation paper to add a thin layer of loose powder to prevent further illumination
3. EMPHASIZED EYES WITHOUT GAUDY COLOURS: If you want the bride to have really strong emphasized eyes, while maintaining a natural look, use these three products:
– black kayal for coating the inside edge of the upper eyelid. I like MUD Eye Pencil because it is soft, durable and very black.
– Black eyeliner – I draw a thin line right next to the base of the eyelashes. I swear on MAC Creme Liner.
– Artificial eyelashes … I put them on almost every bride, as they really bring out your eyes and celebrity makeup. Among the cheaper ones, that are high quality and don't shine when you close your eyes like cheap plastic ones, are Artdeco Eyelashes Strip.
4. RADIANT SKIN FROM HEAD TO TOE: Especially in the early spring time or when the skin has not yet seen almost any sun, I advise brides to afford professional self-tanning of the body. In any case, it is good to do peeling from head to toe before the wedding and a few days in a row after every shower, lubricate still damp skin with oil. In this way the skin will be really soft and smooth for the wedding.
5. IDEAL COMPLEXION: On the wedding day it is especially important that the foundation really blends well with the bride's complexion and beautifies her skin tone at the same time. I detailed in one of my previous posts how to choose the right foundation that will apply and match perfectly.
6. BEAUTIFUL LIPS: Even before make-up I apply lip balm onto the bride's lips, which softens them and allows a beautiful coat of lipstick. I always outline with a pencil in a colour of the lips, e.g. MUD Natural Lip Pencil or with a transparent lip contour (such as Artdeco Invisible Lip Contour) to prevent any applied coat smudging over the edge or accumulating in the wrinkles on the lips.
7. LONG-LASTING EFFECT: One of the most important qualities of a good wedding makeup is its durability. To succeed in this use:
a base that strongly moisturises the skin and ensures that the application of foundation is more evenly spread on the skin, longer lasting and it doesn't oxidise;
pressed or fix powder to prevent the applied makeup products getting into wrinkles or to prevent colour intensity loss; moreover, it mattes your skin. I like Lush Emotional Brilliance Translucent Foundation Powder, as it's natural.
long lasting lip-gloss MAC PRO Longwear Lipcolour lip or lip polisher Artdeco Magic Fix, which makes the lipstick really long lasting.
thermal water spray, e.g. Vichy Eau Thermale, which fixates the entire makup and refreshes it. I use it right after I apply the makeup. I suggest, however, that the bride also uses it during the celebration.
* Photo: Barry MCall for Bronte Bridal
E-novice
Sorodne vsebine
This post is also available in: Slovenian