This time the specialists have landed in the beauty bucket. Small bottles, which were hiding poison for one beauty trouble or another…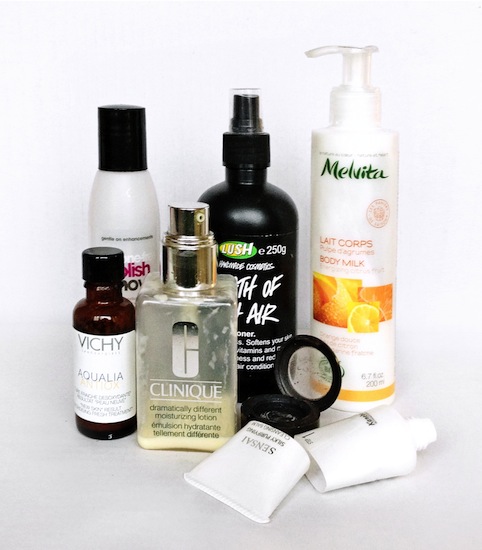 Eucerin Intensive Spray (30ml). I normally use natural deodorants without almuminius salts, but during my sport activities and vstresnih/stressful days they are not effective enough. In such situations, stronger formulas save me from bad odour, such as this one, which reduces sweating at the same time. Since it has a practical spray bottle and it's odourless, Peter and I can both use it.
New Lash Serum that speeds-up the growth of eyelashes. To tell the truth? The expiry date had passed and I used it no more then 3 times. Based on the components I didn't dare to apply it in thin layers around the eyes, even though I saw that it's really effective on numerous brides that I had been doing makeup for. Now I've discovered a catalyst for the growth of eyelashes with a natural formula, so I prefer to try that one.
Les Couvent Des Minimes Good Night Pillow Mist I love scented bedding, so I often spray our linen with this bottle. It contains essential oils, which give a calming feeling through its fragrance and help to produce serotonin (which contributes to a sounder sleep). I like it because its lavender scent sweetens the acacia and tangerine aromas. Although I took this bottle with me on holiday serveral times and sprayed Bela's bedding with it, it has taken me 3 years to finish the bottle.
L'Occitane Verbena Eau de Toilette Mint. Can you imagine the freshness of this product? The combination of sparkling verbena and fresh mint is the perfect summer refreshment from head to toe, whereas in winter, from bathroom to kitchen.
Decleor Aromessence cosmetic Solaire (Face) Pre-Tanning Serum. There is a poison to UV rays in this bottle or a beneficial concentrate of essential and base oils that strengthen natural defenses against sun damage of cells, which at the same time increases the tanning of your face. I don't know whether it's this oil (and high UV protection, of course) that deserves the credit for my pigment marks being lighter then usual this summer. I will use the product again next year, as it makes a nice skin tan and smells beautifully. Although the packaging is small, I had enough of it to prepare myself on my summer holiday and winter travel.
Zoya drops for fast drying. This is truly a 'must have' product for all manicure fans. Using the dropper, you apply one drop on the nail, which spreads across the nail surface and dries out the nail polisher in a second. I know that there are similar products within other brands, but this is the best because it does not contain toxic chemicals, parabens, sulfates and phthalates.
Dior Hydra Life Sorbet Cream. This day cream has a very fresh, cream-gel texture. It is a great morning refresher and provides light facial care for normal and combination skin types. However, I would recommend it for those in their twenties, as it moisturises well and prevents the appearance of wrinkles, but it is not "rich" enough in order to eliminate the already present, first signs of aging, or supply daily skin care after the age of 35.
E-novice
This post is also available in: Slovenian