I fell in love with wigs already in my high school.  A violet bob wig from Trieste gave me some seriousness at rave parties and some relaxation while judging competitions in rhythmic gymnastics. Since then I am filling up my wig collection full of excuses at the expense of fashion shootings, Halloween or everlasting December parties. Retro Elvis, sexy Marilyn, exotic Pocahontas,… However, my collection is missing a nice red wig that resembles my own hair, but is just that bit longer. Ever since I can remember I've been leaving my mane to grow to my butt, but it doesn't grow longer than my shoulders. I'm ignoring hair extensions, because I know that after removing them my hair will be damaged and the touch of joints on my hair would bother me (or remind me of some sort of bug). Moreover, I would have more work with the extensions than with my hair (I would probably have to curl them, in order for them to blend with my hair).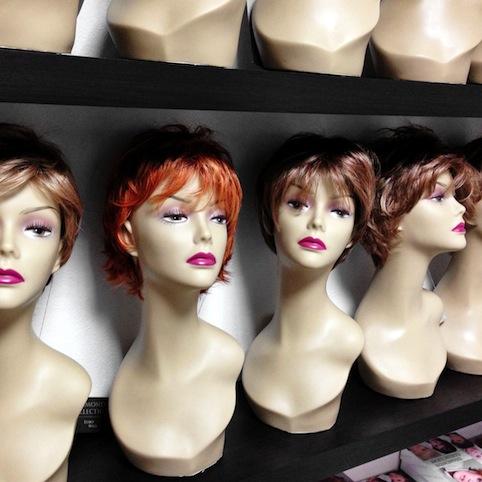 So I go hunting for fox-red hair. Loaded with expectations I open the door of KSFH Hair studio in the Rimska cesta 19 in Ljubljana and… almost have a heart-attack from all the hair: wigs, pony tails, platters, buns, extensions and other exotic accessories for hair and their care. As a real gastronome for manes my mouth is watering and the trial of hair wigs begins. A friendly owner Dita and shop assistant Vesna are satisfying all my desires. There are numerous walks:
Extension (hire from 24 €/day). Great for hair thickening and hair extension (up to 60cm). You simply clip strips between your hair with attached clips. They are available from natural or synthetic hair. I like them because they give a very natural, loose hair look and are installed easily. You can simply attach the hair on the strips with your own, e.g. from one ear to another. In this way you give them more volume and slightly longer length. As it is not available in bright red or orange colour, I would have to dye my hair to catch the tone of extensions. So I proceed with the testing.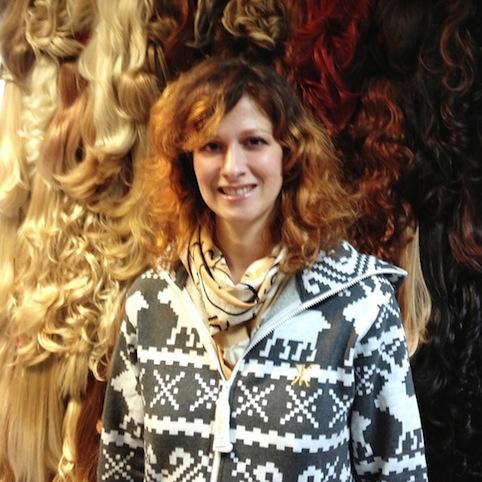 2. Clip-in ponytail hair extension from synthetic hair (from 18 €). This is an ultra fast extension of your hair. You first make a ponytail with your hair and just clip on the artificial one. There are a great variety of colours, lengths and shapes, so I could easily find a long curly ponytail in the colour of my brighter beams. Awesome, I even like my tied up style. But I want some more major changes, so I'm looking on.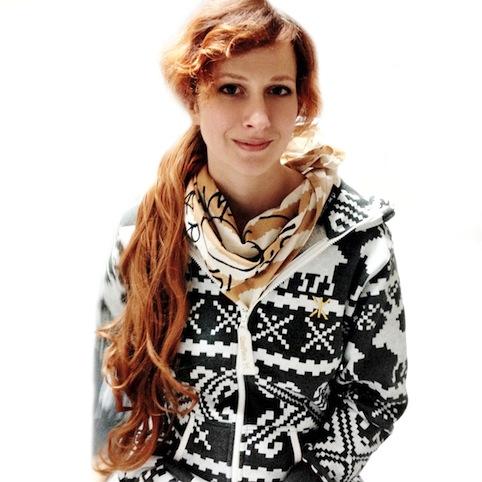 3. Fringe on a headband (10 €). I love straight, dense and long fringes. It always looks sexy in photos but each time I cut some off, I note with regret that my fringe is too curly, too rare, disobedient … In short, my fringe gives me a lot of work and it never looks like the ones in magazines. So you can imagine the way my eyes light up when I had a perfect fringe in one second. I tried on a few different ones (available on hairbands or elastics) and found my new 'must-try' colour. It could be a blonde! But next time.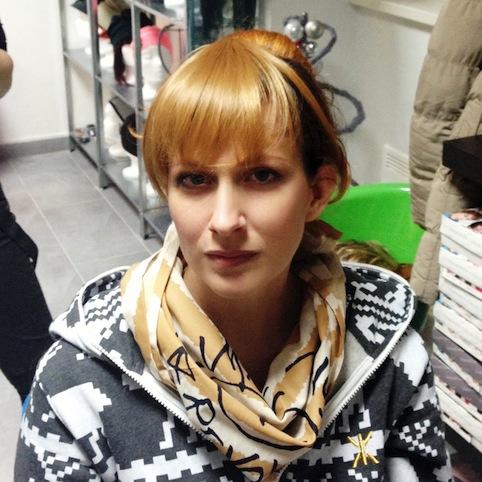 4. Doughnut sponge. Because my hair is up again, Vesna reveals the trick with a particular round sponge, which helps you to pin your hair (shoulder length or 7 cm long ponytail) into a rich bun. Interesting. With such a hairstyle I can see myself in an evening dress as well as in a loose sweater. But not at a sexy party…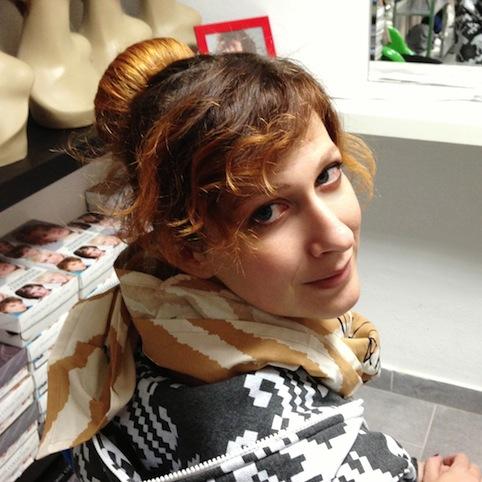 5. Wig (hire from 10 €/day). KSFH Hair Studio has more then 500 wigs at their disposal. Short trendy hairstyles, beautiful length bob hairstyles, long stunning designs, wigs for Halloween, hostesses, theater, fashion photography, medical problems (there are 15 models available at a price that is covered by health insurance) and other wigs for any occasion. I tried out quite a few, such as the ones made from synthetic fiber and real hair also. Their common point is that they all create a tidy, full and complete style. And now I understand how celebrities can post pictures online showing themselves with short hair on Monday and already on Saturday they're showing off a butt-length mane. For a long time I thought that they're playing with hair extensions. But that would be time consuming and visible as well, as it would be standing in stringy tufts after a three-hour concert, wildly jumping on the stage. Yes, wigs are cool.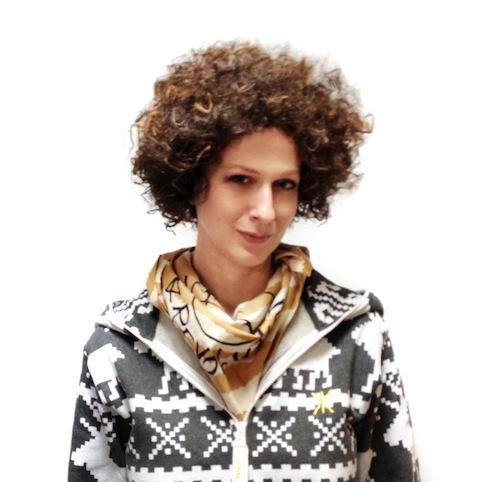 And while I had been trying out and fooling around with different styles, my friend Katja was tempted to do the testing as well. She was especially impressed by the drawstring ponytail, which helped her to extend her hair into a beautiful plait. Again, this was very easy to pin up. Just turn the drawstring around your ponytail, pin it with hairgrips so that the transition between the head and ponytail looks more natural. If you are creative, you can plait your hair, make a bun,… The shop offers a great variety of shades, so you will certainly find one that matches your own hair colour.
[metaslider id=1913]
This salon is paradise for everyone, who: 
wants a one-off change for a particular party (e.g. New Years Eve, wedding)
has short or sparse hair and would occasionally like to put their hair back in a rich ponytail, plait, bun,…
suffers with hair loss due to health conditions
wants an easy and quick way to have an attractive hairstyle
performs on stage (dancers, actors, singers) or works in the fashion industry (hairdressers, make-up artists, stylists)
 What else do you need to know?
You can dye and heat-shape products from real hair. They keep their shape longer than synthetic ones, but are of course are more expensive (e.g. ponytails or extensions are between 3 to 5 times more expensive then synthetic ones).
The advantage of synthetic extensions and wigs is in their lower price. Their shape is always the same too, regardless of the weather or how wild you get on the dance floor.
Both real and synthetic hair need care to remain soft and beautiful. The KSFH salon offers hair products for 6 euros and they provide care. They also offer a free haircut of the wigs.
All products available at the KSFH salon are very user friendly. Installing wigs for example, follows the order: pin up your hair into a sturdy ponytail or bun. If your hair is too fluffy and unruly, it is good to use the hair bun net. After that, "dress" up the bun as the hat in such a way that you install it first in front, then pull it towards the back. Better wigs have two elastic clips that help you to fix them onto the head.
During the testing of different wigs you can figure out what hairstyle and what hair colour suits you best before you cut or colour your hair.
For the first time on the blog I'm presenting a VIDEO :).
E-novice
Sorodne vsebine
This post is also available in: Slovenian