Is it just my good fortune that in every house, castle or barn I go to, I find some small hidden door, which triggers unbearable curiosity inside me within a fraction of a second? 'What the hell is hidden behind it?' A similar obsession grasps me only when I see a make-up case from a professional makeup artist. Although these ones are not locked, it is even harder to discover what is hidden inside them. Dislocated neck, cracked eye capillaries and a bruise to my ego … are all the symptoms I caught for the first time in the 90s when I was on the set of a fashion magazine editorial for Modna Jana; how to make a beautiful face look like an Angry Panda (as smoky eyes first looked ). I was wondering which foundations the most popular makeup artists use.
An Inventory of Liquid Foundations
Every so often I take from the case all the bottles and, after hours of polishing, retesting, mixing and admiring, I place them back into a case that is far too small and mainly full of products for beautiful skin. Moisturising creams, serums for the virtual elimination of various skin problems, primers (base), bleach, concealers, bronzers, pressed powders, rice powder … in my 'Sport Billy' handbag I find a bottle that can beautify any skin type, colour or age.
I will present special makeup products some other time; this article is dedicated to liquid or creamy foundations that I most often use. After all, they are the most important, since they are the basis for good make-up.
BEST SHADES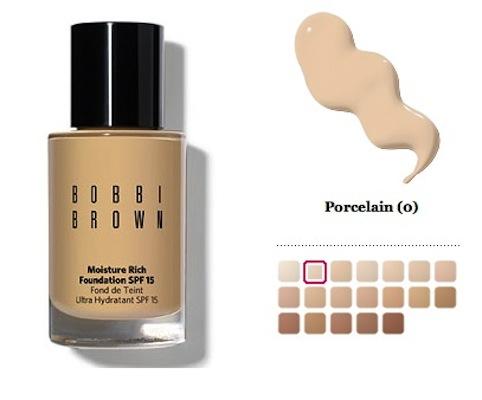 In my case, Bobbi Brown Moisture Rich Foundations represent colours. I got them because with them, I am sure, I can find the right shade for every skin tone, be it a porcelain white or chocolate brown. Among the 19 wonderful shades are indispensable 00/Alabaster and 0/Porcelain that blend with the lightest skin tones (and are not gray nor pink) and darker shades 5/Honey and 6/Golden that add gold, but not orange or gray tone, to a tanned, olive or darker complexion. The formula is used for normal and dry skin and has medium coverage. Bobbi Brown does not support the covering of every freckle and skin imperfection, since she is a great fan of highlighting natural beauty.
EXCELLENT COVERAGE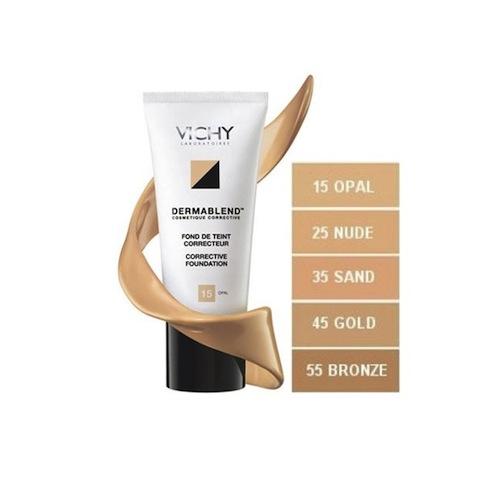 Vichy Dermablend is a super creamy foundation that responds to all skin complexions and is dermatologically tested. It is highly pigmented and covers numerous skin imperfections very well, eg. acne, broken capillaries, dark spots, etc. At the same time, it blends nicely with the skin and doesn't look as though you are wearing a mask. It is long-lasting and not completely matte. I keep it in my case because I am convinced that no skin is so problematic and intolerant, that could not be helped and accommodated. I like it because it is intense enough to cover skin problems and gentle enough that it does not create new ones.
ONLY A DROP OF PAINT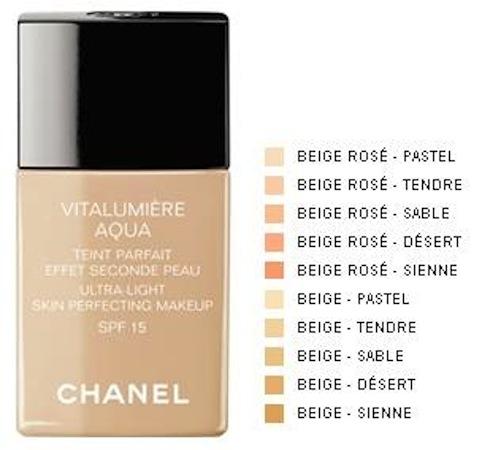 I keep this foundation in my case for all those who never wear foundation (and are somewhat afraid of it), and for all those who have a really nice tan, but would like a drop of paint or healthy shine. Chanel Vitalumiere Aqua is a very light foundation that provides minimal coverage. It gives the skin a healthy shine (something between matte and gloss), without containing glitter and without leaving a matte look. It is not long lasting and is more suitable for daily use or recordings when I want the structure of the skin of a model to be completely visible. It is best applied by brush.
BEST FOR ALL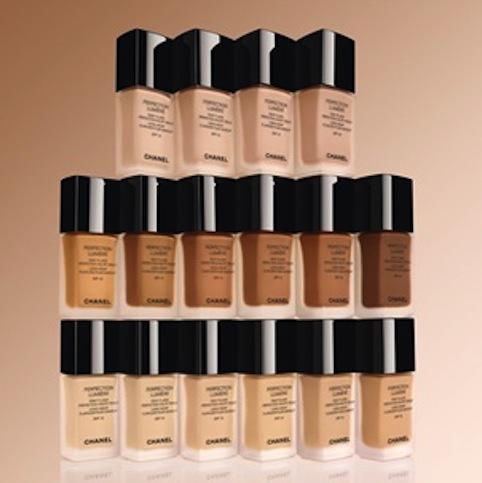 Chanel Perfection Lumiere is my selected foundation 'for all'. Wonderful nourishing formula, beautiful shades of beige, silky (not shiny, not matte) gloss, buildable coverage and a bottle with pump that provides the right dosage. Each time this foundation proves to be a superb product that satisfies both daily needs,  as well as professional makeup. Only in case I want certain areas of the face strongly matted, I use the sister version of the Chanel Matte Lumiere (I recommend that you clean the bottle after each use, otherwise the pump will get quickly clogged).
APPETITE FOR NEW
Are you surprised because you can't find MAC in my case? If I would open it about ten years ago, the situation would be completely different. At that time, I had to try and own all their products, including foundations of course. MAC mania subsided when I discovered that like all the other brands, they have some great products and some not so great products. And MAC liquid foundations were among the latter. It has been proved that they cause tearing among many people, are very sensitive to temperature changes and that they also rapidly 'curdle'. Over a period of time, MAC formula has probably improved, but so did the other brands. So I don't complicate if I can get an excellent product that I can use at home or during fashion shoots in a better drugstore (for relatively high price). I'll always test all innovations. These are the current ones: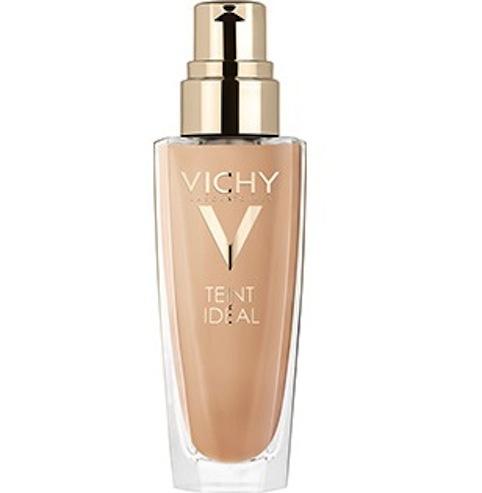 • Chanel Perfection Lumiere Velvet. New Chanel foundation will be available in March. It has already triggered lots of admiration among people that have been able to test it already. It will be available in 23 shades and it should have a wonderful semi matte texture. I'm still waiting for the tester.
• Shiseido Sheer and Perfect Foundation. It is an effortless foundation that blends with your skin complexion and you really don't seem like you're having any on your face. Moreover, it equalises the skin tan very well and is long-lasting. As it is also available in many shades, I will slowly replace Chanel Vitalumiere Aqua with this one.
• Ideal Teint Vichy. This liquid foundation is suitable for mixed and normal skin complexions, as it's quite creamy, but at the same time dry. This new line, which I have the honour of testing at the pre-launch, promises to unify the skin complexion, offering very long resistance and a healthy radiant shine. I can agree with this after the first application of this new line, but will be able to give the right score in one of the upcoming posts.
THE KEY TO THE PERFECT LOOK
Unfortunately, I cannot find any certified organic product in my case, nor the great foundation with concealer, La Prairie Skin Caviar Concealer Foundation (due to high prices). I'm still looking for the one that would be most suitable for professional makeup. If you know it, give me a shout. 😉
E-novice
Sorodne vsebine
This post is also available in: Slovenian