The last three minutes have been incredibly creative. From the ingredients that I had in my home pharmacy I prepared 'cute' sweets in a minute and a half (the rest of the time I spent on the photos;)) that will sweeten a daily beauty routine or massage treatment.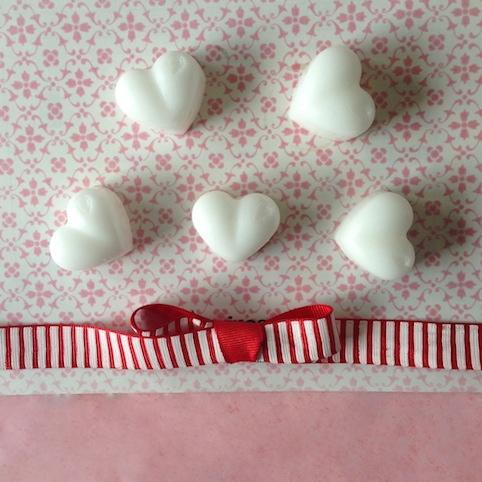 I like it because one praline is sufficient for whole body care and so I can afford to have a fresh and beautiful nourishing treat every day. Since it's truly easy and quick to make them, I am sharing the recipe.
YOU NEED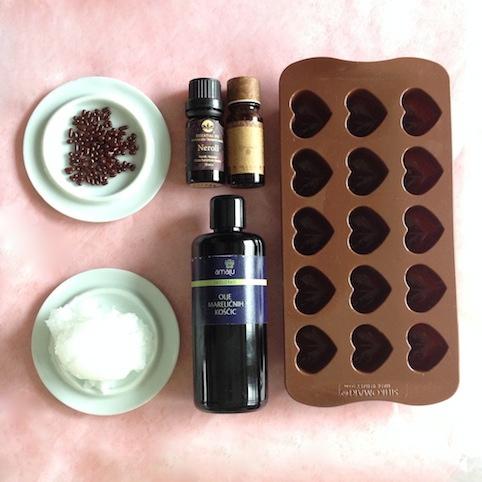 Necessary:
• butter that nourishes the skin, e.g. coconut, cocoa, shea butter
• silicone moulds for chocolate pralines or ice
• three minutes to produce
For even greater pleasures:
• essential oil
• base oil
• decorative cocoa granules or cocoa powder for colour
• superfoods (shake them before pouring the butter)
PROCEDURE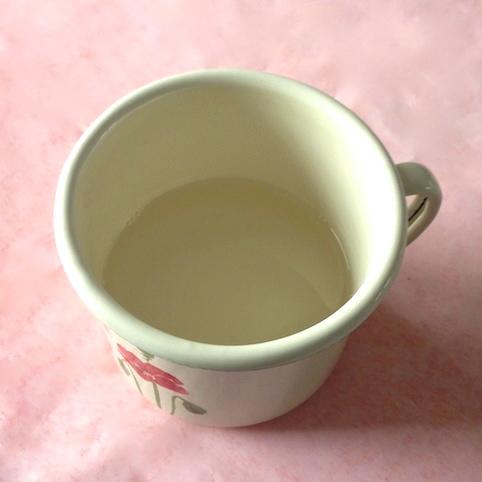 Warm up the butter in a pot over a radiator or gentle heat to dissolve. If desired, add base oil (in a ratio of 3:1 if the butter is harder at room temperature, or 5:1 if the butter is quickly melting). Pour the mixture into silicone moulds. Then sprinkle a drop of essential oil (up to 3 drops) into each mould. In this way you can create different scented body butters and also cater for different skin needs and ailments. Place the moulds in a cold place (even in the freezer), so that the butter can solidify again.
THIS SWEET BOX CONTAINS:
1. An invigorating coconut heart
Mmm, peppermint oil, essential oil of clove and cocoa butter give them a fresh and aphrodisiacal scent.
Choose this flavour, when you want to quickly soften and moisturise the skin, as coconut butter really hydrates, nourishes and soothes the skin. It contains lauric fatty acid and antioxidants, which protect the skin against free radicals and premature aging. As it's application is simple, it's excellent for massaging and the skin absorbs it slowly but deeply. It is best for dry, mature and sensitive skin. You can even apply it on the hair to protect the ends. Its scent mixes well with almost all essential oils, so choose the coconut oil flavour based on its effect. I chose two drops of peppermint oil and a drop of cloves oil. Peppermint essential oil soothes inflamed and irritated skin and relieves pains in muscles and joints, whereas cloves essential oil warms and invigorates and also acts as an aphrodisiac. Combined together they alleviate drowsiness.
2 A nourishing cocoa penguin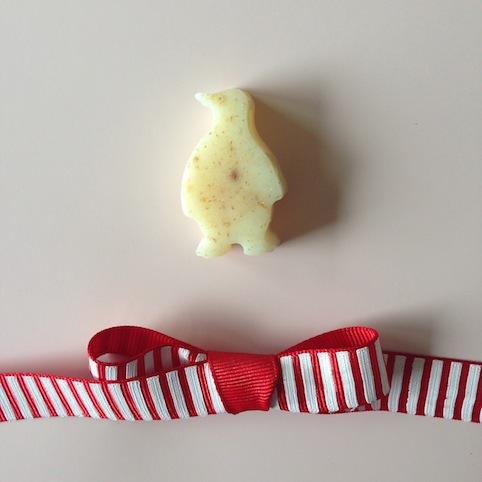 A cute penguin is suitable for the care of infants, children, pregnant women and older people because of the cocoa butter and green mandarin essential oil.
You'll like it if your skin is dry, rough, cracked (I do not recommend it if you have oily skin and acne). Cocoa butter is extremely moisturizing and nourishing. Cold pressed cocoa beans contain mostly saturated fatty acids, potassium (K) and vitamin E. It nourishes, softens the skin, protects it from moisture loss or other radicals and makes it supple and flexible. Vitamin E is a powerful antioxidant that restores the skin and protects it from premature aging. Despite its rich composition it is absorbed into the skin rather quickly and it leaves a pleasant scent. Green mandarin essential oil strengthens the skin and gives optimism. It relaxes the preoccupied mind and drifts it into restful sleep.
3 A soothing shea butterfly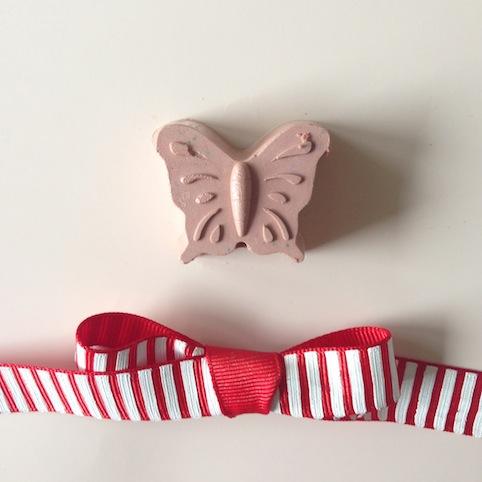 As a guardian angel, this butterfly with shea butter protects the skin, where its essential oil of lavender smoothens the skin and mind. Add cocoa powder for colour.
Shea butter is highly nutritious, moisturising and rich in vitamins A and E, which protect the skin from free radicals and premature formation of wrinkles. Butter softens the skin, stimulates cell renewal and collagen production and increases its elasticity. Shea butter protects the skin against various external influences and dehydration, even against the sun's harmful rays. It absorbs well into the skin and leaves it soft, smooth and supple. Versatile essential oil of lavender soothes muscle aches and is suitable for all skin types. It calms the skin, heals and regulates sebum production. It effectively treats acne.
Bon appétit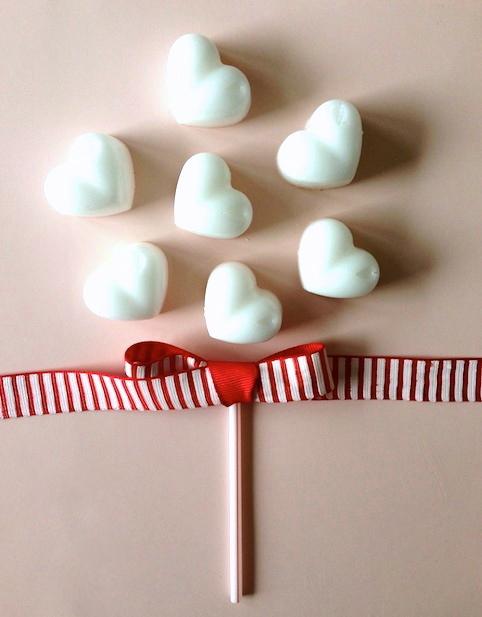 Store your pralines in a refrigerator, so that they don't melt. But beware, do not use them on an empty stomach, because they can awake your appetite … Or even if it is a basic version of coconut butter and a drop of essential oil of lavender. You can spread it on everything, yourself, him, bread … An idea for tomorrow;)?
E-novice
Sorodne vsebine
This post is also available in: Slovenian