I admit that I was previously skeptical about the use of a brush for cleansing the skin. I'm too lazy to use a classic manual brush and I stay away from the electrical gadgets, which are not necessary considering my ecological beliefs. But because of my feminine desire towards using new beauty products and my journalistic curiosity, I have consented to try Phillips Visa-Pure brush after all. I don't regret doing it, as I'm more than thrilled about the device, and am already 'selling' it to my friends.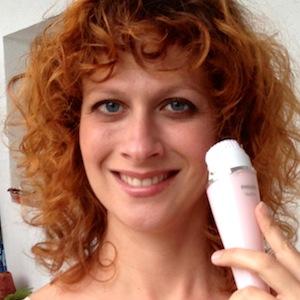 Usage of the brush
Naturally, I have a mixed skin complexion. Hence, the most important part of skin care for me is cleansing. The routine itself (applying, cleansing foam, micellar solution and rehydrating product) is boring and time consuming, but because it achieves a good skin look at least, I've been sticking to it for several years already. I have happily integrated the Phillips' brush into this process, which has turned my morning and evening cleansing, with its gentle rotations, into a pleasant and soothing massage. In addition to facial cleansing, I use the brush while taking a shower as well and to take care of my neck and décolleté. Every Sunday, before applying a facial mask, I replace a soft brush for a harder one and add a facial peel product that 'polishes' the face ​​more intensively.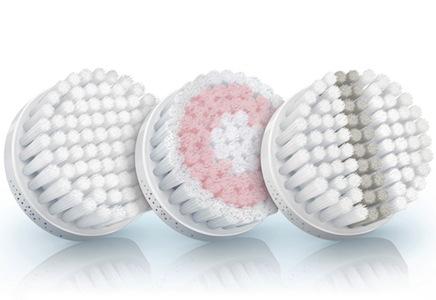 Each one of us has her own factor of gentlenes
The skin after three weeks
Even after using it only a few times, I could feel that the skin was becoming softer, whereas my friend had noticed that her skin looks more radiant. Now, after the three weeks trial, I'm even more excited about its effect. Before the trial, my skin had been deeply cleaned in a beauty salon. Following ordinary skin care routines would mean that I would have blackhead spots on my nose and my cheeks would be full of pimples after only just one week. Not this time: my pores remained clean, blackhead spots didn't appear and the skin is completely smooth to touch, even on the nose. I have previously tried to reach this result with numerous cosmetic procedures and cleaning routines.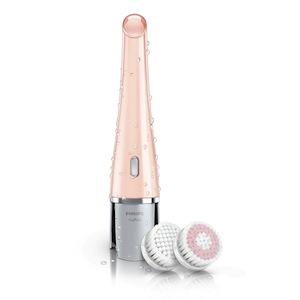 By having a thorough skin cleansing (Philips states that its special dual action technology with vertical and circular motion vibrating bristles clean the skin 10 times better than manual cleaning) and a gentle massage, we can increase absorbency and performance of skin care products if we apply them on the face after cleansing. You can occasionally help yourself with the brush and you can, for example, enjoy a massage with a nourishing oil or serum once a week.
Trial results
I like Philips VisaPure because:
it is user friendly and easy to clean. *
it provides a thorough removal of make-up, sebum, dead skin cells … and offers a really pleasant massage.
it shortens the daily cleansing routine up to 60 seconds each time, even during a shower
it is key to a youthful looking skin, as your skin slightly tightens
it also brightens up your bathroom shelves.
Maja Šušnjara is impressed as well
Besides me, the brush has been tested by the actress Ula Furlan, make-up artist Maja Šušnjara and dermatologist Dr. Mateja Lisjak. All three of them agreed that the VisaPure brush is one of the best innovations to achieve clean skin in a gentle and easy way.
Beauty chat with Ula, Maja and Mateja.
"The foundation of a good make-up is nourishment and make-up ready skin. Using VisaPure we can thoroughly cleanse, stimulate circulation, massage and refresh the skin. "Maja Šušnjara
*  I used to laugh at my mother, who always used to ask, "How are you going to clean this?" But this time, I thought myself about the family of bacteria that could make a really comfortable home on the wet bristles of the brush after each usage. Following the brief and uncomplicated instructions I overlooked that the brush needs to be not only cleaned with soap after each usage, but also wiped by a towel and placed vertically in the charging cradle. In this way, the brush can completely dry out between usages and the synthetic bristles will prevent dirt retention.
*Photographs: Rožle Veger, Promotional material, Oto Žan
E-novice
Sorodne vsebine
This post is also available in: Slovenian