Horrifying? Sufficiently so for Halloween. Furthermore, sufficiently so simple and quickly made, so everyone can make such a mask from gelatin.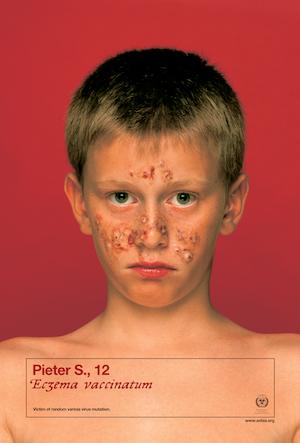 You need:
gelatin sheets (you can get it in every food store, e.g. Dr. Oetker); a cup of hot water; black or dark gray, brown and red eye-shadow (if you have water-colour face paint, even better); brush; flat metal or wooden stick (spatula)
Procedure:
1. Dissolve a sheet of gelatin in a cup of hot water to form a thick "slime", which contains a few pieces of hard particles.
2. Apply the hard particles and slime on cleansed face:
for sunburnt skin look: in thin layers so that the surface of the skin is smooth, only the edges slightly thickened and irregular in shape.
for blistered or eczema look: apply pieces of gelatin of different sizes. Keep them nicely rounded. Using the tip of a brush handle create a hole or crater in the middle of a round gelatin patch.
for an ulcerous or a cut look: you have to imaginarily lift up the skin around the ulcers, so that the wound looks deeper. Therefore, apply gelatin around the problematic area of the skin.
3. Let the gelatin dry out completely.
4. Use normal foundation and apply it on your face (for the dead look use a very light tone), so that the application of the gelatin blends nicely with the skin.
5. Use water colors or shades and wet brush to add to the wounds more 'juicy', bloody look:
fresh wounds appear bright red : colour the middle of the wound with red colour or the middle of the cut of the crater or blister, which is the juiciest part of the ulcer…
already dried blood looks more brown (scabby) : Apply it onto the already burst blisters towards the edge of the ulcer …
6. Colour the area around the wound: if the injury is fresh, the skin around the wound is pink, with its healing it's becoming purple, gray,…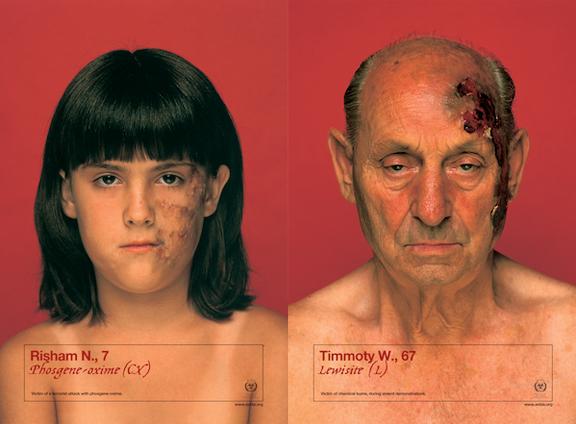 * Photographs: Jure Breceljnik, makeup: Nika Veger
E-novice
Sorodne vsebine
This post is also available in: Slovenian