Oven gloves are ready! Labello challenged me and sent me a kit for making macaroons, which included lip balm Lip butter. Cooking is trendy, but I don't really fancy this kind of fashion. I accepted the challenge though. I used ingredients that can be found in every kitchen and 'created' something very special.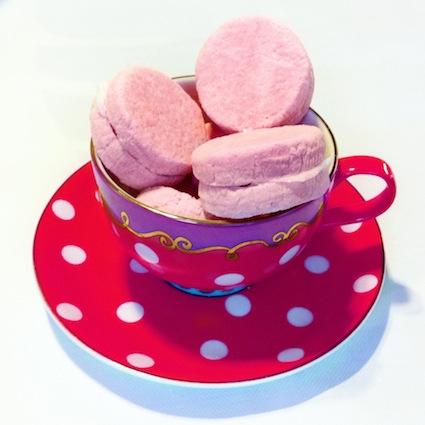 First round … delicious raspberry bath treats 
Raspberriesss… This was the first selected ingredient. Just like my favorite pink macaroons in Ljubljana's patisserie shop Lolita, Labello's Lip Butter Raspberry contains the real flavour of raspberries. For this reason it smells so wonderfully and has a delicious and authentic initial taste. In addition, it contains almond oil and shea butter, but as I was missing these two ingredients at that moment, I replaced them with other similar items that you can buy in any better-stocked grocery store.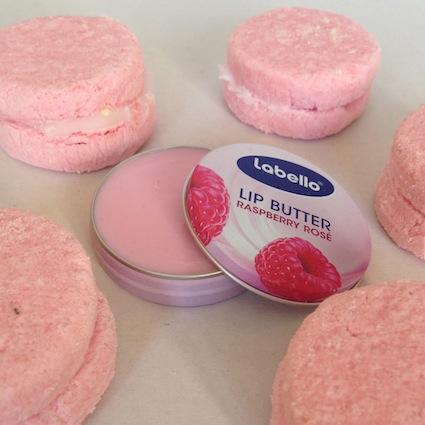 Ingredients (for approximately ten bath macaroons):
baking soda, cornstarch and citric acid (in a ratio of 200/100/100g)
nourishing oil (Nivea Baby Nursing oil), water, edible food paint raspberries (in a ratio of 400ml / 200ml / at least 4 drops)
body lotion, which can be washed out with water (e.g. Nivea In-Shower Body Lotion)
Prepare a glass or a metal bowl (stain-proof), a cup for measuring the liquids, pad or tray for drying the bath macaroons.
Recipe:
I swear that making such bath macaroons is a piece of cake for anyone. In a bowl stir all the dry ingredients: baking soda, cornstarch, citric acid. Then mix the liquid ingredients separately: nourishing oil, water and food paint. You will get a two-phase liquid, which you slowly add to the dry mixture, kneading it with your fingers all the time. Do not pour it in on only one place of the mixture, as it will get foamy. If you're already hearing the mixture becoming fizzy, add a little bit of cornstarch; if the mixture is too dry and refuses to friable, add some water (preferably with the sprayer).
Then place a polyvinyl cloth in an empty round metal box (I've used this already used Labello lip balm Lip Butter box, which I have bought in London because of its 'old-school' packaging before it was available in Slovenia). Fill it with the mixture. Pull it together with polyvinyl and you'll get another layer of macaroons. Gently place it on the tray, where it will be drying for a few days (or place it in the oven at 90 degrees C for several hours). Continue until you use up all the mixture.
Once the bath macaroons are completely dry, glue the two layers together, using body lotion that can be washed out with water.
First Trial
Now I understand Amalja, who wanted so badly to try out her own bath creations that she made using her children's kit. This time I was in the bathtub myself at 15.20. I was very excited at first … but the next second I was a little disappointed. My bath macaroons were not fizzing half as much as the Lush ones. Also the colour of the water almost didn't change. However, my skin after the bath was truly soft, nourished and smelling great.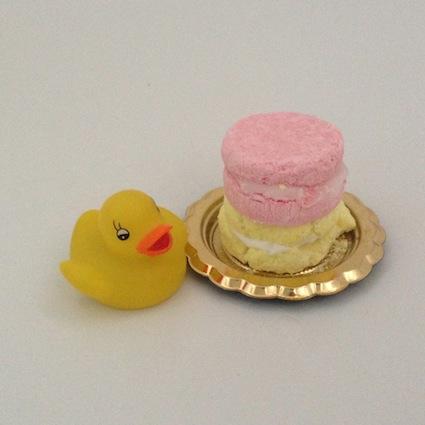 Second round … natural version
Despite the fact that after the testing I attributed more pluses than minuses to my bath macaroons, I still wanted to find a solution to eliminate the negatives: fragile, subtle fizzing of water and non-coloured water. I read on the internet numerous tips and eventually combined the best ones in an even better and more natural version. Following the above recipe, I added these changes:
I replaced water with chamomile mouthwash.
I replaced Nivea oil with almond oil
I added 50g of Himalayan salt to dry mixture and I added 7 drops of essential oil of vanilla to liquid mixture.
For sticking the layers together I used shea butter.
I used 20 drops of vanilla extract, which provided the yellow colour
Bath macaroons were really more effervescent, strong and had a more intense colour, which anyway dissolved in the water. I was very impressed with the result, in fact, so much so that I couldn't lay in the bath long enough, as I wanted immediately to share the recipe with you … and also because Bela required her lunch and a cuddle .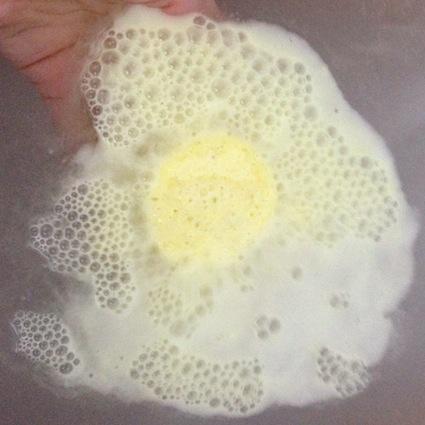 Caution
Keep bath macaroons in a dry place, but not in a container for cakes, because someone might confuse them for real macaroons .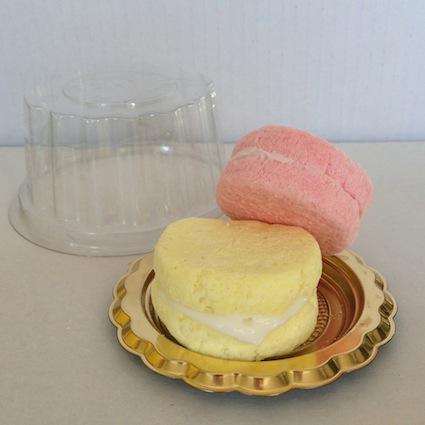 E-novice
Sorodne vsebine
This post is also available in: Slovenian