I've read today that there are 365,000 kilometers of a wrapping paper used yearly in Great Britain. With this volume of paper you could circumnavigate the Earth nine times!  
I don't understand why they still sell so much wrapping paper (and those awfully decorative gift bags), as the point of gifts is not in the packaging and produced rubbish. What a waste of natural resources and our money for such littering! Okay, I believe that you can get easily manipulated to purchase those truly beautiful rolls of paper for 1 euro and you are already imagining how photogenic the pile of identically wrapped presents will look. But, come on. Instead of gift wrapping, imagine the paper crumpled in a bin. Pretty pointless, isn't it? Especially if you can wrap a gift in a much more personal and environmentally friendly way.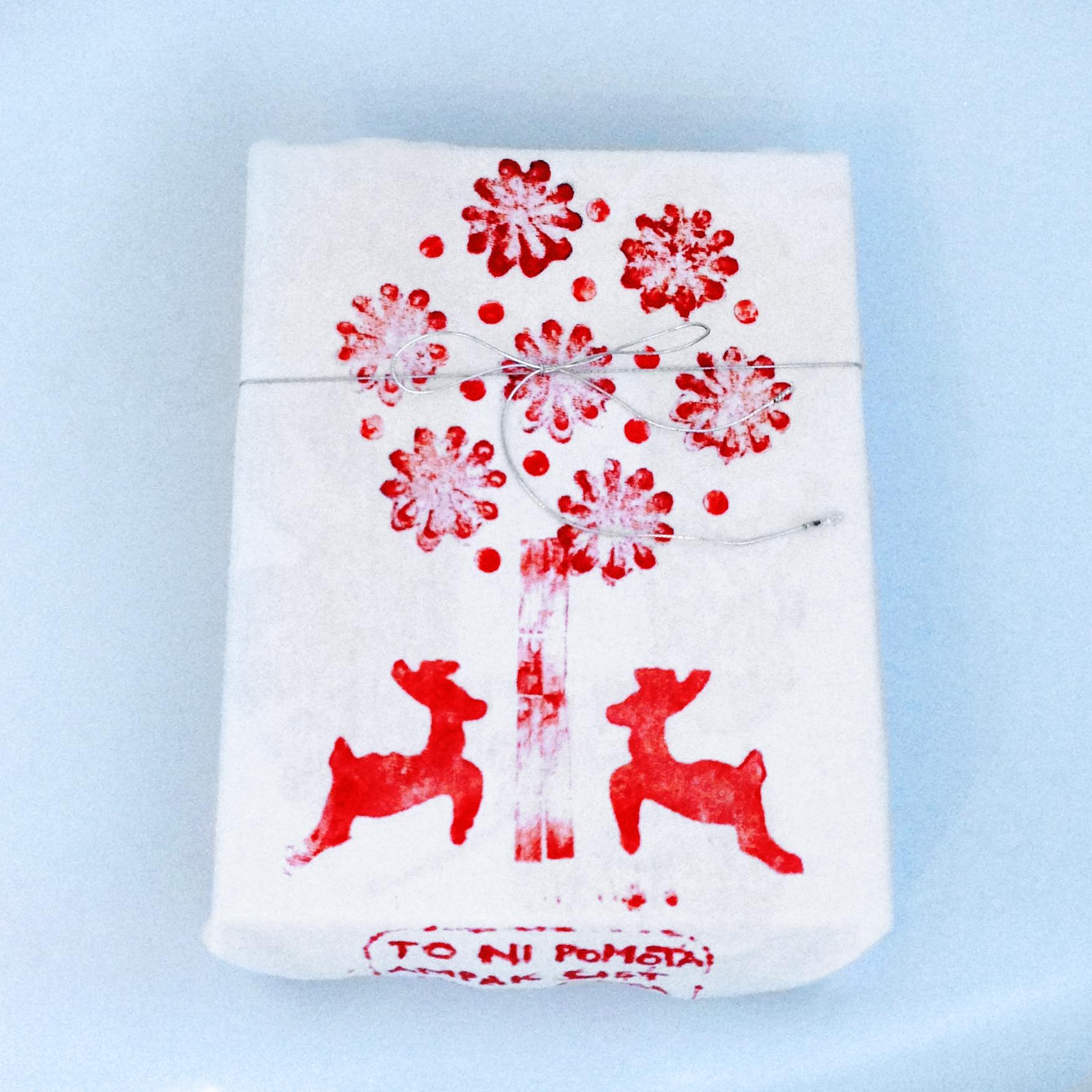 For environmentally friendly gift-wrapping, you need:
1. Old paper
It doesn't have to be black and white 'oldschool' newspaper, staff paper, maps or brown paper, which is inherently very photogenic itself. I would be happy to receive a gift wrapped in some amusing reading editorial of Tina Torelli (Pogled), a witty fashion 'cursing' of Manja Plešnar (Nova) or the sophisticated thinking of Urška Jerkič (Elle)2. Fabric
Ripped jeans, washed off T-shirt, old sheets, worn checked shirt … can blossom a new life as a super material for wrapping gifts. For example, rip a washed T-shirt to get a piece of cloth without a hem. Cut off a motif from apples or potatoes using a stencil for baking cookies. Prepare some more stamps (e.g. a hook, a lid of a wipe cream, pencil, etc). Choose a colour that will greatly deviate from the substrate, e.g. with a metallic sheen or even a silver and gold colour. Print the motif so that the printed picture or pattern is well seen. Iron the fabric, in order to fixate the colour. Wrap a gift into the fabric and secure it with a rubber band, coloured double-sided tape, button, etc.
Sign? I will use it as a hint to a gift receiver that this piece of fabric is reusable, e.g. to my Mum "It's not a blunder, but a wicked DUSTER"; to your dad "This is not a mistake, but a clean serious CAR Cloth" Pero has found the owner of the version starting with "F".
3. Scarf
Japanese traditionally gift wrap in a scarf is called 'furoshiki'. They know a wide variety of precise wrapping techniques, which similar to origami, create interesting bows and knots (you can find them online under the name wrapagami). Otherwise, you can use these scarves as decorative tissue or as an accessory around your neck. Following Japanese tradition, you return the scarf to the person from whom it was given.
Lush Cosmetics has been selling retro scarves since 2005, mostly made ​​from waste plastic. You can wrap a gift with it or just wear it as an accessory. Scarves made from organic cotton and designed by Vivienne Westwood are particularly attractive this December. They are hand printed and the profit from sales will support the Climate Revolution organisation. Now, this is a designer's piece that I will be seriously queuing to get.
* Photographs: Vstanem d.o.o., Promotional material
E-novice
Sorodne vsebine
This post is also available in: Slovenian