The liner is one of the super trends of the upcoming season and it's not only in classic, cat eye version. I'm revealing some interesting looks in Cosmopolitan's September issue, but not these beautiful Dior's f/w 2014/15 look.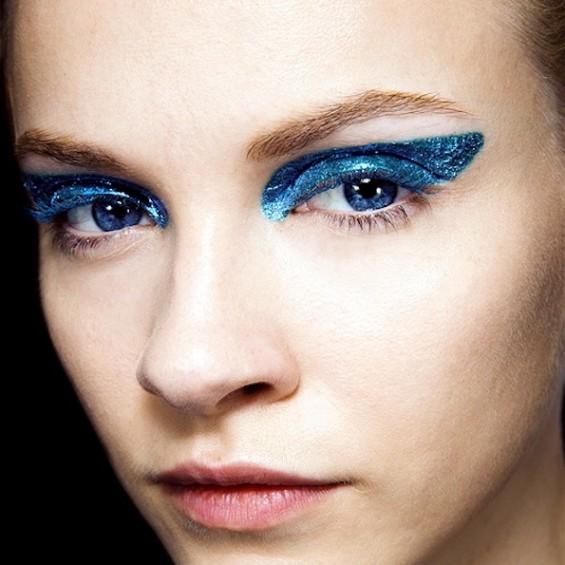 It's special because of the …
New shade of blue … Dior named it Carré Bleu.
A specific form. Although it is clear-cut, it looks soft. This is because the line is not sharp, it's slightly curved and the corners are rounded.
Absence of black mascara, which would make these look heavy. If you do not have blue, it is better to leave eyelashes natural.
You need: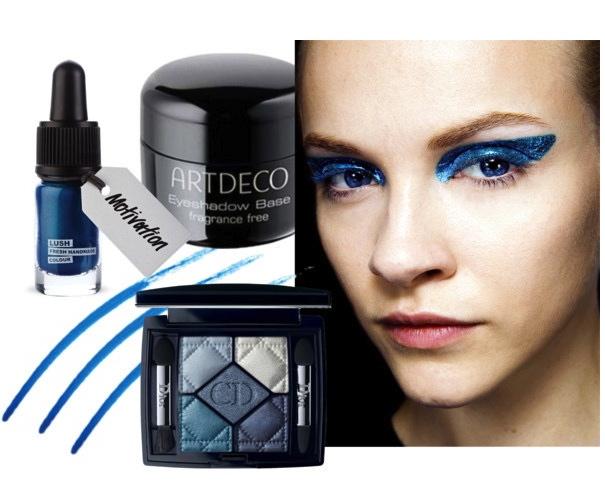 Blue eyeliner (or in exact colour of your eyes), my favorite is Lush Emotional Brilijant, odt. Motivation. Or eyeshadow palette eg., Dior 5 Couleurs, harmony Carré Bleu
Sponge applicator for applying eyeshadow
An eyeshadow base, for example ArtDeco Eyeshadow Base, or liquid foundation and translucent loose powder
Mascara in the color of eyeliner
Procedure:
1 Cover cleaned lid with eyeshadow base, which adds stability and prevents the liner gets into the fold. You can do this by thin layer of liquid and translucent powder.
2 Apply a liner on the back of the hand, and from there with the applicator (not supplied brush, as it must be soft edge thickness) on the eyelid from the inner corner of the eye through the crease of the upper eyelid straight towards the tip of the eyebrow. Stop a few millimeters below the tip of the eyebrow. Then put the applicator on outside corner of your eye and connect it with the end of the eyeliner (slightly pull the skin on the temple to the side with the finger of one hand and draw the line from the bottom up with the other).
3 Spread the colour from the line down to the eyelashes.
4 Remove smears with a cotton swab moistened with make-up remover.
5 Apply mascara in the color of eyeliner.
Pair these eyes with beautiful, glowing complexion, only slightly colored cheeks and lips and simple black dress.
Clear enough? I'll be glad if you send me a picture of your version.
Photos: web, Rožle Veger
E-novice
Sorodne vsebine
This post is also available in: Slovenian