After a month, my bucket (plastic bottles and tubes end up in the bins for plastics, whereas the aerosols, unfortunately, take the route of the non-recycled rubbish bin) has accumulated quite a few empty products, but this time mostly products for hair and body care. "Finally," as I was not happy with some of them…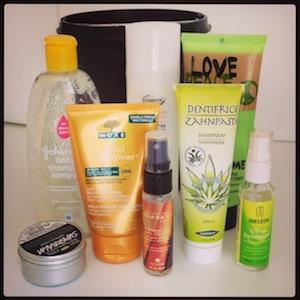 The following products are listed, shown from left to the right.
Lush Superbalm Hair Treatment.  With this treatment I've tried to get rid of an itchy scalp (it should effectively eliminate dandruff, itching, redness, etc. with its natural oils). Following the instructions I applied it for 20 minutes onto my scalp before washing the hair. That's quite a challenging task, as its texture is sticky, waxy and oily and it glues to the hair. The feeling during the routine was pleasant, but my hair was so greasy after the normal shampooing that even additional soaking in the bath and intensive deep cleansing shampooing couldn't resolve. The washing-up liquid saved me in the end… I know, scary. I consoled myself with the fact that it was organic and that at least it managed to degrease my hair stuck in tufts. Since I really like Lush products and their philosophy, I repeated the process again a few days later… but the experience was not much better.
Johnson's Baby Shampoo with no tears formula. I always try to buy organic beauty products for Amalja, or at least ones that do not contain harmful substances. It is difficult to find shampoo that foams nicely and so effectively removes grime and smells, while being gentle enough to the eyes and not drying out the hair. I do not remember how this bottle ended up in our home or how it happened that this one was the only shampoo to hand … I've used it to the end, albeit with a slightly bad conscience. But unnecessarily … only now, while writing this article I have looked online to check what are its ingredients and actually found that since May 2013 it no longer contains formaldehyde, parabens, triclosan, phthalates. Natural line contains at least 98% natural ingredients.
Nuxe Soleil Prodigieux Multi-purpose body lotion is a real multifunctional beauty product, as it activates tan, adds a golden glow, nourishes the skin and gives a pleasant scent. I use it in autumn to extend the look of a sun-tan; I use it in winter with deficient styling only on arms and legs; in the spring to conceal gray and dull skin complexion; and in summer I replace my usual lotion with this multipurpose body lotion. This has been my second tube. I think I can't completely use it within 6 months, such as is the recommended period of use. Perhaps because of this reason the last quarter of the product has been more sticky than at the beginning.
Comvita Replenishing Body Lotion. This brand, which is not so well-known in Slovenia, comes from New Zealand, containing soothing Manuka honey that nourishes especially sensitive skin. It doesn't contain prabens or phthalates, so it is recommended for the care of highly dehydrated and irritated skin. I got this body lotion as a gift because I bought the stock of their wonderful honey bars and natural 'coldrex'. I tried it on Amalja's dehydrated skin on her arms and legs, which is similar to dermatitis. With regular care after showering her skin become more soft and smooth, so I will buy this product again. Also because Amalja likes its sweet, but delicate fragrance and non-sticky feel.
Alterna Bamboo Smooth Kendo Oil Dry Oil Mist. Hair oils are trendy, so there are lots of different variations; with argan, olive, macadamia and Kenda oil. This spray contains Kenda oil, but unfortunately, also some other components, which I'm not particularly fond of, e.g. silicone. Otherwise, it smells good and it quickly absorbs into the hair without leaving a greasy feeling. Sadly, for my dry mane it is too light. I also prefer to spread oil over my damp hair, rather then spray it on. Perhaps this is a good choice for thin hair, since the formula contains a lot of organic ingredients and is free of sulfates, parabens, gluten and phthalate.
Toothpaste Chanvrak from hemp essential oil and green clay. I believe it has numerous beneficial effects on oral cavities. However, the taste of hamp is not refreshing at all. It holds a BHDI certificate for natural cosmetics, but I think that only smokers or lovers of the 'evil weed' would like it.
Tigi Love Peace Planet Eco Awsome Conditioner. I have a dry, sensitive and irritated scalp. This has been solved only by using this shampoo and conditioner from the same line. It does not weigh down the hair and it is easy to comb the hair after each use. I also like the vibrant and fresh smell (mint and orange) as well as knowing that it does not contain parabens, artificial colors and fragrances and is 80% made out of organic ingredients (tea extract, algae, chamomile …).
Weleda Citrus Deodorant. An effective deodorant without harmful ingredients, and preferably with an organic formula is still on the wish list. This natural spray containing alcohol (so you do not apply it immediately after shaving), water and essential oils of citrus, does not contain harmful aluminium salts. However, it is effective on my skin only during the summer. Probably because armpits are not covered up with layers of clothing and so I can quickly refresh myself several times a day.
E-novice
Sorodne vsebine
This post is also available in: Slovenian