New fashion trends haven't encouraged me towards money spending for at least a few years now. When I found one day, in my wardrobe, two pairs of ankle high Hummel trainers that I so love to wear, I decided to transform them according to the autumn fashion using the available materials that I found at home (fabric scraps, rubber bands, shoelaces, fashion accessories) into the following: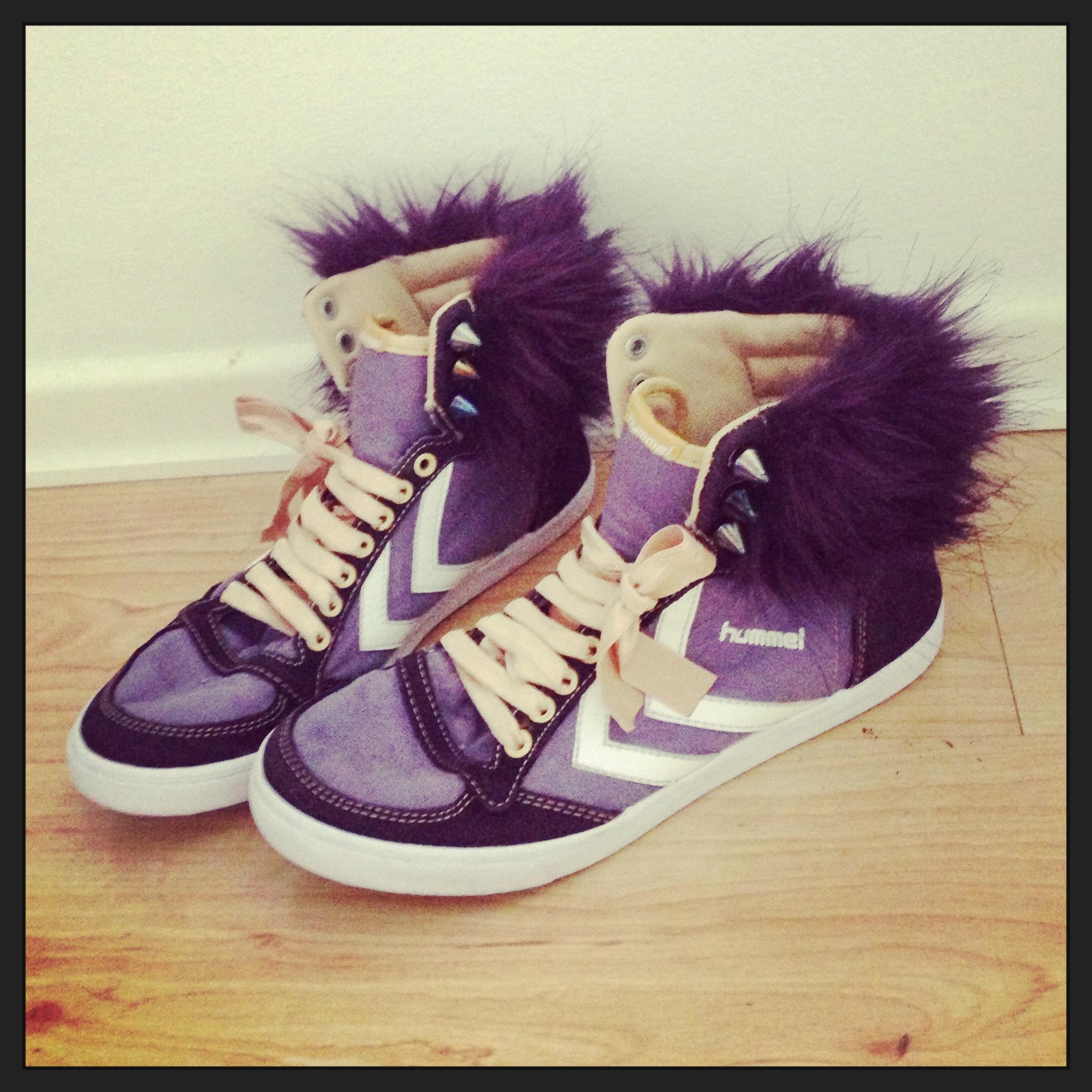 You need:
colour for washing machine textile painting (always choose Marabu Fashion Colors that give the most even and intense hue), elastic laces, a piece of fabric, e.g. fur as it doesn't require stitching, studs (I broke my old bracelet, which I never wore … you can find similar ones in the New Yorker store) super gel glue, scissors, lighter.

Procedure (this time I did not have the final article in mind, I kept on creating it moment by moment based on the collected material):
I dipped my clean shoes into cold water until they were completely soaked.

I put into the bottom of the washing machine drum the contents of the Marabu Fashion Colors box and 1 kg of salt. Onto that, I lay my wet shoes and other clothes that I wanted to paint (one pack allowed me to paint children's shoes, a cotton sweater, laces and a nightgown as well). I followed the instructions for painting (briefly: I turn on the programme for laundry washing at 40 degrees twice and I washed without washing-powder and softener).
I left the painted pieces to completely dry out.
As I didn't have much of a choice with regards to laces, I firstly inserted these ones. I decided on an elastic band that reminded me of a bra strap and had an interesting satin sheen. The color matches well with purple and highlights beige details that are not painted (artificial leather, metal eyelets, shoe lining). At the moment, I find putting on a flexible shoe much easier comparing to shoes with laces. For a shoe with 14 eyelets I use 1m of elastic strap.
I cut a rectangle out of faux fur in purple colour and adhered it on to the upper part of the shoe that hugs the ankle with super glue. I started gluing from the top (from the edge of the shoe) downwards, slightly adjusting the length by using small scissors. The glue dries very quickly, so I could immediately continue to work.
I stuck metal studs on the top eyelets through which I didn't thread the laces (I never wear laced up ankle high sneakers). I wanted to add a sharp contrast to this downy fur, but I didn't want the shoes to resemble any kind of cold weapon.
I unstitched the Hummel sign from the tongue, since it appeared too sporty. I cut only the sign out of it, sealed it with a lighter and pasted it back to the edge of the tongue (because I realised that I still needed more of a fresh look).
Write to me if you need any advice regarding this creation. Do you think it would be more understandable if I were to add a video of the procedure to the article also?
*Photographs: Vstanem d.o.o.
E-novice
Sorodne vsebine
This post is also available in: Slovenian